Asia
banking
bonds
capitalism
chart
China
commentary
consumer debt
Credit Cards
credit crisis
curiouscat
debt
economic data
Economics
economy
employment
energy
entrepreneur
Europe
Financial Literacy
government
health care
housing
interest rates
Investing
Japan
John Hunter
manufacturing
markets
micro-finance
mortgage
Personal finance
Popular
quote
Real Estate
regulation
Retirement
save money
Saving
spending money
Stocks
Taxes
Tips
USA
Warren Buffett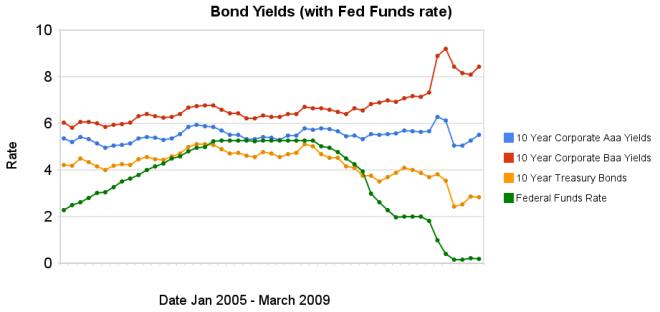 Chart showing corporate and government bond yields by Curious Cat Investing Economics Blog,
Creative Commons Attribution
, data from the Federal Reserve.
The federal funds rate remains under .25%. The large spread between government bonds and corporate bonds remains very large. In the last 3 months the yields on Aaa corporate bonds have increased 45 basis points, Baa corporate bond yields have decreased 1 basis points, while treasury bond yields have increased 40 basis points.
The spread between 10 year Aaa corporate bond yields and 10 year government bond yields is now 268 basis points. In January, 2008 the spread was 159 points. The larger the spread the more people demand in interest, to compensate for the increased risk. The spread between government bonds and Baa corporate bonds decreased to a still very large 566 basis points, the spread was 280 basis point in January 2008, and 362 basis points in September 2008.
Data from the federal reserve: corporate Aaa – corporate Baa – ten year treasury – fed funds
Related: Chart Shows Wild Swings in Bond Yields – Fed to Start Buying Treasury Bonds Today – Corporate and Government Bond Rates Graph (Oct 2008) – investing and economic charts
Fed to start buying T-bonds today, hoping to move rates
The Federal Reserve
will try to get long-term interest rates moving down again when the central bank today launches its first purchases of Treasury bonds. The Fed triggered a stunning drop in Treasury bond yields on March 18 when policymakers surprised Wall Street by
announcing a plan to buy up to $300 billion of Treasuries
over the next six months.
The yield on the 10-year T-note plunged to 2.53% on March 18 from 3% the previous day, the biggest one-day drop in decades. But since then, Treasury bond yields have been creeping higher. The 10-year T-note ended Tuesday at 2.65%. Conventional mortgage rates have flattened or inched up, although they remain historically low, in the range of 4.75% to 5%.
…
On Tuesday the Treasury sold $40 billion of new two-year T-notes at a yield of 0.95%, which was lower than expected, indicating healthy investor demand. The government will auction $34 billion in five-year notes today and $24 billion in seven-year notes on Thursday. Against numbers like those in just one week, the Fed's commitment to buy $300 billion of Treasuries over six months doesn't look like much.
…
there's nothing to stop the Fed from suddenly announcing that its $300-billion commitment will get substantially bigger: The central bank can, in effect, print as much money as it wants to buy bonds — at least, until the day that global investors stop wanting dollars.
The original announcement caused a dramatic move but since then yields have been drifting up, every day, including today. Rates are already very low. And the huge amount of increased federal borrowing is a potential serious problem for lowering rates. And potentially an even more serious problem is foreign investors deciding the yield does not provide a good investment given the risks of inflation (I know that is how I feel). It will be interesting to see what happens with rates.
Related: Who Will Buy All the USA's Debt? – Lowest 30 Year Fixed Mortgage Rates in 37 Years – mortgage terms
I make a point of showing the discount rate changes by the Fed don't translate to mortgage rate changes. I do so because many people think the discount rate does directly effect mortgage rates. But the Fed announced today, actions that actually do impact mortgage rates.
Federal Reserve to Buy $1.2T in Bonds, Mortgage-Backed Securities
The central bank will increase its purchases of mortgage-backed securities by $750 billion, on top of a previously announced $500 billion. It also will double its purchases of debt in Fannie Mae and Freddie Mac to $200 billion. Those steps are intended to lower mortgage rates. The announcement of the previous purchases pushed mortgage rates down a full percentage point.
If you are looking at refinancing your mortgage now (or soon) might be a good time, rates were already very low and will be declining. And if you own long term bonds you just got a nice increase in your value (bond prices move up when interest rates move down).
Related: Lowest 30 Year Fixed Mortgage Rates in 37 Years – Low Mortgage Rates Not Available to Everyone – Why do we Have a Federal Reserve Board?
Dividends Falling Means S&P 500 Is Still Expensive
U.S. equities returned 6 percent a year on average since 1900, inflation-adjusted data compiled by the London Business School and Credit Suisse Group AG show. Take away dividends and the annual gain drops to 1.7 percent, compared with 2.1 percent for long-term Treasury bonds, according to the data.
A total of 288 companies cut or suspended payouts last quarter, the most since Standard & Poor's records began 54 years ago, when Dwight D. Eisenhower was president. While the S&P 500 is trading at the lowest price relative to earnings since 1985 and all 10 Wall Street strategists tracked by Bloomberg forecast a rally this year, predictions based on dividends show shares are overvalued by as much as 46 percent.
Just last November the S&P 500 dividend yield topped the bond yield for the first time since 1958. Yields often rise as stock prices fall on future prospects and companies announce dividend cuts after stocks have already fallen (due to the deteriorating conditions the company faces). So you always must be careful not to count dividends before they are paid. As an investor you need to look into the future and see how secure the dividends are likely to be.
Related: 10 Stocks for Income Investors – 10 Stocks for 10 Years – Curious Cat Investing Books
Since August of 2008 conforming mortgage rates are have declined a huge amount. Jumbo rates have fallen a large amount also, but much less (for example for a credit score of 700-759 the jumbo rates declined 73 basis points while the conventional rate declined 172 basis points.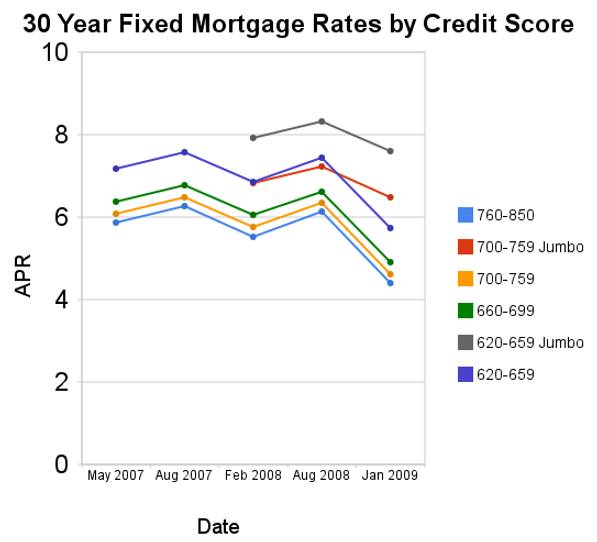 For scores above 620, the APRs above assume a mortgage with 1 point and 80% Loan-to-Value Ratio. For scores below 620, these APRs assume a mortgage with 0 points and 60 to 80% Loan-to-Value Ratio. You can see, with these conditions the rate difference between a credit score of 660 and 800 is not large (remember this is with 20% down-payment) and has not changed much (the difference between the rates if fairly consistent).
Related: Low Mortgage Rates Not Available to Everyone – 30 Year Fixed Rate Mortgage Rate Data – Real Free Credit Report (in USA) – Jumbo Mortgage Shoppers Get Little Relief From Rates – posts on mortgages
Read more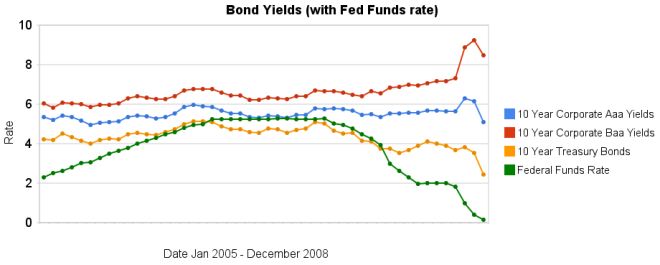 The recent reactions to the credit and financial crisis have been dramatic. The federal funds rate has been reduced to almost 0. The increase in the spread between government bonds and corporate bonds has been dramatic also. In the last 3 months the yields on Baa corporate bonds have increased significantly while treasury bond yields have decreased significantly. Aaa bond yields have decreased but not dramatically (57 basis points), well at least not compared to the other swings.
The spread between 10 year Aaa corporate bond yields and 10 year government bonds increased to 266 basis points. In January, 2008 the spread was 159 points. The larger the spread the more people demand in interest, to compensate for the increased risk. The spread between government bonds and Baa corporate bonds increased to 604 basis points, the spread was 280 basis point in January, and 362 basis points in September.
When looking for why mortgage rates have fallen so far recently look at the 10 year treasury bond rate (which has fallen 127 basis points in the last 3 months). The rate is far more closely correlated to mortgage rates than the federal funds rate is.
Data from the federal reserve – corporate Aaa – corporate Baa – ten year treasury – fed funds
Related: Corporate and Government Bond Rates Graph (Oct 2008) – Corporate and Government Bond Yields 2005-2008 (April 2008) – 30 Year Fixed Mortgage Rates versus the Fed Funds Rate – posts on interest rates – investing and economic charts
The lowest 30 Year fixed mortgage rates in 37 years is great news for those looking to buy a house or to re-finance. However, that truth (the lowest rate) masks another truth, that it is available to a somewhat limited pool of borrowers. The rates for jumbo 30 year fixed mortgages and for regular 30 year fixed mortgages, for those with lower credit ratings, are not at the lowest rates they have ever reached. And getting mortgage rates that don't require a 10-20% down payment and fully documented financial position are not as low as they have ever been. 15 year fixed rates are also low, but are not at all time lows. FHA loans still allow very low down payments, but others have moved away from this practice (which is a wise move).
Current rates, national average, from Bankrate: 30 year fixed 5.26%, 30 year fixed jumbo 6.96% (a full 170 basis points higher rate), 15 year fixed 5.07%. Jumbo rates have been less than 40 basis points higher than conventional rates most of time (based on my memory – I am looking for a source to confirm). The site does not present the credit score but my guess is these rates are based on a credit score of 700, or higher. Last week the jumbo rates increased by 11 basis points and regular 30 year rates fell by 3 basis points.
Related: Jumbo v. Regular Fixed Mortgage Rates: by Credit Score – historical mortgage rate chart – Nearly 10% of Mortgages Delinquent or in Foreclosure – misinterpreting data
Changes in the Market For Jumbo Mortgages
During the period May 4, 2007 to November 7, 2008, the spread in wholesale interest rates between a $417,000 loan eligible for purchase by Fannie Mae and Freddie Mac, and a $418,000 loan that is not eligible, increased from 0.28% to 2.97%.
…
On Nov 12, 2008 I shopped for an $800,000 30-year fixed-rate mortgage on Mortgage Marvel, an on-line site that I reviewed earlier in 2008 (see A Look at Mortgage Marvel). The mortgage companies on the site quoted rates of 8.125% to 8.375%. The credit unions and banks, in contrast, quoted rates ranging from 5.875% to 7.875%. I have never before seen rate differences on the same transaction this large. They no doubt reflect wide differences in lender access to funding, which is symptomatic of a market in turmoil.
For example, I see from today's rate sheet that a homeowner with 40 percent equity and an excellent credit score of 740 would receive a quote of 5.125 percent with no points or origination fees for a 30-year fixed-rate mortgage. A borrower with a credit score of 670 who has 20 percent equity would receive the same rate but would be charged two points. On a $300,000 loan, this makes the 5.25 percent rate $6,000 more expensive. If the homeowner with the lower credit score wanted to pay zero points, the rate would be well north of 6 percent.
We now have the lowest 30 year fixed mortgage rates since data has been collected (37 years) in the USA. Is this due to the Fed cutting the discount rate? I do not think so. As I have said previously 30 year fixed rates are not correlated with federal reserve rates. But this time the government is actively seeking to reduce mortgage rates.
U.S. Treasury Secretary Henry Paulson said the Bush administration was looking at ways to lower mortgage rates because it was essential to stem the drop in home prices to foster an economic recovery.
Mortgage Rate Hits 37-Year Low
The benchmark 30-year fixed-rate home mortgage in the U.S. fell to a national average of 5.17% this week, the lowest since Freddie Mac began its weekly rate survey in 1971.
…
The 15-year fixed-rate mortgage averaged 4.92%, down from last week when it averaged 5.20%. A year ago the 15-year loan averaged 5.79%. The 15-year mortgage hasn't been lower since April 1, 2004, when it averaged 4.84%.
Homeowners refinance, put savings under mattress
This time around, lenders say up to a third of the callers seeking to refinance simply can't. And if they can, the future savings are headed straight for the piggy bank.
These rates sure are fantastic if you are in the market. I was not in the market, but I am considering re-financing now. You need to be careful and not just withdraw money because you can. If you can refinance and reduce your payments it may well be a wise move though. One problem can be extending the date you will finally be free of mortgage debt. If you re-finance a current 30 year loan, that you got 5 years ago, you will now be paying 5 more years. One option is to see if you can get a 25 or 20 year loan. Or if you can make a 15 year loan work, do that (15 and 30 year fixed rate mortgages are common).
Read more
Treasury bills have been providing remarkably low yields recently. And the Fed today cut their target federal funds rate to 0-.25% (what is the fed funds rate?). With such low rates already in the market the impact of a lowered fed funds rate is really negligible. The importance is not in the rate but in the continuing message from the Fed that they will take extraordinary measures to soften the recession.
There are significant risks to this aggressive strategy (and there would be risks for acting cautiously too). But I cannot understand investing in the dollar under these conditions or in investing in long term bonds (though lower grade bonds might make some sense as a risky investment for a small portion of a portfolio as the prices have declined so much).
The current yields, truly are amazing as this graph shows. The chart shows the yield curve in Dec 2008, 2006, 2000 and 1994 based on data from the US Treasury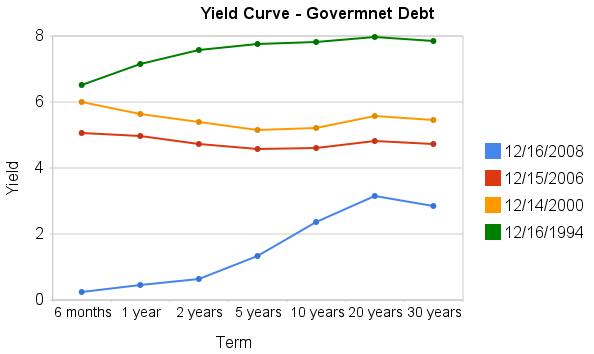 Related: Corporate and Government Bond Rates Graph – Discounted Corporate Bonds Failing to Find Buying Support – Municipal Bonds After Tax Return – Total Return
S&P 500 Payout Tops Bond Yield, a First Since 1958 (site broke the link, so I removed it):
U.S. stocks'
dividend yields
were lower than the yield on 10-year Treasury notes for half a century. Not any more. Dividends paid by Standard & Poor's 500 Index companies in the past 12 months amounted to 3.51 percent of the benchmark's closing value yesterday. In early trading today, the 10-year yield fell as low as 3.42 percent.
…
Treasuries routinely had higher yields than stocks before 1958, according to Bernstein. When this relationship came to an end, yields were near their current levels. The S&P 500 dividend yield fell 0.58 percentage point, to 3.24 percent, in the third quarter of 1958. The 10-year yield rose about the same amount, 0.6 point, to 3.80 percent.
Two explanations later emerged for the reversal, he wrote. One held that the economy's recovery from the 1957-58 recession showed "investors could finally put to rest the widely held expectation of an imminent return to the Great Depression." The second was the increasing popularity of investing in growth stocks, or shares of companies whose sales and earnings rose at a relatively fast pace. Because of their expansion, the companies often paid below-average dividends.
Reversal of Fortunes Between Stocks and Bonds
Even more telling was the relative movements in stock and bond yields over the years. Bernstein calculates that from 1954 to 1969 — while inflation was relatively low and stable — bond and stock yields moved mostly in tandem. But from 1970 to 1999 — the Great Inflation — bond and stock yields moved inversely. From 2000 on, bond and stock yields have been back in sync.
Arnott takes it a step further. "In a world of deleveraging, both for the financial services arena and for the economy at large, growth is less certain," he says. "And with the economy eroding sharply, so is inflation. If stocks don't deliver nominal growth in dividends and earnings, then their yield 'must' exceed the Treasury yield, in order to give us any sort of risk premium."
Related: Corporate and Government Bond Rates Graph – Highest Possible Returns – posts on interest rates – investing strategy
Comments