Asia
banking
bonds
capitalism
chart
China
commentary
consumer debt
Credit Cards
credit crisis
curiouscat
debt
economic data
Economics
economy
employment
energy
entrepreneur
Europe
Financial Literacy
government
health care
housing
interest rates
Investing
Japan
John Hunter
manufacturing
markets
micro-finance
mortgage
Personal finance
Popular
quote
Real Estate
regulation
Retirement
save money
Saving
spending money
Stocks
Taxes
Tips
USA
Warren Buffett
Insurance can be annoying as you pay for something you hope not to use. I don't recall ever getting a payment on life insurance, homeowners insurance, disability insurance or auto insurance. And that I haven't had a claim is good. On health insurance I have had minor things covered like a physical or dentist and that is it.
Health insurance is critical in the USA. One insurance that people often don't think of however is disability insurance. It is very
Disability insurance is a very important insurance that too many people don't consider (many jobs offer it, though not all, and some may take a year before you are covered). Studies show that a 20 year old has a 30% chance of becoming disabled before reaching retirement age. In the USA, the Social Security Administration provides disability benefits for total disabilities.
In the USA you may be eligible for social security disability payments but it is a small amount (so not sufficient by itself). But if you are living overseas and not paying social security I am not sure if you are covered, even for the limited coverage it provides.
I am not sure what the situation is for citizens of other countries, maybe they have better safety nets for people (I would imagine Europe does, but many places probably don't).
I had been living in Malaysia for several years and am now going nomadic (an increasingly popular choice for a small but determined group of people) and insurance is important for people living overseas and traveling. For nomads or frequent travelers global health insurance is good (though usually it will exclude the USA if you are not a "USA 1%er"(or world .2%)/very-rich as the extremely broken USA health care system is crazy – you can be covered globally excluding the USA for about 1/6 of that same coverage excluding the USA, depending, of course on your coverage). Special care for travelers and nomads should be paid to coverage to return you home if you are very sick or injured.
Disability insurance is something thing digital nomads should pay attention to. But it is normally ignored. And it is a bit tricky as insurance companies are generally extremely slow to catch up to what the world is doing and disability insurance seems to be stuck in the old notions about how tied people were to one country (as are other things – demanding physical addresses even if they know you are nomadic…, basing rules on silly ideas about where you happen to be at some point in time with customer hostile breaking of internet services that have been paid for etc.).
Related: Personal Finance Basics: Long Term Disability Insurance – The Growing Market for International Travel for Medical Care – Long Term Care Insurance: Financially Wise but Current Options are Less Than Ideal
In 2013, international migrants sent $413 billion home to families and friends — three times more than the total of global foreign aid (about $135 billion). This money, known as remittances, makes a significant difference in the lives of those receiving it and plays a major role in the economies of many countries.
India received $72 billion and Egypt $18 billion in 2013.
I liked an interesting point he made. These remittences often include business advice to those relatives in the home country.
This is a great talk if you are interested in economics and global development. It is very important to understand the issues we face in helping billions living in poverty. As he says regulation of small remittences must be reduced. Policies forced by countries like the USA have damaged poor people's lives worldwide with extremely onerous regulation.
Web site of the speaker: Dilip Ratha
Related: International Development Fair: The Human Factor – Creating a World Without Poverty – Supporting Virtual Workers – Solar Power Market Solutions For Hundreds of Millions Without Electricity
My response to a comment by John Green on Reddit
I really really like your work and webcasts (example included below).
It seems to me extremely paternalistic for people in rich countries to claim to know what is best for people in poor countries
This seems to me to make it really difficult on people trying to use judgement. Calling people's actions "extremely paternalistic" if they are not definitely so, I think impedes debate. And I think debate should be encouraged.
When making Kiva loans I do steer away from loans with rates above 40% (I also prefer loans that are geared toward a capital investment that will increase earning power going forward though this is hard – lots of loans are essentially for inventory that will be sold at a profit so a fine use of loans but not as powerful [in my opinion] and new capital investments – say a new tool, solar power that will be resold to users…).
Just like people anywhere, people taking Kiva loans are capable of getting themselves into trouble. Choosing to allocate my lender toward certain loans does not mean I am being paternalistic.
I am not being paternalistic if I chose not to invest in the stock of some company that vastly overpays executives and uses high leverage to do very well (in good times).
I do like the idea of direct cash to people in need. I give cash that way (and in fact did it a long time ago, 20 years, for several years – before any of this new hipster cachet :-). And I still do like it.
While people question the value of a college degree a recent study by the New York Federal Reserve shows a degree is close to as valuable today as it has ever been. The costs to get that value have risen but even with the increased cost students earn on average a 15% annual rate of return on their investment.
Of course, not every student will earn that, some will earn more and some less.
We estimate that the value of a college degree fell from about $120,000 in the early 1970s to about $80,000 in the early 1980s, before more than tripling to nearly $300,000 by the late 1990s, where it has remained, more or less, ever since. Despite drifting down somewhat in the aftermath of the Great Recession, the value of a bachelor's degree has remained near its all-time high.
…
The time required to recoup the costs of a bachelor's degree has fallen substantially over time, from more than twenty years in the late 1970s and early 1980s to about ten years in 2013. So despite the challenges facing today's college graduates, the value of a college degree has remained near its all-time high, while the time required to recoup the costs of the degree has remained near its all-time low.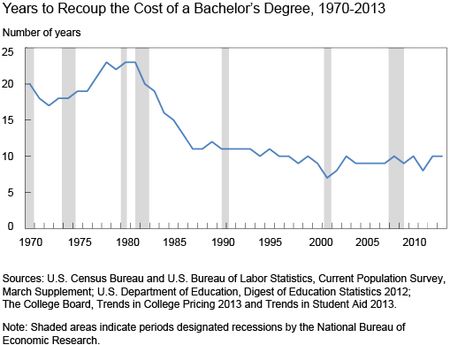 So a college education is a great investment for most people. This can create a problem however, when people then assume that all they need to do is go to college and they will do well no matter what. The same thing happens in other markets. Real estate has proven to be a great investment. that doesn't mean every real estate investment is good. It doesn't mean you can ignore the costs and risks of a particular investment. The same goes for stocks.
Business should not be allowed to store credit card numbers that can be stolen and used. The credit card providers should generate a unique credit card number for the business to store that will only work for the purchaser at that business.
Also credit card providers should let me generate credit card numbers as I wish for use online (that are unique and can be stopped at any time I wish). If I get some customer hostile business that makes canceling a huge pain I should just be able to turn off that credit card "number."
Laws should be adjusted to allow this consumer controlled spending and require that any subscription service must take the turning off of the payments as cancellation.
For some plan where the consumer agrees up front to say 12 months of payments then special timed numbers should be created where the potentially convoluted process used now remain for the first 12 months.
Also users should be able to interact with there credit reports and do things like turn on extra barriers to granting credit (things like they have to be delayed for 14 days after a text, email [to as many addresses and the consumer wants to enter] and postal notification are sent to the user. Variations on how these work is fine (for example, setting criteria for acceptance of the new credit early at the consumers option if certain conditions are met (signing into the web site and confirming information…).
Better security on the cards themselves are also needed in the USA. The costs of improvement are not just the expenses credit card and retailers face but the huge burden to consumers from abuse of the insecure system in place for more than a decade. It is well past time the USA caught up with the rest of the world for on-card security.
The providers have done a lousy job of reducing the enormous burden of fraud on consumers. As well as failing to deal adequately with customer hostile business practices (such as making canceling very cumbersome and continuing to debit the consumer's credit card account).
Related: Protect Yourself from Credit Card Fraud – Personal Finance Tips on the Proper use of Credit Cards – Continued Credit Card Company Customer Dis-Service – Banks Hoping they Paid Politicians Enough to Protect Billions in Excessive Fees
Hedge funds seek to pay the managers extremely well and claim to justify enormous paydays with claims of superior returns. Markets provide lots of volatility from which lots of different performances will result. Claiming the random variation that resulted in the superior performance of there portfolio as evidence the deserve to take huge payments for themselves from the current returns is not sensible. But plenty of rich people fall for it.
As I have written before: Avoiding Hedge Fund Investments is One of the Benefits of Being in the 99%.
This is pretty well understood by most knowledgeable investors, financial planners and investing experts. But funds that charge huge fees continue to get away with it. If you are smart you will avoid them. A few simple investing rules get you well into the top 10% of investors
From a personal finance perspective, saving money is a key. Most people fail at being decent investors before they even get a chance to invest by spending more than they can afford and failing to save, and even worse going into debt (other than to some extent for college education and house). Consistently putting aside 10-20% of your income and investing wisely will put you in good shape over the long term.
I like charity that provides leveraged impact. I like charity that is aimed at building long term improvement. I like entrepreneurship. I like people having work they enjoy and can be proud of. And I like people having enough money for necessities and some treats and luxuries.
I think sites like oDesk provide a potentially great way for people to lead productive and rewarding lives. They allow people far from rich countries to tap into the market demand in rich counties. They also allow people to have flexible work arrangements (if someone wants a part time job or to work from home that is fine).
These benefits are also true in the USA and other rich countries (even geography – there are many parts of the USA without great job markets, especially many rural areas). The biggest problem with rich country residents succeeding on something like oDesk is they need quite a bit more money than people from other countries to get by (especially in the USA with health care being so messed up). There are a great deal of very successful technology people on oDesk (and even just freelancing in other ways), but it is still a small group that is capable and lucky enough to pull in large paychecks (it isn't only technology but that is the majority of high paying jobs I think on oDesk).
But in poor countries with still easily 2 billion and probably much more there is a huge supply of good workers. There is a demand for work to be done. oDesk does a decent job of matching these two but that process could use a great deal of improvement.
I think if I became mega rich one of the projects I would have would be to create an organization to help facilitate those interested in internet based jobs in poor countries to make a living. It takes hard work. Very good communication is one big key to success (I have repeatedly had problems with capable people just not really able to do what was expected in communications). I think a support structure to help with that and with project management would be very good. Also to help with building skills.
If I were in a different place financially (and I were good at marketing which I am not) I would think about creating a company to do this profitably. The hard part for someone in a rich country to do this is that either they have to take very little (basically do it as charity) or they have to take so much cash off the top that I think it makes it hard to build the business.
But building successful organizations that can grow and provide good jobs to those without many opportunities but who are willing to work is something I value. I did since I was a kid living in Nigeria (for a year). I didn't see this solution then but the idea of economic well being and good jobs and a strong economy being the key driver to better lives has always been my vision.
This contrast to many that see giving cash and good to those in need as good charity. I realize sometimes that is what is needed – especially in emergencies. But the real powerful change comes from strong economy providing people the opportunity to have a great job.
I share Dr. Deming's personal aim was to advance commerce, prosperity and peace.
Related: Commerce Takes More People Out of Poverty Than Aid – Investing in the Poorest of the Poor – I am a big fan of helping improve the economic lives of those in the world by harnessing appropriate technology and capitalism – A nonprofit in Queens taught people to write iPhone apps — and their incomes jumped from $15k to $72k
Delaying when you start collecting Social Security benefits in the USA can enhance your personal financial situation. You may start collecting benefits at 62, but each year you delay collecting increases your payment by 5% to 8% (see below). If you retire before your "normal social security retirement age" (see below) your payments are reduced from the calculated monthly payment (which is based on your earnings and the number of years you paid into the social security fund). If you delay past that age you get a 8% bonus added to your monthly payment for each year you delay.
The correct decision depends on your personal financial situation and your life expectancy. The social security payment increases are based on life expectancy for the entire population but if your life expectancy is significantly different that can change what option makes sense for you. If you live a short time you won't make up for missing payments (the time while you delayed taking payments) with the increased monthly payment amount.
The "normal social security retirement age" is set in law and depends on when you were born. If you were born prior to 1938 it is 65 and if you are born after 1959 it is 67 (in between those dates it slowly increases. Those born in 1959 will reach the normal social security retirement age of 67 in 2026.
The social security retirement age has fallen far behind demographic trends – which is why social security deductions are so large today (it used to be social security payments for the vast majority of people did not last long at all – they died fairly quickly, that is no longer the case). The way to cope with this is either delay the retirement ago or increase the deductions. The USA has primarily increased the deductions, with a tiny adjustment of the retirement age (increasing it only 2 years over several decades). We would be better off if they moved back the normal retirement age at least another 3 to 5 years (for the payment portion – given the broken health care system in the USA retaining medicare ages as they are is wise).
In the case of early retirement, a benefit is reduced 5/9 of one percent for each month (6.7% annually) before normal retirement age, up to 36 months. If the number of months exceeds 36, then the benefit is further reduced 5/12 of one percent per month (5% annually).
For delaying your payments after you have reached normal social security retirement age increases payments by 8% annually (there were lower amounts earlier but for people deciding today that is the figure to use).
Lets take a quick look at a simple example:
Read more
Dylan Grice suggests the Cockroach Portfolio: 25% cash; 25% government bonds; 25% equities; and 25% gold. What we can learn from the cockroach
Each of those asset buckets protects against a different type of risk. And that is a very sensible approach to investing in the year ahead. Cash will protect you against a market collapse in anything (provided it's cash held with a solid institution).
Government bonds protect against deflation (provided your money's invested in solid government bonds and not trash). Equities offer capital growth and income. And gold, as we know, protects against currency depreciation, inflation, and financial collapse. It's vitally important to maintain holdings in each, in my opinion.
The beauty of a 'static' allocation across these four asset classes is that it removes emotion from the investment process.
I don't really agree with this but I think it is an interesting read. And I do agree the standard stock/bond/cash portfolio model is not good enough.
I would rather own real estate than gold. I doubt I would ever have more than 5% gold and only would suggest that if someone was really rich (so had money to put everywhere). Even then I imagine I would balance it with investments in other commodities.
One of the many problems with "stock" allocations is that doesn't tell you enough. I think global exposure is wise (to some extent S&P 500 does this as many of those companies have huge international exposure – still I would go beyond that). Also I would be willing to take some stock in commodities type companies (oil and gas, mining, real estate, forests…) as a different bucket than "stocks" even though they are stocks.
And given the super low interest rates I see dividend paying stocks as an alternative to bonds.
The Cockroach Portfolio does suggest only government bonds (and is meant for the USA where those bonds are fairly sensible I think) but in the age of the internet many of my readers are global. It may well not make sense to have a huge portion of your portfolio in many countries bonds. And outside the USA I wouldn't have such a large portion in USA bonds. And they don't address the average maturity (at least in this article) – I would avoid longer maturities given the super low rates now. If rates were higher I would get some long term bonds.
These adjustments mean I don't have as simple a suggestion as the cockroach portfolio. But I think that is sensible. There is no one portfolio that makes sense. What portfolio is wise depends on many things.
Many companies that have have plenty of cash chose to dilute stockholder equity instead of paying market rate salaries. They also do this to pay more than they would be willing to if they had to pay cash and take a direct earnings hit officially and unofficially. And they may do it to allow employees to delay paying taxes (I am not sure if this plays a part or not) – and maybe even avoid taxes using some financial games. Companies chose to give away stockholder equity under the pretense that those losses to shareholders can be hidden on financial statements (and they often are).
Thankfully SEC rules forced disclosure of such financial games in the last few years. Still "Wall Street" often promotes the earnings which pretend though employee costs that are paid with stock instead of cash are not costs to the business.
Google is cash flow positive by billions every quarter. Yet they have issued over 1% more stock each year.
Outstanding share balances in millions of shares
| | | | | |
| --- | --- | --- | --- | --- |
| Sep 30 2013 | Dec 31 2012 | Dec 31 2011 | Dec 31 2010 | Dec 31 2009 |
| 334.2 | 330 | 324.9 | 321.3 | 317.8 |
This means Google has given away over 5.2% of a shareholder's ownership from January 1, 2010 to September 30, 2013. If you owned 100 shares at the end of 2010 you owned .000315% of the company. At the end of the period your ownership had been diluted to .000300% of the company.
When the stock value is rising rapidly (as Google's has) it proves to be much more costly than if the company had just paid cash in the first place. In Google's case you would own 5% more of the company and the cash stockpile Google had would be a bit lower (Google had $56,523,000,000 in cash at the end of Sep 2013).
For companies that don't have cash (startups) paying employees with stock options makes sense. When companies have the cash it is mainly a way to hide how much the company is giving away to executives and to provide fake earnings where only a portion of employee pay is treated as an expense and the rest is magically ignored making earnings seem higher.
Related: Apple's Outstanding Shares Increased a Great Deal the Last Few Years, Diluting Shareholder Equity – Global Stock Market Capitalization from 2000 to 2012 – Investment Options Are Much More Confusing to Chose From Now – Google up 13% on Great Earnings Announcement (2011)
Comments