Asia
banking
bonds
capitalism
chart
China
commentary
consumer debt
Credit Cards
credit crisis
curiouscat
debt
economic data
Economics
economy
employment
energy
entrepreneur
Europe
Financial Literacy
government
health care
housing
interest rates
Investing
Japan
John Hunter
manufacturing
markets
micro-finance
mortgage
Personal finance
Popular
quote
Real Estate
regulation
Retirement
save money
Saving
spending money
Stocks
Taxes
Tips
USA
Warren Buffett
Earning more is an important and simple idea that is ignored far to often. Simple, doesn't mean, easy, just easy to understand. This is something people should definitely consider in their personal financial planning.
There is a important caveat to remember, people earning a lot of money often have large financial problems and go bankrupt. Earning more if you borrow more than you earn and rely on ever increasing earnings can make you even more venerable than those earning less. A significant factor is how likely you are to replace your current earning if you need to find a new job.
There is also another concern to watch for – don't become a slave to your desire to earn more. The reason to earn more is to improve your life long situation. If you sacrifice what you enjoy too much it becomes a bad trade off. Short term sacrifices may well be wise. But many people find themselves in decades long sacrifices to try and get ahead. This isn't a good plan.
Making money online can be enjoyable and rewarding. However, it isn't easy. I am putting more effort into this area and will be doing a great deal more in the next year. We will see how successful I am.
Related: Earn more money. It matters more than everything else combined. – 10 Jobs That Provide a Great Return on Investment – Earn More Money to buy luxuries (don't go into debt) – High Expectations
Read more
The biggest investing failing is not saving any money – so failing to invest. But once people actually save the next biggest issue I see is people confusing the investment risk of one investment in isolation from the investment risk of that investment within their portfolio.
It is not less risky to have your entire retirement in treasury bills than to have a portfolio of stocks, bonds, international stocks, treasury bills, REITs… This is because their are not just risk of an investment declining in value. There are inflation risks, taxation risks… In addition, right now markets are extremely distorted due to the years of bailouts to large banks by the central banks (where they are artificially keeping short term rates extremely low passing benefits to investment bankers and penalizing individual investors in treasury bills and other short term debt instruments). There is also safety (for long term investments – 10, 20, 30… years) in achieving higher returns to gain additional assets – increased savings provide additional safety.
Yes, developing markets are volatile and will go up and down a lot. No, it is not risky to put 5% of your retirement account in such investments if you have 0% now. I think it is much riskier to not have any real developing market exposure (granted even just having an S&P 500 index fund you have some – because lots of those companies are going to make a great deal in developing markets over the next 20 years).
I believe treating very long term investments (20, 30, 40… years) as though the month to month or even year to year volatility were of much interest leads people to invest far too conservatively and exacerbates the problem of not saving enough.
Now as the investment horizon shrinks it is increasing import to look at moving some of the portfolio into assets that are very stable (treasury bills, bank savings account…). Having 5 years of spending in such assets makes great sense to me. And the whole portfolio should be shifted to have a higher emphasis on preservation of capital and income (I like dividends stocks that have historically increased dividends yearly and are likely to continue). And the same time, even when you are retired, if you saved properly, a big part of your portfolio should still include assets that will be volatile and have good prospects for long term appreciation.
Related: books on investing – Where to Invest for Yield Today – Lazy Portfolios Seven-year Winning Streak (2009) – Fed Continues Wall Street Welfare (2008), now bankers pay themselves huge bonuses because the Fed transferred investment returns to too-big-to-fail-banks from retirees, and others, investing in t-bills.
I have posted about the need to save money while you are working numerous times. Here is a good article looking at the large number of people that have failed to do so and are now retiring.
Retiring Boomers Find 401(k) Plans Fall Short
The median household headed by a person aged 60 to 62 with a
401(k) account
has less than one-quarter of what is needed in that account to maintain its standard of living in retirement, according to data compiled by the Federal Reserve and analyzed by the
Center for Retirement Research at Boston College
for The Wall Street Journal.
…
Vanguard long advised people to put 9% to 12% of their salaries—including the employer contribution—in their 401(k) plans. The current median amount that people contribute is 9%, counting the employer contribution, Vanguard says.
Recently, Vanguard has begun urging people to contribute 12% to 15%, including the employer contribution, because of the stock market's weak returns and uncertainty about the future of Social Security and Medicare.
…
Experts estimate Social Security will provide as much as 40% of pre-retirement income, or $35,080 a year for that median family. That leaves $39,465 needed from other sources. Most 401(k) accounts don't come close to making up that gap.
The median 401(k) plan held $149,400, including plans from previous jobs, according to the Center for Retirement Research. To figure the annual income from that, analysts typically look at what the family would get from a fixed annuity. That $149,400 would generate just $9,073 a year for a couple, according to New York Life Insurance Co., the leading provider of such annuities— less than one-quarter of the $39,465 needed.
Just 8% of households approaching retirement have the $636,673 or more in their 401(k)s that would be needed to generate $39,465 a year.
Knowing exactly what is needed for retirement is difficult. But knowing what is a responsible amount is not. It is certainly no less than 8%, and is likely the 12-15% figure Vanguard recommends. If you start at 10% from the time you join the full time workforce (in your 20's) then you have some flexibility you can see how thing look when you are 30, maybe 12% is sensible, maybe 15%, maybe 10%. If you fail to save for a decade however, you are likely to need to be at 15%, or higher.
Read more
Unfortunately large banks have a very strong tendency to try to take as much of your money as they can get away with. Rather than having to stay ultra-vigilante (as though I am in business with a thief that I have to watch ever minute or expect my money to be stolen) I would rather pick those I going into business with to avoid those seeking to rip me off. Credit unions are usually the best bet. Some credit unions join nationwide ATM networks, so if ATMs are important to you check this out before selecting a credit union.
Hate ATM fees? Try these fee-friendly banks
In fact, if you frequent an out-of-network ATM once a week, you could end up paying more than $200 in ATM fees a year.
If you're looking to avoid those fees, Ally, Charles Schwab (SCHW, Fortune 500) and USAA not only let all of their customers use out of network ATMs free of charge, but they also refund the fees that their customers are charged by other banks. State Farm Bank doesn't charge you for going out of network and reimburses fees of up to $10 charged by other banks.
In general, the best advice is to avoid large banks like you would someone with a dangerous communicable disease.
BankSimple is a very promising new offering from Alex Payne, one of Twitter's first employees and CTO of BankSimple, that promises "to simply put people first. Real customer service, no surprise fees, and a deep desire to help people is what makes BankSimple different." Now the large banks are perfectly comfortable saying they try to help while trying to find any way possible to trick customers out of money. So Banksimple's words don't mean much. but I think there is a real chance they will be different. It is a great market to be in, huge amounts of money to be made and your competitors all treat customers egregiously poorly. That should give you a great opportunity to gain a huge market share.
They are not yet open for business but it might open in early 2011. They are not actually going to be a bank, but instead provide the customer value and partner with existing banks (so we can deal with someone that isn't trying to rip us off and they can let some bank deal with the administration of managing the money.
Related: Worst Business Practices: Fees to Pay Your Bills – Credit Card Regulation Has Reduced Abuse By Banks – FDIC Study of Bank Overdraft Fees – Sneaky Fees
In the USA we fail to save nearly enough for retirement by and large. And fail to save emergency funds or prepare for economically difficult times. We by and large chose to spend today and hope tomorrow will be good rather than first establishing a good financial safety net before expanding spending.
When people are debating withdrawing from their retirement account it is actually not the important decision it seems to be (normally). Normally the important decision was years before when they chose to take on consumer debt and not to build up an emergency fund. And when they failed to just build up saving beyond that which could be used for nice vacations, a new car, or to live on in economically challenging times.
If someone had been saving 15% of their salary in retirement since they started working if they took an amount that left them at 10% that is hardly a horrible result. While someone that was already behind by say adding just 3% to retirement savings and they took out all of it that would be much worse.
And we should remember even having a retirement account to withdraw from might put you ahead of nearly 50% of the population (and our state and federal governments, by the way). If you have to resort to withdrawing from your retirement account don't think of that as the failure. The failure was most likely the lack of savings for years prior to that. And as soon as possible, re-fund your retirement account and build up a strong emergency fund, even if that means passing spending on things you want.
Related: Retirement Savings Allocation for 2010 – 401(k)s are a Great Way to Save for Retirement – Save Some of Each Raise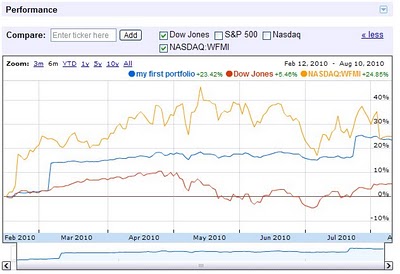 Google finance has a nice new feature to let you chart your entire portfolio. You can then compare it to the S&P 500 or other stocks. This is a very nice feature. Yahoo Finance is about the only part of Yahoo I still use. I do use Google Finance some but they still fall short and I use Yahoo Finance much more. This feature will at least encourage me to put my portfolio in Google and start tracking it.
It would be great if this could give you portfolio annual rates of return (including factoring in cash additions and withdraws and keeping track of sales over time to show a true view of the portfolio). It does look like it will factor in stock purchases and sales which is very nice. You can import csv files with transaction history – another nice feature.
It also strikes me as a very smart move (as a Google stockholder that is nice to see) as advertising rates around investing are high. The more time Google can provide financial advertisers the more income they can make.
Related: Lazy Portfolios Seven-year Winning Streak – Google Posts Good Earning But Not Good Enough for Many (April 2010) – Dollar Cost Averaging – Curious Cat Investing Books
Options strike most as exotic investment transactions. And some option strategies can be risky. But stock options can also be used in ways that are not risky. Call options give you the right to buy a stock at a certain price (the strike price) on, or before, a certain date (the expiration date). So if you want to speculate that a stock will go up in a short period of time you can buy call options. This is a risky investment strategy – though it can pay off well if you speculate correctly.
Someone has to sell the call option. The seller gives the buyer the right to buy a stock at a certain price by a certain date. A speculator can do this and take the risk that the price will not rise to the level where a person chooses to exerciser their option. The also carries a significant risk, as if the stock price rises the speculator that sold the option has to either buy the option back (at a significant cost) or provide the stock (which they would have to purchase on the market). In order to trade in options you must be approved by the broker (at least in the USA) as an investor with the knowledge, finances and goals for which options trading is appropriate.
An investor can also sell an option to buy a stock they own – this is called selling a covered call option. This means you get the price the speculator is willing to pay to buy the option and may have to sell the stock you own if the person holding the option chooses to exercise it.
Lets look at an example. Lets say you own some Amazon stock. Read more
Law enforcement officers, pre-Kindergarten through 12th grade teachers and firefighters/emergency medical technicians can contribute to community revitalization while becoming homeowners through HUD's Good Neighbor Next Door Sales Program. HUD (United States Department of Housing and Urban Development) offers a substantial incentive in the form of a discount of 50% from the list price of the home. In return you must commit to live in the property for 36 months as your sole residence.
Eligible Single Family homes located in revitalization areas (there are hundreds of revitalization areas across the country. HUD is always working with localities to designate new areas) are listed exclusively for sales through the Good Neighbor Next Door Sales program. Properties are available for purchase through the program for five days.
Check the listings for your state. Follow the instructions to submit your interest in purchasing a specific home. If more than one person submits on a single home a selection will be made by random lottery. You must meet the requirements for a law enforcement officer, teacher, firefighter or emergency medical technician and comply with HUD's regulations for the program.
HUD requires that you sign a second mortgage and note for the discount amount. No interest or payments are required on this "silent second" provided that you fulfill the three-year occupancy requirement.
Related: Fixed Mortgage Rates Reach New Low – Your Home as an Investment – articles on home ownership
Countries that can still be travelled on the cheap
Indonesia has had a bad run of terrible press over the past few years. Between bombings and other strife it's fallen off the to-do lists of many tourists. Their loss is our gain: the pristine beaches are still the drawcard and you can experience the same dirt-cheap living that has always been on offer.
If you're keen to surf or lie on the beach you're all set to have an adventure for peanuts. As long as you steer clear of tourist-trap resorts, you'll struggle to spend more than $23.50 a day. Nourish your inner cheapskate and buy souvenirs away from the tourist areas; head to the central market in Denpasar or Ubud's Pasar Sukowati.
…
Eastern Europe used to be dirt cheap back in the good old days of the Cold War. Now that peace has broken out, costs are on the up. Poland, though, is still at the inexpensive end: a daily budget of $29 will easily get you around the country.
Poland is a nation that's been run over so many times by invading forces that it's become bulletproof. Now this EU member is on the rise, so get in quick before the prices go up for good. Rural towns are picturesque and cheap to visit; tiny towns like Krasnystaw in the Lubelskie region are a miser's wonderland.
…
If you're looking for a scuba-diving destination where you can put your entire budget into going under, Honduras is the place to be. With sleeping budgets as low as $12 a night and meals available for even less you can really stretch out the funds.
Sitting pretty next door to the Caribbean Sea, you'll have plenty of time to count your pennies as you sun yourself on the golden beaches. The developers haven't invaded quite yet, but you'd better get in quick, before the good old days slip into the past.
After snorkelling and kayaking around Roatan's West Beach, splurge on a visit to the Unesco-listed Archaeological Park of Copan; entry is $18.
Related: Great Time for a Vacation – Travel guide books – Traveling To Avoid USA Health Care Costs – Travel Photo blog
Many aspects of personal finance can get a bit confusing or require some study to understand. But really much of it isn't very complicated. Debt is often toxic to personal financial success. The simple step you can take to avoid the problems many face is to just not buy things until you save up for them. If you want some new shoes or new Droid Incredible or to go see a football game (American or World Cup style) that is fine. Just save up the money and then spend it.
If you limit your borrowing you will get ahead financially. I think borrowing for a home is fine (I suggest saving up a 20% down-payment – or at least 10%, and many banks are again requiring this sensible step). And don't overextend yourself – borrow what you can comfortably afford – even if you run into financial difficulty. It might be likely you earn more 5 years from now, but it is certainly possible you will earn less. Remember that.
Borrowing for school is fine but be careful. Huge education debts are a large burden. Don't ignore this factor when selecting a school. And don't fall prey to the for-profit education scams that have become very prevalent. I would be very very skeptical of any for profit educational institution and would much prefer long term public or private institutions with long term success (colleges, universities and community colleges). Technical training can be very good but you have to be very careful to not be taken advantage of.
Borrowing for a car is ok, but I would avoid it if possible. And other than that I would avoid debt, if at all possible. If you want a big expensive wedding, fine, save up the money. If you want a vacation to East Africa, great, save up the money. If you want the latest, new tech gadget, great save up the money first.
And saving up for your emergency fund (if it isn't fully funded already) and for retirement should be right after food, shelter, health and disability insurance and any debt you already have to be paying back. After you have committed money to your emergency fund and retirement then choose what to do with your remaining discretionary income. It is critical to have built up an emergency fund so if you have any emergency you can tap that without going into debt and digging yourself a personal financial hole you have to dig out of.
Personal financial success is not some get rich quick scheme or magic. Success is Achieved by doing some really simple things well. It is not complicated but that isn't the same thing as easy. Showing restraint is not what we are urged to do by the marketers. So while not buying what you can't afford is not exactly an amazing insight, hundreds of millions of people (in the USA and Europe I know, and probably everywhere that consumer debt is easy to get) fail financially just because they refuse to follow this advice.
Related: Avoid credit card debt – How to Protect Your Financial Health – Curious Cat personal finance basics – Can I Afford That?
Comments