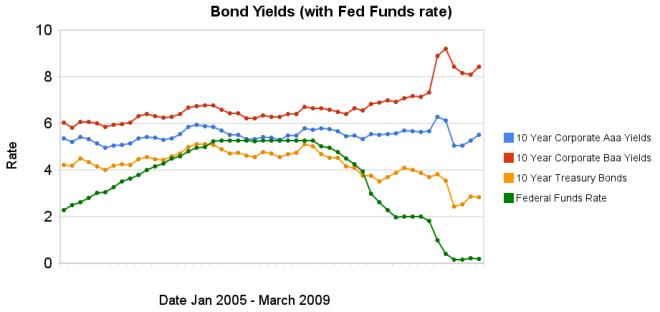 Chart showing corporate and government bond yields by Curious Cat Investing Economics Blog,
Creative Commons Attribution
, data from the Federal Reserve.
The federal funds rate remains under .25%. The large spread between government bonds and corporate bonds remains very large. In the last 3 months the yields on Aaa corporate bonds have increased 45 basis points, Baa corporate bond yields have decreased 1 basis points, while treasury bond yields have increased 40 basis points.
The spread between 10 year Aaa corporate bond yields and 10 year government bond yields is now 268 basis points. In January, 2008 the spread was 159 points. The larger the spread the more people demand in interest, to compensate for the increased risk. The spread between government bonds and Baa corporate bonds decreased to a still very large 566 basis points, the spread was 280 basis point in January 2008, and 362 basis points in September 2008.
Data from the federal reserve: corporate Aaa – corporate Baa – ten year treasury – fed funds
Related: Chart Shows Wild Swings in Bond Yields – Fed to Start Buying Treasury Bonds Today – Corporate and Government Bond Rates Graph (Oct 2008) – investing and economic charts
Comments