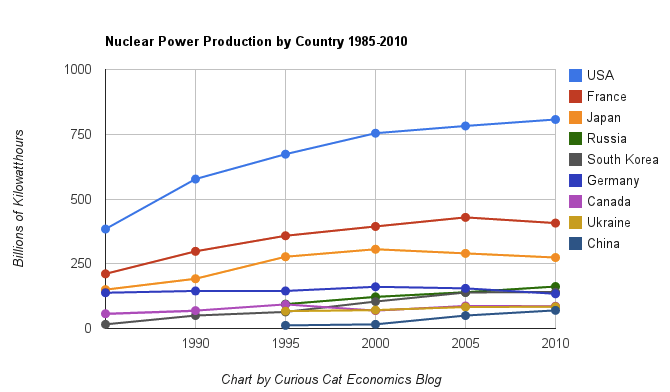 The chart shows the top nuclear power producing countries from 1985 to 2010. The chart created by Curious Cat Investing and Economics Blog
may be used with attribution
. Data from
US Department of Energy
.
___________________
Nuclear power provided 14% of the world's electricity in 2010. Wind power capacity increased 233% Worldwide from 2005 2010, to a total of 2.5% of global electricity needs. Nuclear power generation declined by .72% for the same period.
Burning coal was responsible for 41% of electricity generation in 2010. Burning natural gas accounted for 21% and hydroelectric generation accounted for 15%.
Japan just announced that they have closed their last operating nuclear power plant. They have no nuclear power plant generating electricity for the first time in more than 40 years. It will be interesting to see how low their actual generation totals fall this year. They plan to re-open some of the plants but it is a political issue that is far from settled.
Globally nuclear power production increased 84% from 1985 to 2010. This is a very low percentage. Global output over that period increased much more than that, as did global electricity use. The share of electricity production provided by nuclear power peaked at about 17% for much of the 1990s.
Related: Nuclear Power Production Globally from 1985 to 2009 – Oil Production by Country 1999-2009 – Top 10 Countries for Manufacturing Production from 1980 to 2010: China, USA, Japan, Germany… – Japan to Add Personal Solar Subsidies – Nuclear Energy Institute (statistics)
Another view of data on nuclear power shows which of the leading nuclear producing countries have the largest percentages of their electrical generating capacity provided by nuclear power plants (as of 2009). France has 75% of all electricity generated from nuclear power. Ukraine had the second largest percentage at 49%, then Sweden at 37% and South Korea at 35%. Japan is at 28% compared to 20% for the USA. Russia was at 18% and China was at just 2%.
Comments