I made several more Kiva loans to entrepreneur in Kenya, Lebanon, Nicaragua, Kenya, Honduras and Armenia (brining my total loans to 251). It really is great to see real people using capitalism to improve their lives. And being able to help by lending some money is wonderful. When looking for loans I give preference to loans that improve productivity and increasing capacity of the entrepreneur. If they use the proceeds of the loan to increase their capacity to produce they can pay off the loan and find themselves much better off.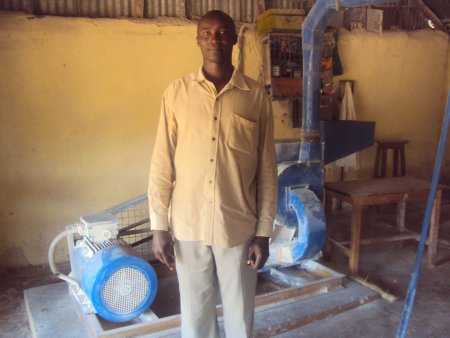 Douglas Osusu, Kisii, Kenya, in front of his posho mill (used for grinding maize into flour).
A nice example of this is the loan to Douglas Osusu (pictured). He has requested this loan of 80,000 KES to purchase a dairy cow and a posho mill. This loan also has a portfolio yield (Kiva's equivalent of an annual percentage rate) of 19%. 19% is very loan for loans on Kiva (remember there are significant costs to servicing micro-loans) – I like the rate to be under 30% but sometimes accept rates up to 40% (or even higher occasionally). I also give great preference to low rates, as the lower the rate the better for the entrepreneur. The 3rd factor I consider is the history of the field partner bank (default rate, delinquency rate and currency exchange loss rate). In this case the field partner is new and carries risk because of that. Still in this case I really like the loan and I like that this lender is charging low rates so I want to take the risk and see how they can do. The amount I lend is based on the combination of these factors – I lend more when I have several reasons to really like the loan.
Join other readers by making loans and joining the Curious Cats Lending Team: 8 members, 213 loans totaling $8,775. Comment with the link to your Kiva page and I will add a link on Curious Cat Kivans.
My current default rate is 1.39% and the delinquency rate is 8.49% (see chart of USA general delinquency rates). The delinquency rate is exaggerated due to technical details (some difficulties in reporting in various countries and such things). Agricultural loans often become delinquent on Kiva but still are paid in full (in my experience). While the defaulted loan rate is 1.39% if you look at the percent of dollars lost I have a rate of 1.2% (this is nearly all due to a bank that failed over a year ago to which I had 2 loans where I lost $87.50 of $100 – there are also 2 other losses for under $5). I add to my total loan amount a couple times a year but also I get to keep relending as money is paid back.
Some of my favorite ways to help reduce extreme poverty are Trickle Up, Kiva and using Global Giving to find small organizations.
Related: 100th Entrepreneur Loan – More Kiva Entrepreneur Loans: Kenya, El Salvador (June 2010) – Kiva Opens to USA Entrepreneur Loans – MicroFinance Currency Risk – Kiva Fellows Blog: Nepalese Entrepreneur Success
Comments