Asia
banking
bonds
capitalism
chart
China
commentary
consumer debt
Credit Cards
credit crisis
curiouscat
debt
economic data
Economics
economy
employment
energy
entrepreneur
Europe
Financial Literacy
government
health care
housing
India
interest rates
Investing
Japan
John Hunter
manufacturing
markets
micro-finance
mortgage
Personal finance
Popular
quote
Real Estate
regulation
Retirement
save money
Saving
spending money
Stocks
Taxes
Tips
USA
As usual the 2016 Letter to Berkshire Hathaway shareholders by Warren Buffet provides great thoughts for investors.
Warren is not a fan of market timing, for good reason. I do think he may be a bit overly-optimistic. It is not something innate about the geography of the USA that means whoever is within that area will prosper over the long term. Our actions as a society materially impact our long term success. Yes, we have done very well economically and we have many factors continuing to make that likely to continue. But it is not certain.
Those willing to challenge rosy projections serve a useful purpose. But investors must be careful not to lose out on gains. Timing the market is rarely successful. Even in the cases where people do reasonable well getting out of a highly priced market they often fail to get back into the market until after they lose money on the effort (they may save a bit on the downside but then don't get back in until they missed more upside than they saved on the downside).
Must of Berkshire Hathaway's success is due to what seem like fairly easy things to do. For example, what Warren discusses here. This reinforces a point that is often overlooked which is the management philosophy that has helped Berkshire Hathaway achieve their success. Every year Warren Buffett praises the senior managers at various Berkshire Hathaway companies for good reason.
The fairly simple idea of hiring trustworthy, capable and ethical people and giving them freedom to manage for the long term seems too easy to provide an advantage. But it does. Warren Buffett is very careful to pick people that are more concerned with providing value to customers over the long term than promoting themselves and seeking massive short term rewards for themselves. This simple act of hiring people that are willing to put customers and shareholders before themselves allows your organizations to function in its long term best interest.
In so many other companies short term incentives destroy value (Warren's point 4 above). This failure can extend to companies Warren is significantly invested in: such as the long term and deep seeded mismanagement at Wells Fargo due to very poor leadership at that company for years. But in general, Berkshire Hathaway is much better at avoiding these toxic behaviors driven by very poor executive leadership when compared to other companies.
The importance of Berkshire Hathaway focusing on the long term and not getting distracted by short term financial measures is vastly under-appreciated.
By focusing managers and CEOs on actually running the business Berkshire Hathaway again does well compared to their competitors. Far too many companies spend the time of executives on playing financial games to divert huge payments to themselves that they then try to claim are not really costs. This is enormously costly to investors and our economy.
The bottom line: When trillions of dollars are managed by Wall Streeters charging high fees, it will usually be the managers who reap outsized profits, not the clients. Both large and small investors should stick with low-cost index funds.
Diversification and keeping down fees are the investing strategies that will help more investors than anything else.
Related: Warren Buffett's 2011 Letter to Shareholders – Warren Buffett's 2010 Letter to Shareholders – Warren Buffett's 2005 Shareholder Letter
Warren Buffett continues to write his excellent annual shareholder letter. It is a pleasure to read them every year. I have selected a few passages to include:
Investors face challenges within their own psychology. This is one, but not the only one.
The insurance business is explained well in this, and his other shareholder letter.
Related: Warren Buffett's 2010 Letter to Shareholders – Warren Buffett's Q&A With Shareholders 2009 – Warren Buffett's 2007 Letter to Shareholders
Hedge funds sell themselves as investments for elites and justify their extraordinary expenses mainly by appealing to elites egos. Well, hedge funds by and large do poorly. This is largely due to huge expenses. Add to that the incentives managers have to take huge risks: the managers often get 20% of extraordinary gains and if they lose, well you lose your money. These incentives to take huge risks do mean a few hedge funds do spectacularly well each year (of course more usually do spectacularly poorly over time).
Warren Buffett knew this and wagered a long term investment in a low cost Vanguard S&P 500 Index fund would beat a hedge fund over the long term.
Buffett Seizes Lead in Bet on Stocks Beating Hedge Funds
There may be many nice things about being in the 1% of the USA (being in 1% of the World is something more people in the USA should realize they are – more than 50% of the USA is in the 1% of everyone) but investing in hedge funds is mainly fools helping make a few more of the 1% by paying huge fees for lousy investments. Yes a few hedge funds will manage to do well. As would a few monkey's throwing darts at a page of investments each quarter. The odds of picking a hedge fund for a long period of time that does so well the huge fees are justified are not great. Missing out on this investment option is not one you should feel sad about.
Related: Is the Stock Market Efficient? – Investment Risk Matters Most as Part of a Portfolio, Rather than in Isolation – 12 Stocks for 10 Years: January 2012 Update
This is another article supporting my belief that long term bonds are not investments I want to take on now. The risks of inflation and low yields seem like a very bad combination.
Buffett Says Avoid Long-Term Bonds Tied to Eroding Dollar, quoting Warren Buffett:
By "take away" he mean the government can undertake policies to "inflate" their way out of a budget mess. By undertaking policies that create inflation (drastically increasing the money supply, borrowing huge amounts of money, running huge trade deficits…) the country can devalue the currency, the US dollar in this case, and thus reduce the effective cost of the payments they have to make on long term bonds (because they pay back the loans with devalued, inflated, dollars). I believe he is right and long term USD bonds are a very risky (inflation risk) investing option today. Of course I have felt the same way for the last 5 years. I own very little in the way of bonds – I do own a bit of TIPS (Treasury Inflation-Protected Securities), in my 401(k) – but stopped allocating money to that class in the last year.
Related: Bill Gross Warns Bond Investors (March 2010) – Bond Yields Stay Very Low, Treasury Yields Drop Even More – Who Will Buy All the USA's Debt?
Warren Buffett has published his always excellent annual shareholder letter. It is a pleasure to read them every year, when they are published, and re-read them at other times of the year.
Warren Buffett packs in great lessons all throughout the letter. Read it and take them to heart.
Related: Buffett Calls on Bank CEOs and Boards to be Held Responsible – Warren Buffett's Q&A With Shareholders 2009 – The Greatest Wall Street Danger of All: You – Warren Buffet Webcast to MBAs – Warren Buffett's 2007 Letter to Shareholders – Warren Buffett's Annual Report
Read more
Buffett Rules Out Double-Dip Recession Amid Growth
Related: Warren Buffet Webcast to MBAs – Global Economy Prospects Look Good But Also at Risk (June 2010) – Auto Manufacturing in 2009: USA 5.7 million, Japan 7.9 million, China 13.8 million
40 billionaires pledge to give away half of wealth
In addition to Buffett and Gates – America's two wealthiest individuals, with a combined net worth of $90 billion, according to Forbes – 38 other billionaires are taking the give-it-away pledge. They include New York Mayor Michael Bloomberg, entertainment executive Barry Diller, Oracle co-founder Larry Ellison, energy tycoon T. Boone Pickens, media mogul Ted Turner, David Rockefeller, film director George Lucas and investor Ronald Perelman.
This is great news. We need more charity. And we don't need more trust fund babies. The Giving Pledge was established by Bill Gates and Warren Buffet to encourage this spirit.Charity should be a part of your personal finance plan if you are reading this (if you have access to a computer you are wealthier than most people alive today).
To many of the rich today act like they made their money by creating it by themselves. You can't be a billionaire without getting it given to you by your parents or making your wealth from society. It is wonderful when people provide great solutions to society and become wealthy. It is ridicules to think those people's wealth is not the result of the society others created. Using that wealth to make society better is right. Spoiling kids and grandkids with it is acceptable, to a certain level. After a couple million that is insulting, however.
Related: House Votes to Restore Partial Estate Tax Very Richest: Those with Over $7 Million – Rich Americans Sue to Keep Evidence of Their Tax Evasion From the Justice Department – Gates Foundation and Rotary Pledge $200 Million to Fight Polio
Buffett Expects "Terrible Problem" for Municipal Debt
Related: USA State Governments Have $1,000,000,000,000 in Unfunded Retirement Obligations – Buffett on Need to Reduce Government Deficits – Politicians Again Raising Taxes On Your Children
The Wall Street Journal wrote "Their Fair Share" in July of 2008 claiming that the rich are paying their fair share of taxes.
The nearby chart shows that the top 1% of taxpayers, those who earn above $388,806, paid 40% of all income taxes in 2006, the highest share in at least 40 years. The top 10% in income, those earning more than $108,904, paid 71%. Barack Obama says he's going to cut taxes for those at the bottom, but that's also going to be a challenge because Americans with an income below the median paid a record low 2.9% of all income taxes, while the top 50% paid 97.1%. Perhaps he thinks half the country should pay all the taxes to support the other half.
Wow. The Wall Street Journal against a tax cut? Well I guess if it is a tax on the poor they don't support cutting those taxes. I think it may well make sense to reduce the social security and medicare taxes on the working poor (including the company share). Of all the taxes we have this is the one I would reduce, if I reduced any (given the huge amount of government debt any reduction may well be unwise). But reducing income taxes for those under the median income doesn't seem like something worth doing to me.
The top 1% earned 22% of all reported income. But they also paid a share of taxes not far from double their share of income. In other words, the tax code is already steeply progressive.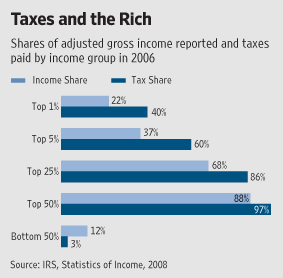 They seem to ignore that income inequality has drastically increased. When you have a system that puts a huge percentage of the cash in a few people's pockets of course those people end up paying a lot of cash per person. One affect of massive wealth concentration is that the limited people all the money is flowing to naturally will pay an increasing portion of taxes.
It is fine to argue that the rich pay too much tax, if you want. I don't agree. I think Warren Buffett explains the issue much more clearly and truthfully when he says he, and all his fellow, billionaires (and those attempting to join the club) pay a lower percent of taxes on income than their secretaries do. He offers $1 million to any of them that prove that isn't true.
And I guess you can say that the top 22% of the income paying the top 40% of the taxes is "steeply progressive." I wouldn't call that steep, but… It is nice the graphic is at least decently honest. Saying just "top 1% of taxpayers, those who earn above $388,806, paid 40% of all income " is fairly misleading. It is much more honest (I believe) to say that "the top 1% (that made 22% of the income) paid…" Those with the top 22% of income paid 40% of the taxes, the next 15% payed 20%, the next 31% paid 26% the next 20% 11% and the final 12% paid 3%. That is progressive. From my perspective it could be more progressive but I can see others saying it it progressive enough.
If 22% to 40% is "steeply" progressive what is 1% to 22%? The income distribution seems to be what? very hugely massively almost asymptotently progressive? The to 1% of people, by income, take 22% of the income, the next 4% take the next 15% of the total income, the next 20% take 31%, the next 25% take 30% and the bottom 50% take 12%. This level of income inequality is much more a source of concern than any concern someone should have about a slightly progressive tax result.
Related: House Votes to Restore Partial Estate Tax on the Very Richest: Over $7 Million – IRS Tax data – Rich Americans Sue to Keep Evidence of Their Tax Evasion From the Justice Department
Read more
In his most recent letter to shareholders Warren Buffett suggests that bank CEOs and board members be held accountable when the risks they take (and reward themselves obscenely for when they payoff) backfire:
The lack of accountability or ethics from those risking the economy so they can take huge payments (and paying off politicians to allow those risks) has hugely damaged the USA and the economic future of the country. The longer we allow such unethical leadership to continue to the more we will suffer. The current low interest paid to savers and the wealth thus transferred to the banks (who then pay themselves even more bonuses) are but one legacy of this economically devastating path.
By the way, there is no way the bankers will actually be held accountable. The behavior of politicians we continually elect shows they will not do something that those giving them the huge amounts of cash don't like. If we don't like that we have to elect different people – maybe people that care about the country and have moral principles instead of those lacking such qualities, that we do elect.
The politicians believe in holding those that don't give them huge payments accountable for their actions. They just draw the line at holding people that they play golf with accountable.
Related: CEOs Plundering Corporate Coffers – Credit Crisis the Result of Planned Looting of the World Economy – The Best Way to Rob a Bank is as An Executive at One – Fed Continues Wall Street Welfare – Political Favors for Rich Donors – Why Pay Taxes or be Honest
Comments