Asia
banking
bonds
capitalism
chart
China
commentary
consumer debt
Credit Cards
credit crisis
curiouscat
debt
economic data
Economics
economy
employment
energy
entrepreneur
Europe
Financial Literacy
government
health care
housing
interest rates
Investing
Japan
John Hunter
manufacturing
markets
micro-finance
mortgage
Personal finance
Popular
quote
Real Estate
regulation
Retirement
save money
Saving
spending money
Stocks
Taxes
Tips
USA
Warren Buffett
This is a continuation of my previous post: Investing in Peer to Peer Loans
LendingClub suggest a minimum of 100 loans (of equal size) to escape the risk of your luck with individual loans causing very bad results. Based on this diversity the odds of avoiding a loss have been very good (though that obviously isn't a guarantee of future performance), quote from their website (Nov 2015):
With just $2,500 you can spread your investment across 100 Notes. 99.9% of investors that own 100+ Notes of relatively equal size have seen positive returns.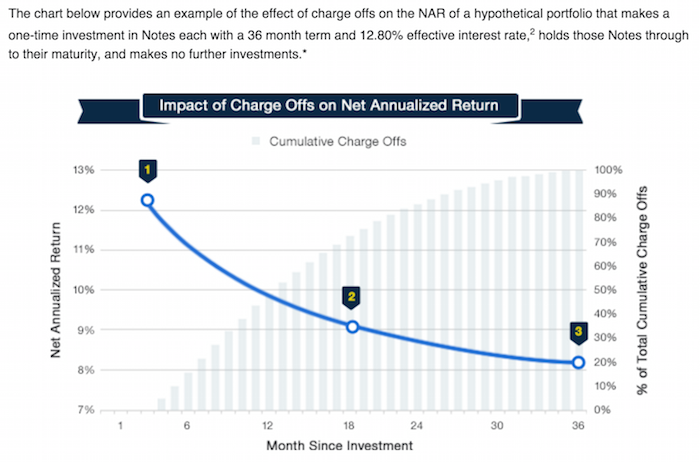 This chart, from LendingClub, shows a theoretical (not based on past performance) result. The basic idea is that as the portfolio ages, more loans will default and thus the portfolio return will decline. This contrasts with other investments (such as stocks) that will show fluctuating returns going up and down (over somewhat dramatically) over time.
For portfolios of personal loans diversity is very important to avoid the risk of getting a few loans that default destroying your portfolio return. For portfolios with fewer than 100 notes the negative returns are expected in 12.8% of the cases (obviously this is a factor of the total loans – with 99 loans it would be much less likely to be negative, with 5 it would be much more likely). I would say targeting at least 250 loans with none over .5% would be better than aiming at just 100 loans with none over 1% of portfolio.
There are several very useful sites that examine the past results of Lending Club loans and provide some suggestions for good filters to use in selecting loans. Good filters really amount to finding cases where Lending Club doesn't do the greatest job of underwriting. So for example many say exclude loans from California to increase your portfolio return. While this may well be due to California loans being riskier really underwriting should take care of that by balancing out the risk v. return (so charging higher rates and/or being more stringent about taking such loans.
So I would expect Lending Club to adjust underwriting to take these results into account and thus make the filters go out of date. Of course this over simplifies things quite a bit. But the basic idea is that much of the value of filters is to take advantage of underwriting weaknesses.
This chart (for 36 month loans) is an extremely important one for investors in peer to peer loans. It shows the returns over the life of portfolios as the portfolio ages. And this chart (for LendingClub) shows the results for portfolios of loans issued each year. This is a critical tool to help keep track to see if underwriting quality is slipping.
Peer to peer lending has grown dramatically the last few years in the USA. The largest platforms are Lending Club (you get a $25 bonus if you sign up with this link – I don't think I get anything?) and Prosper. I finally tried out Lending Club starting about 6 months ago. The idea is very simple, you buy fractional portions of personal loans. The loans are largely to consolidate debts and also for things such as a home improvement, major purchase, health care, etc.).
With each loan you may lend as little as $25. Lending Club (and Prosper) deal with all the underwriting, collecting payments etc.. Lending Club takes 1% of payments as a fee charged to the lenders (they also take fees from the borrowers).
Borrowers can make prepayments without penalty. Lending Club waives the 1% fee on prepayments made in the first year. This may seem a minor point, and it is really, but a bit less minor than I would have guessed. I have had 2% of loans prepaid with only an average of 3 months holding time so far – much higher than I would have guessed.
On each loan you receive the payments (less a 1% fee to Lending Club) as they are made each month. Those payments include principle and interest.
Lending Club provides you a calculated interest rate based on your actual portfolio. This is nice but it is a bit overstated in that they calculate the rate based only on invested funds. So funds that are not allocated to a loan (while they earn no interest) are not factored in to your return (though they actually reduce your return). And even once funds are allocated the actual loan can take quite some time to be issued. Some are issued within a day but also I have had many take weeks to issue (and some will fail to issue after weeks of sitting idle). I wouldn't be surprised if Lending Club doesn't start considering funds invested until the loan is issued (which again would inflate your reported return compared to a real return), but I am not sure how Lending Club factors it in.
Brett Arends writes about the investment portfolio he uses?
what is in this all-weather portfolio?
It's 10% each in the following 10 asset classes:
U.S. "Minimum Volatility" stocks
International Developed "Minimum Volatility" stocks
Emerging Markets "Minimum Volatility" stocks
Global natural-resource stocks
US Real Estate Investment Trusts
International Real Estate Investment Trusts
30-Year Zero Coupon Treasury bonds
30-Year TIPS
Global bonds
2-Year Treasury bonds (cash equivalent)
This is another interesting portfolio choice. I have discussed my thoughts on portfolio choices several times. This one is again a bit bond heavy for my tastes. I like the global nature of this one. I like real estate focus – though as mentioned in previous articles how people factor in their personal real estate (home and investments) needs to be considered.
Related: Cockroach Portfolio – Lazy Golfer Portfolio – Investment Risk Matters Most as Part of a Portfolio, Rather than in Isolation – Looking for Dividend Stocks in the Current Extremely Low Interest Rate Environment
Dylan Grice suggests the Cockroach Portfolio: 25% cash; 25% government bonds; 25% equities; and 25% gold. What we can learn from the cockroach
Each of those asset buckets protects against a different type of risk. And that is a very sensible approach to investing in the year ahead. Cash will protect you against a market collapse in anything (provided it's cash held with a solid institution).
Government bonds protect against deflation (provided your money's invested in solid government bonds and not trash). Equities offer capital growth and income. And gold, as we know, protects against currency depreciation, inflation, and financial collapse. It's vitally important to maintain holdings in each, in my opinion.
The beauty of a 'static' allocation across these four asset classes is that it removes emotion from the investment process.
I don't really agree with this but I think it is an interesting read. And I do agree the standard stock/bond/cash portfolio model is not good enough.
I would rather own real estate than gold. I doubt I would ever have more than 5% gold and only would suggest that if someone was really rich (so had money to put everywhere). Even then I imagine I would balance it with investments in other commodities.
One of the many problems with "stock" allocations is that doesn't tell you enough. I think global exposure is wise (to some extent S&P 500 does this as many of those companies have huge international exposure – still I would go beyond that). Also I would be willing to take some stock in commodities type companies (oil and gas, mining, real estate, forests…) as a different bucket than "stocks" even though they are stocks.
And given the super low interest rates I see dividend paying stocks as an alternative to bonds.
The Cockroach Portfolio does suggest only government bonds (and is meant for the USA where those bonds are fairly sensible I think) but in the age of the internet many of my readers are global. It may well not make sense to have a huge portion of your portfolio in many countries bonds. And outside the USA I wouldn't have such a large portion in USA bonds. And they don't address the average maturity (at least in this article) – I would avoid longer maturities given the super low rates now. If rates were higher I would get some long term bonds.
These adjustments mean I don't have as simple a suggestion as the cockroach portfolio. But I think that is sensible. There is no one portfolio that makes sense. What portfolio is wise depends on many things.
There are many asset allocation strategies; which often are pretty similar. In general they oversimplify the situation (so an investor needs to study and adjust them to their situation – though most don't do this, which is a problem). In general, I think asset allocation suggestions are too heavily weighted on bonds, and that is even more true today in the current environment – of could that is just my opinion.
I ran across this suggested allocation in Eyewitness to a Wall Street mugging which I think has several good values.
It focuses on low fee, market index funds. Fees are incredibly important in determining long term investment success
It has lower bond allocation than normal
It has more international exposure than many – which I think is wise (this suggested portfolio is for those in the USA, USA portion should be lowered for others)
It includes real estate (some suggested allocations miss this entirely)
In my opinion this allocation should be adjusted as you get closer to retirement (put a bit more into more stable, income producing investments).
My personal preference is to use high quality dividend stocks in the current interest rate environment. I would buy them myself which does require a bit more work than once a year rebalancing that the lazy golfer portfolio allows.
I would also include 10% for Vanguard emerging markets fund (VWO) (for sake of a rule of thumb reduce Inflation Protected Securities Fund to 10% if you are more than 10 years from retirement, when between 10 and 1 year from retirement put Inflation Protected Securities Fund at 15% and Total Stock Market Index Fund at 35%, when 1 year from retirement or retired lower emerging market to 5% and put 5% in money market.
Depending on your other assets this portfolio should be adjusted (large real estate holdings [large net value on personal home, investment real estate…] can mean less real estate in this portfolio, 401k holdings may mean you want to tweak this [TIAA CREF has a very good real estate fund, if you have access to it you might make real estate a high value in your 401k and then adjust your lazy portfolio], large pension means you can lower income producing assets, how close you are to retirement, etc.).
The Lazy Golfer Portfolio (Annually rebalance the fund on your birthday and ignore Wall Street for the remaining 364 days of the year) contains 5 Vanguard index funds
40% Total Stock Market Index Fund (VTSMX)
20% Total International Stock Index Fund (VGTSX)
20% Inflation Protected Securities Fund (VIPSX)
10% Total Bond Market Index Fund (VBMFX)
10% REIT Index Fund (VGSIX)
Related: Retirement Planning, Looking at Asset Allocation – Lazy Portfolio Results – Investment Risk Matters Most as Part of a Portfolio, Rather than in Isolation – Starting Retirement Account Allocations for Someone Under 40 – Taking a Look at Some Dividend Aristocrats
Mosaic offers a new investment option to easily invest in solar energy projects. Mosaic connects investors seeking steady, reliable returns to high quality solar projects. To date, over $2.1 million has been invested through Mosaic and investors have received 100% on-time repayments.
The site provides full prospectives on each project. The yields have been between 4.5% and 5% for 8 to 10 year projects. The funds pay for solar installation and then the locations that take the loans pay them back with the saving on their electricity bill (sometimes selling power to the utility based on the organizations electricity needs and amount generated at any specific time).
The bonds have risks, of course. And I am pretty sure they are very illiquid. But for those looking for some decent yield alternatives they may offer a good choice. They also provide the benefit of supporting green energy
The current bond being offered, 657 kW on Pinnacle Charter School in Federal Heights, Colorado offers a yield of 5.4%. The public offerings have only been available for a few months and they have sold out quickly so far.
Mosaic has done a good job creating a simple process to invest online. You create your account and if you chose to invest and are allocated a portion of an offering it is funded from your bank account. You can invest as little as $25.
Related: Looking for Yields in Stocks and Real Estate – Taking a Look at Some Dividend Aristocrats – Pay as You Go Solar in India – posts on solar energy on Curious Cat Science and Engineering blog
Us treasury yield hit a incredibly low level years ago and they have continued to fall further. Granted this is mainly due to the bailout of the economy necessitated by the politicians favors to the too-big-too-fail financial institutions that have given those politicians so much cash over the years. Other factors are at play but the extent of the excessive punishment of savers is mainly due to political bailouts of bankers and bailouts of the economy caused by the bankers actions.
This extremely low rate environment is crippling to many retirees. The small percentage that actually did what they were told to have been blindsided by years of artificially low rates (and it is likely to continue for years). This has pushed some that would have been comfortable in retirement into an uncomfortable one an has pushed some from a challenging balancing act to essentially having to eliminate every possible expense (and even that may not be enough).
I can't believe long term bonds are a sensible investment now. Of course I haven't thought they were for 10 years, but they are even worse now. Bonds of "strong" governments (USA, Germany, Japan) are paying less than inflation (sometimes even less than 0 nominally – I think this has just been for short term issues so far).
I cannot see putting more than token amounts into long term bonds at these rates. Corporate bonds are not much better. The economic damaged caused by out of control too-big-too-fail institution is huge and continuing. And the politicians that have been paid lots of cash by those too-big-too-fail institutions continue to treat the too-big-too-fail players are favored friends. The yields are corporate bonds are not good for companies that are strong.
The alternatives are not great. But real assets, strong dividend stocks, strong company stocks, and short term bonds seem like better options to me in many cases. And hope we elect people that will put the economic interest of the country ahead of a few well paid friends at too-big-too-fail institution. They also need to eliminate the captured "regulators" that have facilitated the continued wrecking of the global economy. I don't hold out much hope for this though. We keep re-electing those given lots of cash by the too-big-too-fail crowd and they continue giving them favors. We are getting what we deserve given this poor performance on our part but it is pretty annoying having to watch us vote ourselves into economic calamity.
Related: Buffett Cautions Against Buying Long Term USD Bonds – Is Adding More Banker and Politician Bailouts the Answer? – Bill Gross Warns Bond Investors – Congress Eases Bank Laws (1999)
The basics of retirement planning are not tricky. Save 10-15% of your income for about 40 years working career (likely over 15%, if you don't have some pension or social security – with some pension around 10+% may be enough depending on lots of factors). That should get you in the ballpark of what you need to retire.
Of course the details are much much more complicated. But without understanding any of the details you can do what is the minimum you need to do – save 10% for retirement of all your income. See my retirement investing related posts for more details. Only if you actually understand all the details and have a good explanation for exactly why your financial situation allows less than 10% of income to be saved for retirement every year after age 25 should feel comfortable doing so.
There is value in the simple rules, when you know they are vast oversimplifications. I am amazed how many professionals don't understand how oversimplified the rules of thumb are.
Here is one thing I see ignored nearly universally. I am sure some professions don't but most do. If you have retirement assest such as a pension or social security (something that functions as an annuity, or an actually annuity) that is often a hugely important part of your retirement portfolio. Yet many don't consider this when setting asset allocations in retirement. That is a mistake, in my opinion.
A reliable annuity is most like a bond (for asset allocation purposes). Lets look at an example for if you have $1,500 a month from a pension or social security and $500,000 in other financial assets. $1,500 * 12 gives $18,000 in annual income.
To get $18,000 in income from an bond/CD… yielding 3% you need $600,000. That means, at 3%, $600,000 yields $18,000 a year.
Ignoring this financial asset worth the equivalent of $600,000 when considering how to invest you $500,000 is a big mistake. Granted, I believe the advice is often too biased toward bonds in the first place (so reducing that allocation sounds good to me). To me it doesn't make sense to invest that $500,000 the same way as someone else that didn't have that $18,000 annuity is a mistake.
I also don't think it makes sense to just say well I have $1,100,000 and I want to be %50 in bonds and 50% in stocks so I have "$600,000 in bonds now" (not really after all…) so the $500,000 should all be in stocks. Ignoring the annuity value is a mistake but I don't think it is as simple as just treating it as though it were the equivalent amount actually invested.
Related: Immediate Annuities – Managing Retirement Investment Risks – How to Protect Your Financial Health – Many Retirees Face Prospect of Outliving Savings
Pitfalls in Retirement (pdf) is quite a good white paper from Meril Lynch, I strongly recommend it.
A survey asked investors at least 41 years of age how much of their retirement savings they can safely spend each year without running the risk of exhausting their assets. Forty percent had no idea; an additional 29% said they
could safely spend 10% or more of their savings each year.
But, as explained below, the respondents most on target were the one in 10 who estimated sustainable spending rates to be 5% or less. This is significantly impacted by life expectancy; if you have a much lower life expectancy due to retiring later or significant health issues perhaps you can spend more. But counting on this is very risky.
This is likely one of the top 5 most important things to know about saving for retirement (and just 10% of the population got the answer right). You need to know that you can safely spend 5%, or likely less, of your investment assets safely in retirement (without dramatically eating into your principle.
The chart is actually quite good, the paper also includes another good example (which is helpful in showing how much things can be affected by somewhat small changes*). One piece of good news is they assume much larger expense rates than you need to experience if you choose well. They assume 1.3% in fees. You can reduce that by 100 basis points using Vanguard. They also have the portfolio split 50% in stocks (S&P 500) and 50% in bonds.
Several interesting points can be drawn from this data. One the real investment returns matter a great deal. A 4% withdrawal rate worked until the global credit crisis killed investment returns at which time the sustainability of that rate disappeared. A 5% withdrawal rate lasted nearly 30 years (but you can't count on that at all, it depends on what happens with you investment returns).
Related: What Investing Return Projections to Use In Planning for Retirement – How Much Will I Need to Save for Retirement? – Saving for Retirement
My preference is for a lower use of bonds than the normal portfolio balancing strategies use. I just find the risks greater than the benefits. This preference increases as yields decline. Given the historically low interest rates we have been experiencing the last few years (and low yields even for close to a decade) I really believe bonds are not a good investment. Now for someone approaching or in retirement I do think some bonds are probably wise to balance the portfolio (or CDs). But I would limit maturities/duration to 2 or 3 years. And really I would pursue high yielding stocks much more than normal.
In general I like high yielding stocks for retirement portfolios. Many are very good long term investments overall and I prefer to put a portion of the portfolio others would place in bonds in high yielding stocks. Unfortunately 401(k) [and 403(b)] retirement accounts often don't offer an option to do this. Luckily IRAs give you the options to invest as you chose and by placing your IRA in a brokerage account you can use this strategy. In a limited investing option retirement account [such as a 401(k)] look for short term bond funds, inflation protected bonds and real estate funds – but you have to evaluate if those funds are good – high expenses will destroy the reasons to invest in bond funds.
There are actually quite a few attractive high yield stocks now. I would strive for a very large amount of diversity in high yield stocks that are meant to take a portion of the bonds place in a balanced portfolio. In the portion of the portfolio aimed at capital appreciation I think too much emphasis is placed on "risk" (more concentration is fine in my opinion – if you believe you have a good risk reward potential). But truthfully most people are better off being more diversified but those that really spend the time (it takes a lot of time and experience to invest well) can take on more risk.
A huge advantage of dividends stocks is they often increase the dividend over time. And this is one of the keys to evaluate when selected these stock investments. So you can buy a stock that pays a 4% yield today and 5 years down the road you might be getting 5.5% yield (based on increased dividend payouts and your original purchase price). Look for a track record of increasing dividends historically. And the likelihood of continuing to do so (this is obviously the tricky part). One good value to look at is the dividend payout rate (dividend/earnings). A relatively low payout (for the industry – using an industry benchmark is helpful given the different requirement for investing in the business by industry) gives you protection against downturns (as does the past history of increasing payouts). It also provides the potential for outsized increases in the future.
There are a number of stocks that look good in this category to me now. ONEOK Partners LP pays a dividend of 5.5% an extremely high rate. They historically have increased the dividend. They are a limited partnership which are a strange beast not quite a corporation and you really need to read up and understand the risks with such investments. ONEOK is involved in the transportation and storage of natural gas. I would limit the exposure of the portfolio to limited partnerships (master limited partnerships). They announced today that the are forecasting a 20% increase in 2012 earnings so the stock will likely go up (and the yield go down – it is up 3.4% in after hours trading).
Another stock I like in this are is Abbott, a very diversified company in the health care field. This stock yields 3.8% and has good potential to grow. That along with a 3.8% yield (much higher than bond yields, is very attractive).
My 12 stocks for 10 year portfolio holds a couple investments in this category: Intel, Pfizer and PetroChina. Intel yields 3.9% and has good growth prospects though it also has the risk of deteriorating margins. There margins have remains extremely high for a long time. Maybe it can continue but maybe not. Pfizer yeilds 4.6% today which is a very nice yield. At this time, I think I prefer Abbott but given the desire for more diversification in this portion of the portfolio both would be good holdings. Petro China yields 4% today.
When invested in a retirement portfolio prior to retirement I would probably just set up automatic reinvesting of the dividends. Once in retirement as income is needed then you can start talking the dividends as cash, to provide income to pay living expenses. I would certainly suggest more than 10 stocks for this portion of a portfolio and an investor needs to to educate themselves evaluate the risks and value of their investments or hire someone who they trust to do so.
Related: Retirement Savings Allocation for 2010 – S&P 500 Dividend Yield Tops Bond Yield: First Time Since 1958 – 10 Stocks for Income Investors
Comments