Asia
banking
bonds
capitalism
chart
China
commentary
consumer debt
Credit Cards
credit crisis
curiouscat
debt
economic data
Economics
economy
employment
energy
entrepreneur
Europe
Financial Literacy
government
health care
housing
interest rates
Investing
Japan
John Hunter
manufacturing
markets
micro-finance
mortgage
Personal finance
Popular
quote
Real Estate
regulation
Retirement
save money
Saving
spending money
Stocks
Taxes
Tips
USA
Warren Buffett
The USA economy is far from strong. The global economy seems even weaker. Inflation is not an imminent risk. Under such conditions the USA Federal Reserve adding gasoline to the economy via low interest rates makes sense.
The issue I see is that a .25% Fed Funds rate is adding gasoline to the economy via low interest rates. Many people are saying an increase is like taking away the gasoline and taking out a fire extinguisher. But it really isn't. Raising the rate to .25% is slightly decrease the amount of gas you are adding to the fire. A .25% Federal Funds rate is pouring nearly as much gas on as you are able to but not quite the absolute most you are able to.
It is also true that the Fed bailing out the too-big-to-fail bankers and banks resulted in them not only opening up the gasoline as much as possible (taking rates to 0) they even went far beyond that with new methods of pouring on gasoline that hadn't even been considered until the bankers' risk-taking doomed the economy (and bankrupted their institutions – without government bailouts propping them up).
The Federal Reserve has finally turned off the massive extraordinary dumping of gasoline onto the economic fire (via quantitative easing). But they have kept not only dumping lots of gasoline on the economy but doing so to the absolute maximum possible via a 0% Fed Funds rate.
Arguing for slowing the amount of fuel you are dumping into the economy is not the same as saying you are constricting the economy. We have been put into a crazy global economic condition by the too-big-to-fail bankers and the massive amounts of government and personal debt taken out. So simple analogies are not effective in making policy.
The analogies can help explain what the intent and expectation of the policy is. It is true we have created a very tenuous economic foundation (and we haven't in any way substantial way addressed the risk too-big-to-fail bankers can throw the global economy into and we still have massive debt problems). The main beneficiaries of the central banker's policies the last nearly 10 years are too-big-to-fail bankers and those borrowing huge amounts of money.
Those suffering from the policy are savers and I fear those that have to cope with the aftermath of this massive intervention with likely bubbles (government debt, personal debt [including education debt in the USA, etc.]). The main reason I believe rates should be raised are to begin the path to stop transferring wealth from savers to too-big-to-fail bankers and those with massive debt problems.
For the first time ever average 30 year fixed mortgage rates have fallen under 4%. My guess about interests rates have not been very good the last decade or so. I can't believe people actually want to lend at these rates but obviously I have been wrong. The risks of lending at these rates over the long term just seem way too high to take a paltry 4%. But obviously I have been wrong.
So if you didn't refinance when I suggested it (and refinance, myself), previously, you may want to look at doing so now. Or you may believe that listen to me about interest rates doesn't seem very wise.
I have even read that banks are reducing fees in order to encourage refinancing. Seems crazy to me, but what do I know.
You do need to have a decent loan to value ratio (certainly no more than 90%, and probably 80% would be better). That can be difficult for those that have had large decreases in their homes value. Also you need a great credit rating and a stable job situation. But if you qualify refinancing at these rates should be a great financial move for many. I'm perfectly happen to have done so earlier, I didn't quite pick the bottom but I still think over 30 years these rates (the current rates and earlier rates of 4 1/4% or 4 3/8%) will seem like a dream.
Related: Fixed Mortgage Rates Reach New Low (August 2010) – Lowest 30 Year Fixed Mortgage Rates in 37 Years (Dec 2008) – The Impact of Credit Scores and Jumbo Size on Mortgage Rates (Jan 2009)
Yields are staying amazingly low today. Due to the credit crisis the federal reserve is shifting hundreds of billions of dollars from savers to bankers to allow banks to make up for losses they experienced (both in losses on bad loans and huge cash payments made to hundreds of executives over more than a decade). For that reason (and others) yields are extremely low now which is a great burden on those that saved and counted on reasonable investment yield.
Don't be fooled by apologist for those causing the credit crisis that try and excuse their behavior and act as those paying back the bailout payments means they paid back the favors they were given. They have received much more from the policies of the federal reserve that has taken hundreds of billions of dollars from savers and given it to bankers. It has the same effect as a direct tax on savers being paid to bankers.
What is an investor/saver to do? James Jubak provides some excellent advice.
How to maximize what your cash pays even when nothing is paying much of anything now
A three month Treasury bill pays just 0.12%. A two-year note pays just 0.79%. Inflation may not be very high at an annual rate of 2.6% for headline inflation (and 1.6% minus volatile energy and food prices) but it's enough to eat up all the interest from those investments and more. (TIPS, Treasury Inflation-Protected Securities will protect you from inflation but the yields are really low (1.43% for a 10-year TIPS at recent auction) and they only protect you from inflation and not rising interest rates. I-Bonds, a savings bond that pays an interest rate that combines a fixed component, currently 0.3%, with an inflation-adjusted variable rate, current 3.06%, offer a higher yield but since the variable rate is pegged to inflation and not interest rates, the yield on these bonds won't necessarily go up if interest rates do. You also have to hold for at least 12 months. (After that and until you've held for 5 years you lose the last 3-months of interest when you sell.)
You could lock your money up for decades and get 4.56% in a 30-year Treasury bond but 30 years is forever. And besides interest rates have to go up from today's lows and that means bond prices will be coming down, probably fast enough to eat up all the interest that bond pays and more.
…
Not if you remember that interest rates are going up in most of the world (except maybe Europe and Japan) quite dramatically over the next 12 months. A year from now, perhaps sooner, you'll be able to get yields swell north of anything you can find now.
That pretty much means that you're guaranteed to lose money two ways by locking it up for the long term now.
…
For the short term you need to put your cash into something that's as safe as possible but that offers you as much income as possible—and that doesn't lock up your money for very long.
My choice dividend paying stocks—if they pay a high dividend, are extremely liquid, and are battle tested.
Whether you agree with his suggestions in the article is up to you. But even if you don't he provides a very good overview of the options and risks that you have to navigate now as an investor seeking investments that provide a decent yield. I agree with him that interest rates seem likely to rise, making bonds an investment I largely avoid now myself.
Related: posts on financial literacy – Jubak Picks 10 Stocks for Income Investors – S&P 500 Dividend Yield Tops Bond Yield: First Time Since 1958 – Bond Yields Show Dramatic Increase in Investor Confidence
TIPS Drive Away Biggest Bond Bulls Seeing Inflation
Treasury Inflation-Protected Securities are posting the biggest losses since Lehman Brothers Holdings Inc. collapsed in 2008 as investors say they're too expensive when consumer prices are barely rising.
…
TIPS pay interest on a principal amount that rises with consumer prices. Their face value is protected against deflation, because the principal can't fall below par. The benchmark 1.375 10-year Treasury-Inflation Protected Security due January 2020 yields 1.45 percent.
That's 2.25 percentage points less than Treasuries of similar maturity that don't provide protection from rising prices. The difference, known as the breakeven rate, reflects the pace of inflation investors expect over the life of the securities. The spread has fallen from the peak this year of 2.49 percentage points on Jan. 11.
I believe that the risks of inflation are so low that TIPS are not a good way to invest some of your investment portfolio. At these low rates I agree TIPS are hardly a wonderful investment but I think it is worth sacrificing some yield to gain if inflation does return in a few years. But the argument for not buying TIPS is also sensible I think.
Related: Bond Yields Show Dramatic Increase in Investor Confidence – Who Will Buy All the USA's Debt? – Retirement Savings Allocation for 2010 – posts on bonds
I adjusted my future retirement account 401(k) allocations today. I do not have as favorable an opinion of investing in the stock market today as I did a year ago. I would likely have allocated 20% to a money market fund except my 401(k) actually has two options – 1 paying 0.0% and the other paying -.02%.
They seem to believe they should make a significant profit while providing a horrible return (they are still taking over .5% of assets in fees – even though rates do not cover their fees). Those running funds have very little interest in providing value for 401(k) participants – they are mainly interested in raising fees (though supposedly they are suppose to be run by people with a fiduciary responsibility to the investors). Unfortunately most 401(k)s lock you away from the best options for an investor (such as Vanguard Funds).
My current allocation for future funds is 40% to USA stocks, 40% to Global stocks and 20% to inflation adjusted bonds. My current allocation in this retirement account is 10% real estate, 35% global stocks, 55% USA stocks. For all my retirement savings it is probably about 5% real estate, 35% global stocks, 5% money market, 55% USA stocks (which is a fairly aggressive mix).
As I have said many times I do not like bonds at this time. I don't think the interest nearly justifies the risk of capital loss (due to inflation or interest rate risk). Inflation protected bonds are a much more acceptable option for someone that is worried about inflation (like I am over the next 10-20 years).
A number of the stock fund (even bond fund) options in my 401(k) have expense ratios above 1%. That is unacceptable. The average fees on the options I chose were .5%.
With my employee match I am adding over 10% of my income to my 401(k), which I think is a good aim for most everyone. Far too many people are unwilling to forgo luxuries to save appropriately for their retirement. This is a sign of financial illiteracy and an unwillingness to accept the responsibilities of modern life.
Related: Investing – My Thoughts at the End of 2009 – 401(k)s are a Great Way to Save for Retirement – Saving for Retirement – Managing Retirement Investment Risks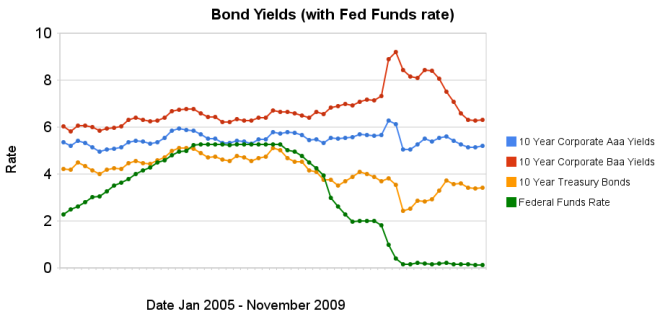 Chart showing corporate and government bond yields from 2005-2009 by Curious Cat Investing Economics Blog,
Creative Commons Attribution
, data from the Federal Reserve.
Bond yields have remained low, with little change over the last 4 months. Earlier in the year, yield spreads decreased dramatically, and those reductions have remained over the last 4 months. The federal funds rate remains under .25%.
Data from the federal reserve: corporate Aaa – corporate Baa – ten year treasury – fed funds
Related: Continued Large Spreads Between Corporate and Government Bond Yields (April 2009) – Chart Shows Wild Swings in Bond Yields (Jan 2009) – investing and economic charts
30 year fixed mortgage rates have declined a bit over the last few months and remain at very low levels.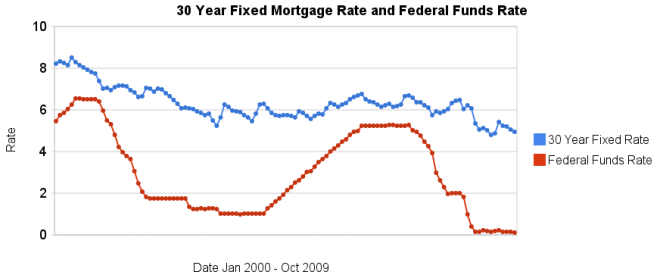 The poor economy, Unemployment Rate Reached 10.2%, has the Fed continuing massive intervention into the economy. The Fed is keeping the fed funds rate at close to 0% (.12% in October). They also continue to hold massive amounts of long term government and mortgage debt (in order to suppress interest rates on long term bonds – by reducing the supply of such bonds in the market).
I can't see how lending US dollars, over the long term, at 5%, makes any sense. I would much rather borrow at those rates than lend. If you have not refinanced yet, doing so now may well make sense. And if you are looking at a new real estate purchase, financing a 30 year mortgage sure is attractive at rates close to 5%.
Related: historical comparison of 30 year fixed mortgage rates and the federal funds rate – Lowest 30 Year Fixed Mortgage Rates in 37 Years – Jumbo v. Regular Fixed Mortgage Rates: by Credit Score – What are mortgage definitions – Ignorance of Many Mortgage Holders
For more data, see graphs of the federal funds rate versus mortgage rates for 1980-1999. Source data: federal funds rates – 30 year mortgage rates
FDIC chief: Small banks can't compete with bailed-out giants
As the Federal Deposit Insurance Corp. braces for the 100th bank failure this year — the most since 1992 — Bair warned that small community banks are struggling to compete against behemoths such as Citigroup and Bank of America. The reason: Last year's $700 billion bank bailout proved that the federal government is willing to spend whatever it takes to keep the biggest banks from going under.
" 'Too big to fail' has become worse," Bair told USA TODAY. "It's become explicit when it was implicit before. It creates competitive disparities between large and small institutions, because everybody knows small institutions can fail. So it's more expensive for them to raise capital and secure funding."
The left-leaning Center for Economic and Policy Research last month found that banks with more than $100 billion in assets paid 1.15% for funds, and all others paid 1.93% late last year and early this year. That amounted to an annual subsidy worth up to $34.1 billion for the 18 biggest bank companies.
Too big to fail is too big to exist. The actions to provide massive taxpayer bailouts to banks deemed too big to fail so that they could pay out billions in bonuses to those who failed so completely in managing their banks has been a continuing example of how bad an idea corporate welfare is. Not only are those given the huge bailouts just looting those payments for their friends much of the rest was just forwarded onto other big financial institutions (that had made bad bets in the unregulated financial markets they lobbied for) to have worthless financial instruments payoff with billions from taxpayer welfare payments to them.
If we allow the continual increase in anti-competitive behavior by financial institution to be encouraged by the politicians they provide with huge payments we are going to have much bigger problems than we have seen so far.
If you have accounts with these mega welfare financial institutions: close them. Move to some other institution that can support itself and does not abuse the taxpayers with support from "your" politician.
Related: Looting: Bankruptcy for Profit – Small Business Owners Angry at Big Banks – Canada's Sound Regulation Resulted in a Sound Banking System Even During the Credit Crisis – More Outrageous Credit Card Fees
Mortgages Falling to 4% Become Bernanke Housing Focus by Brian Louis and Kathleen M. Howley
Home loans may go as low as 4 percent if the economy worsens, said
Robert Edelstein
, a professor at the Haas School of Business at the University of California, Berkeley. Record foreclosures, falling home prices and an economy that has lost 5.1 million jobs since December 2007 will pressure Bernanke to further reduce borrowing costs. "The Fed will have to do whatever it takes," Edelstein said. "People will buy cheaper houses at very low interest rates."
…
Conventional mortgages averaged 4.61 percent in 1951, 4 percent when backed by the Veterans Administration, and 4.25 percent by the Federal Housing Administration, according to
The Postwar Residential Mortgage Market
, a 1961 book written by Saul Klaman and published by Princeton University Press. Rates during the 1930s were as high as 7 percent.
…
Mortgages were cheaper through most of the 1940s, ranging from about 4 percent to 5.7 percent, depending on whether the lender was a life insurer, a commercial bank or a savings and loan. In that era, most loans were for 14 years and less.
…
The central bank has purchased more than $300 billion of mortgage-backed securities in 2009 through the week ended April 8, helping to cut home-loan rates to 4.82 percent last week from 5.1 percent at the start of the year, according to Freddie Mac data.
…
The difference between 30-year mortgage rates and 10-year Treasury yields has narrowed to about 2.2 percent from 3.1 percent in December, which was the widest since 1986. The spread remains almost 0.7 percentage point above the average of the past decade, data compiled by Bloomberg show. Rates for 15-year mortgages are about 1.8 percent above 10-year Treasury yields, compared with an average 1.4 percent since 1999.
Excellent article with interesting historical information. I don't believe mortgage rates will fall to 4% but differences of opinion about the future is one function of markets. Those that predict correctly can make a profit. I am thinking of refinancing a mortgage and I think I am getting close to pulling the trigger. If I was confident they would keep falling I would wait. It just seems to me the huge increase in federal debt and huge outstanding consumer debt along with very low USA saving will not keep interest rates so low. However, as I have mentioned previously, it is interesting that the Fed is directly targeting mortgage rates and possible they can push them lower. The 10 year bond yield has been increasing lately so the slight fall in mortgage rates over the last month are due to the reduced spread (that I can see decreasing – the biggest question for me is how much that spread can decrease).
Related: Fed to Start Buying Treasury Bonds Today – Federal Reserve to Buy $1.2T in Bonds, Mortgage-Backed Securities – Low Mortgage Rates Not Available to Everyone – what do mortgage terms mean?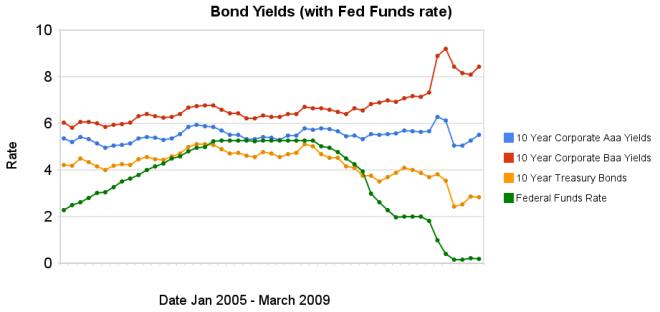 Chart showing corporate and government bond yields by Curious Cat Investing Economics Blog,
Creative Commons Attribution
, data from the Federal Reserve.
The federal funds rate remains under .25%. The large spread between government bonds and corporate bonds remains very large. In the last 3 months the yields on Aaa corporate bonds have increased 45 basis points, Baa corporate bond yields have decreased 1 basis points, while treasury bond yields have increased 40 basis points.
The spread between 10 year Aaa corporate bond yields and 10 year government bond yields is now 268 basis points. In January, 2008 the spread was 159 points. The larger the spread the more people demand in interest, to compensate for the increased risk. The spread between government bonds and Baa corporate bonds decreased to a still very large 566 basis points, the spread was 280 basis point in January 2008, and 362 basis points in September 2008.
Data from the federal reserve: corporate Aaa – corporate Baa – ten year treasury – fed funds
Related: Chart Shows Wild Swings in Bond Yields – Fed to Start Buying Treasury Bonds Today – Corporate and Government Bond Rates Graph (Oct 2008) – investing and economic charts
Comments