Asia
banking
bonds
capitalism
chart
China
commentary
consumer debt
Credit Cards
credit crisis
curiouscat
debt
economic data
Economics
economy
employment
energy
entrepreneur
Europe
Financial Literacy
government
health care
housing
interest rates
Investing
Japan
John Hunter
manufacturing
markets
micro-finance
mortgage
Personal finance
Popular
quote
Real Estate
regulation
Retirement
save money
Saving
spending money
Stocks
Taxes
Tips
USA
Warren Buffett
The most popular posts on the Curious Cat Investing and Economics blog in 2014 (by page views).
As with my other blogs the most popular posts show that old posts stay popular for a long time. Number of top 20 posts by year of publication:

2015: 4
2014: 2
2013: 2
2012: 5
2011: 4
2010: 2

2008: 1

Related: 20 Most Popular Posts on the Curious Cat Investing and Economics Blog in 2014 – 20 Most Popular Post on Curious Cat Science and Engineering Blog in 2014 – 10 Most Popular Posts on the Curious Cat Management Blog in 2014 – Most Popular Posts on the Curious Cat Management Comments Blog – Most Popular Posts on the Curious Cat Comments Blog
Today there are more ways to invest your money than ever before. Alternative investments can help provide counterweights to more common investments.
Historical documents are important pieces of cultural memorabilia that are sought after by personal collectors, museums and universities. Given the prestige of the collectors, historical documents can go for top dollar. In one recent example, Bill Gates purchased the Codex Leicester for over $30 million.
Historical documents can be a great addition to any portfolio, but one word of caution: authenticity is critical. Far too many investors have been bamboozled by counterfeit documents. Raab Collection, an internationally recognized proprietor of historical documents, stresses the importance of due diligence. When they help clients such as the Library of Congress build their collections, every step possible is taken to authenticate a document before striking a deal.
Here are four other factors that should be considered before making your first historical document investment:
Plan for Preservation
The older historical documents get the more valuable they become – as long as they are properly preserved. The condition of the document is second only to authenticity when it comes to value.
Before you take ownership of a historical document, it's a good idea to have a plan in place for how the document will be stored. Documents should be kept in waterproof, airtight containers that protect the fibers from the elements. UV radiation can also degrade paper overtime, which is why storing historic documents out of direct sunlight is always advised.
Protecting Your Investment
Unlike stocks and mutual funds, physical assets can be destroyed or stolen. Historical documents have to be treated like fine art. They should be insured and some form of theft protection should be put in place. Documents can be stored in a fireproof lockbox and/or stored in a bank safe under lock and key.
Get Documents Appraised
Professional appraisals are important for historical collectables. An appraisal will give you an official estimate of the value, which can be used for securing insurance. Appraisals also give you a better idea of an acceptable price when it comes time to sell off your investment.
Keep Track of the Market and Trends
You won't be checking stats daily like the stock market, but keeping up with historical document sales is needed to ensure you make the best decisions for your investment. After all, making money on investments hinges on knowing when to buy and when to sell. Knowing what's happening in the market will help you determine when the time is ripe to sell or whether you should hold onto your asset a little longer. Demand for historical documents tends to be higher than supply, but catching things right when interest is trending upward can help you make the most profit possible.
Historical and autographed documents have always been popular collectibles, but now more people are beginning to realize their investment potential. Every year countless documents are sold privately and at auction for thousands and even millions of dollars. Investors that seek professional guidance before buying and take care to preserve their asset will be able to grow their portfolio or retirement nest egg by simply holding on to a piece of history.
In general alternative investments (historical documents, art, coins, collectibles etc.) should make up a small portion, under 5%, of an investment portfolio. Another investment that isn't quite normal, but isn't really considered a normal investment either is peer to peer loans. We have written about peer to peer loans several times on this blog recently, I would consider under 5% for peer to peer loans acceptable but would consider that part of the bond portion of a portfolio.
Peer to peer lending has grown dramatically the last few years in the USA. The largest platforms are Lending Club (you get a $25 bonus if you sign up with this link – I don't think I get anything?) and Prosper. I finally tried out Lending Club starting about 6 months ago. The idea is very simple, you buy fractional portions of personal loans. The loans are largely to consolidate debts and also for things such as a home improvement, major purchase, health care, etc.).
With each loan you may lend as little as $25. Lending Club (and Prosper) deal with all the underwriting, collecting payments etc.. Lending Club takes 1% of payments as a fee charged to the lenders (they also take fees from the borrowers).
Borrowers can make prepayments without penalty. Lending Club waives the 1% fee on prepayments made in the first year. This may seem a minor point, and it is really, but a bit less minor than I would have guessed. I have had 2% of loans prepaid with only an average of 3 months holding time so far – much higher than I would have guessed.
On each loan you receive the payments (less a 1% fee to Lending Club) as they are made each month. Those payments include principle and interest.
Lending Club provides you a calculated interest rate based on your actual portfolio. This is nice but it is a bit overstated in that they calculate the rate based only on invested funds. So funds that are not allocated to a loan (while they earn no interest) are not factored in to your return (though they actually reduce your return). And even once funds are allocated the actual loan can take quite some time to be issued. Some are issued within a day but also I have had many take weeks to issue (and some will fail to issue after weeks of sitting idle). I wouldn't be surprised if Lending Club doesn't start considering funds invested until the loan is issued (which again would inflate your reported return compared to a real return), but I am not sure how Lending Club factors it in.
This chart shows that the percentage of millionaire families by highest education level is dramatically different by education level. The data is looking at USA family income for household headed by a person over 40. For high school dropouts, fewer than 1% are millionaires; all families it is about 5%; high school graduates about 6%; 4 year college degree about 22% and graduate or professional degree about 38%.
While the costs of higher education in the USA have become crazy the evidence still suggests education is highly correlated to income. Numerous studies still show that the investment in education pays a high return. Of course, simple correlation isn't sufficient to make that judgement but in other studies they have attempted to use more accurate measures of the value of education to life long earnings.
Related: The Time to Payback the Investment in a College Education in the USA Today is Nearly as Low as Ever, Surprisingly – Looking at the Value of Different College Degrees – Engineering Graduates Earned a Return on Their Investment In Education of 21%
The blog post with the chart, Why Wealth Inequality Is Way More Complicated Than Just Rich and Poor has other very interesting data. Go read the full post.
Average isn't a very good measure for economic wealth data, is is skewed horribly by the extremely wealthy, median isn't a perfect measure but it is much better. The post includes a chart of average wealth by age which is interesting though I think the $ amounts are largely worthless (due to average being so pointless). The interesting point is there is a pretty straight line climb to a maximum at 62 and then a decline that is about as rapid as the climb in wealth.
That decline is slow for a bit, dropping, but slowly until about 70 when it drops fairly quickly. It isn't an amazing result but still interesting. It would be nice to see this with median levels and then averaged over a 20 year period. The chart they show tells the results for some point in time (it isn't indicated) but doesn't give you an idea if this is a consistent result over time or something special about the measurement at the time.
They also do have a chart showing absolute wealth data as median and average to show how distorted an average is. For example, median wealth for whites 55-64 and above 65 is about $280,000 and the average for both is about $1,000,000.
Related: Highest Paying Fields at Mid Career in USA: Engineering, Science and Math – Wealthiest 1% Continue Dramatic Gains Compared to Everyone Else – Correlation is Not Causation: "Fat is Catching" Theory Exposed
When you sell your primary residence in the USA you are able to exclude $250,000 in capital gains (or $500,000 if you file jointly). The primary test of whether it is your primary residence is if you lived there 2 of the last 5 years (see more details from the IRS). You can't repeat this exemption for 2 years (I believe).
It doesn't matter if you buy another house or not, that exclusion of up to $250,000 is all that can be excluded (you must pay tax on anything above that amount – taxed at capital gains rates for long term gains).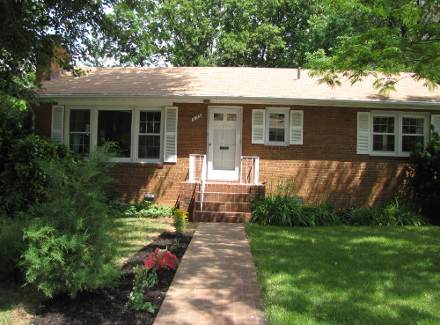 For investment property you can do 1031 exchanges which defers capital gains taxes. Otherwise capital gains will be taxed as you would expect (as capital gains).
When you inherit a house the tax basis will be "stepped up" to the current market rate. So if you then sell your basis isn't what the owner paid for it, but what it was worth when it was given to you.
Related: Looking for Yields in Stocks and Real Estate – Your Home as an Investment – Home Values and Rental Rates
The 10 publicly traded companies with the largest market capitalizations. Since October of last year the top 20 list has seen quite a bit of profit for stockholders (mainly in Apple and Chinese companies).
| | Company | Country | Market Capitalization |
| --- | --- | --- | --- |
| 1 | Apple | USA | $741 billion |
| 2 | Microsoft | USA | $374 billion |
| 3 | Google | USA | $370 billion |
| 4 | Exxon Mobil | USA | $352 billion |
| 5 | Berkshire Hathaway | USA | $346 billion |
| 6 | China Mobile | China | $340 billion* |
| 7 | Industrial & Commercial Bank of China | China | $306 billion** |
| 8 | Wells Fargo | USA | $292 billion |
| 9 | GE | USA | $275 billion |
| 10 | Johnson & Johnson | USA | $273 billion |
Apple's market cap is up $115 billion since the last list was created in October of 2014. That increase is more than 50% of the value of the 14th most valuable company in the world (in October 2014).
China Mobile increased $100 billion and moved into 6th place. Industrial and Commercial Bank of China (ICBC) increased $78 billion to move into 7th place.
Exxon Mobil lost over $50 billion (oil prices collapsed as OPEC decided to stop attempting to hold back supply in order to maximize the price of oil). Alibaba (the only non-USA company in the last list) and Walmart dropped out of the top 10.
The total value of the top 20 increased from $5.722 trillion to $6.046 trillion, an increase of $324 billion. Several companies have been replaced in the new top 20 list.
The next ten most valuable companies:
| | Company | Country | Market Capitalization |
| --- | --- | --- | --- |
| 11 | JPMorgan Chase | USA | $250 billion |
| 12 | China Construction Bank | China | $250 billion** |
| 13 | Novartis (NVS) | Switzerland | $246 billion |
| 14 | Petro China | China | $237 billion |
| 15 | Wal-Mart | USA | $236 billion |
| 16 | Tencent | China | $235 billion** |
| 17 | Nestle | Switzerland | $235 billion*** |
| 18 | Facebook | USA | $231 billion |
| 19 | Hoffmann-La Roche (ROG.VX) | Switzerland | $231 billion |
| 20 | Alibaba | China | $226 billion |
Market capitalization shown are of the close of business last Friday, as shown on Yahoo Finance.
The current top 10 includes 8 USA companies and 2 Chinese companies. The 11th to 20th most valuable companies includes 4 Chinese companies, 3 Swiss companies and 3 USA companies. Facebook (after increasing $21 billion), China Construction Bank (increasing $68 billion – it is hard for me to be sure what the value is, I am not sure I am reading the statements correctly but this is my best guess) and Tencent moved into the top 20; which dropped Procter & Gamble, Royal Dutch Shell and Chevron from the top 20.
Related: Historical Stock Returns – Global Stock Market Capitalization from 2000 to 2012 – Stock Market Capitalization by Country from 1990 to 2010 – Solar Energy Capacity by Country (2009-2013)
A few other companies of interest (based on their market capitalization):
I believe a huge amount of money will be made due to self driving cars. Figuring out who will make that money is not easy.
The value of being able to use the time you are moving to your destination instead of concentrating on driving is huge. And the reduction in deaths, serious injuries, injuries, damages, frustration and waste of time caused by accidents will be a huge benefit to society. Many people attempting to focus on phone calls or whatever else instead of driving create lots of that damage due to accidents.
There will also be big restructuring in how the economy works. Car sharing (such as Zipcar) will greatly increase I think and Uber and Lyft will likely be big players in a move to driverless cars. It sure seems like fewer cars will be needed. Space wasted on parking cars should be greatly reduced. Deliveries will likely see big changes. The impact on the economy will be huge. Even the health care system may see billions in savings.
Toyota is an amazingly well managed company. They should capitalize on any important shifts in the auto industry. But will they do so for driverless cars? Will there be a decrease in demand for cars so large that Toyota losses more than it wins? My guess is the decrease in demand globally will not be huge for the next 10 years (of course I could be wrong). My guess is Toyota will do well, but may be caught a bit behind, but then will come back strongly.
For those that don't think Toyota can innovate, remember the Prius. Also they have been big investors in robots. That they haven't turned robots into a big business yet though may be a sign of weakness (related to turning innovation into business profits).
I think Toyota will do the best of the large traditional car companies at taking advantage of this opportunity. Honda would be my second pick.
Google has been at the forefront of the driverless car efforts; I first wrote about self driving cars in 2010 about Google's efforts (on my Curious Cat Engineering Blog). They are willing to take big gambles. They have a very good engineering culture. They are very profitable. They haven't done much at creating profitable businesses outside of search and ads though. Still I think they may be huge winners in this area. I would guess by licensing technology to others, but things are involving quickly we will see how it plays out.
Tesla has a great engineering culture with a priority given on innovation and customer focus. They are in the car industry though I don't lump them with the "traditional car companies." I give weight to the value Elon Musk will bring them. They have big potential to be one of the big winners in a self driving car future. But they have yet to create much profit. Will they be able to turn promising engineering and leadership into a huge business? I think the odds are good but that is still a difficult challenge. Others have much more money than Tesla. Apple has so much money they could even buy Tesla easily.
Elon Musk recently spoke about the current state and near term future:
"maybe five or six years from now I think we'll be able to achieve true autonomous driving where you could literally get in the car, go to sleep and wake up at your destination," Musk said. He added that it may take a few years beyond the point when the technology is ready for regulators to sign off on it.
Musk also stressed that the new Tesla autopilot system, which uses radar, ultrasonic sensing and cameras to create a sort of super-smart cruise control, obstacle avoidance and lane-keeping system, is not the same as a self-driving car.
Apple seems like a long shot to me. It doesn't seem like the type of business Apple has gone into in the past. The argument for doing so is the huge pile of cash they have (over $170 billion which is an absolutely huge number – it is also a bit fake in that they have started borrowing tens of billions instead of spending that cash). The moves with the cash are based on 2 circumstances. First they would have to pay large amounts of taxes to use that cash in the USA (taxes are delayed as long as they hold it overseas). And second interest rates are so low, borrowing money hardly costs them anything.
I was recently interviewed on equities.com, read the full interview – Financial Blogger Profile: John Hunter. Some quotes from the interview:
What is your strategy when choosing stocks and investments?
John Hunter: I look for good individual investments, but I also weigh my guesses about long term macroeconomic conditions in making investment commitments. I think there is much more risk to the drastic measures central banks have been making for the past few years than the market is factoring in. I think the poor job regulating risk in the financial system is also very risky at the macroeconomic level.
I don't have any real idea of what the chance of massive economic failure is, but I am much more worried today than I have been. Pretty much, my worry has remained the same over the last few years. We did avoid an immediate meltdown, though we still had plenty of economic pain. Yet, in my opinion, the risk has remained very high for the last few years, but people seem to think central banks can continue this extraordinary behavior without consequences; I see a great deal of risk in the economy.
…
Three macro-economic factors make healthcare an appealing investment. First, the aging population should provide a booming market. Second, the huge increase in rich people globally that can afford very expensive medicine again provides an ever-growing market. Third, the broken healthcare system in the USA results in exceedingly high-priced medical care in a very large and rich market.
I also close out the interview with some tips I have shared on this blog over the years
If there was one piece of advice you'd like to impart to your readers, what would it be?
John Hunter: I can't pick one, but I can pick a few short pieces of advice:
Save 15%, or more, of your income and invest it wisely. If you want to buy more, then earn more, or save extra until you can pay for it with the extra savings.
Minimize costs on investments, use Vanguard or similar low fee funds. Buying individual stocks reduces even the costs of Vanguard. There are tradeoffs to diversity of your portfolio when buying individual stocks.
Pay attention to the overall risk of the portfolio, and even beyond that, your entire financial picture. For example, in the USA we have extra healthcare expense risk that is outside our portfolio risk, but is part of our entire financial picture. Building your portfolio with extra-portfolio risks in mind is wise. Don't get fooled into thinking about the risks of investments taken individually, even though that is what you will continually be bombarded with.
I think those that find this blog worthwhile will also enjoy the interview so I hope you read the full interview.
Related: more interviews with John Hunter – Investment Options Are Much Less Comforting Than Normal These Days – How to Protect Your Financial Health
One thing for investors consulting historical data to remember is we may have had fundamental changes in stock valuations over the decades (and I suspect they have). Just to over simplify the idea if lets say the market valued the average stock at a PE of 11 and everyone found stocks a wonderful investment. And so more and more people buy stocks and with everyone finding stocks wonderful they keep buying and after awhile the market is valuing the average stock at a PE of 14.
Within the market there is tons of variation those things of course are not nearly that simple, but the idea I think holds. Well if you look back at historical data the returns will include the adjustment of going from a PE of 11 to a PE of 14. Now maybe the new few decades would adjust from PE of 14 to PE of 17 but maybe not. At some point that fundamental re-adjustment will stop.
And therefore future returns would be expected to be lower than historically due to this one factor. Now maybe other factors will increase returns to compensate but if not the historical returns may well provide an overly optimistic view.
And if there is a short term bubble that lets say pushes the PR to 16 while the "fair" long term value is 14, then there will be a negative impact on the returns going forward bringing the PE from 16 to 14. That isn't necessarily a drop (though it could be) in stock prices, it could just be very slow increases as earning growth slowly pushes PE back to 14.
Another thing to consider is another long term macro-economic factor may also be giving long term historical returns an extra boost. The type of economic growth from the end of World War I to 1973 (just to pick a specific time, there was a big economic slowdown after OPEC drastically increased the price of oil). While that period includes the great depression and World War II, which massively distorts figures, from the end of WW I through the 1960s Europe and the USA went through an amazing amount of economic growth.
I am largely a fundamental investor with the long term time horizon that fits such investing. I however am also a believer in using some more speculative investing for a portion of a portfolio if it fits the risk profile of an investor.
If you are not comfortable with the risk of an investment most of the time you shouldn't make that investment. There is a bit of a conflict, for example, where an investor is scared of any loss from say an investment in a stock market index and trying to save for retirement on a median level income. It is nearly impossible to save for retirement without investing in stocks if you are not already rich, so as with most investment advice there is a bit of difficulty at the extremes but in general investors shouldn't take on risk they are not comfortable with.
For experienced investors with a high level of financial literacy more speculative options can have a useful role in a portfolio. Though you should realize most people fail with speculation, so you have to be realistic about your prospects. I have used speculative investments including naked short selling, leverage (margin) and options.
Spread betting is another speculative strategy that can play a part in an investment portfolio. Spread betting is not allowed in the USA (with our highly regulated personal investing environment but is available in most other countries). They are somewhat similar to binary options (which are allowed in the USA) and to futures contracts (they are not the same, just those are comparable to get some idea of how you would use them in a portfolio).
Spread betting really is a bet on what will happen. You don't buy a financial instrument. You place a bet with a company and if the prices move for you and you close the position with a gain they pay out a gain to you and if you close out the position with a loss your capital held with them is reduced by your loss amount.
Since the price to control a position is much less than the notional position size there is a large degree of leverage which increases the affect of gains and loses. Since positions can move against you and must be settled if the loss exceed your deposit with the company you are trading with having a substantial cash cushion is the way I would use such a speculative account. If I decided I could afford to risk losing $5,000 I would deposit that amount.
My purchases would about 10% of the capital in the account (so $500 at first). If that is leveraged at 20 to 1 (just requiring 5% down on margin), that would make my effective leverage just 2 to 1. But if I added other positions that would increase my leverage, say 2 more purchases and my leverage would be 6 to 1.
The way I have managed the speculative portion of my portfolio is to fund it and then pull off part of the gains to my long term portfolio and retain part of the gains to build my speculative account. It isn't really quite that clear as I have different level of speculation in my portfolio. Options are speculative but have a limit of 100% loss. Selling stocks short (naked shorting) is speculative but has theoretically unlimited losses. Using margin on regular stocks has the potential to lose more than you have invested though most of the time you should be stopped out before the losses are too much beyond your entire account value.
So I don't really have a clear cut speculative portfolio but I roughly follow that procedure. I have added to the speculative portion when I have had very large gains in a particular portion of my main portfolio.
Another factor with spread betting, shorting and options is that they can actually be used to reduce the risk of your overall portfolio using certain strategies. If you believe there is a risk for a market downturn but don't want to sell any of your stock holdings you can use spread betting to create a position that will gain if the market declines. That gain then will offset the likely loss on your stock positions thus reducing you risk in a market decline.
Of course, if you do that and the market moves up you will create a loss on you spread betting position that offsets your gains on your stock positions. You could also bet against specific stocks that you think will decline more in a market decline and seek to increase your return of course that has risks (including the market declining along with your stocks but that stocks you bet against could move against you anyway). I have used this strategy with selling stocks short occasionally.
See this site for a bit more on the details of spread betting. An additional risk to consider with spread betting is you need to find a company you trust to be around to pay off your gains. You would want to examine the safety of your funds and that (in the UK) the account is covered by the Financial Conduct Authority (FCA) and complies with the FCA's Client Assets provisions (and in other countries they have similar coverage). To be safe you should consider whether holding more than the covered amount is wise in your account. The last 10 years have provided examples of the riskiness of financial companies going out of business; that your funds wouldn't be accessible is a risk that must be considered.
Related: Shorting Using Inverse Funds – Books on Trading and Speculating in Financial Markets – Selling Covered Call Options
Comments