Victim of Real Estate Bust: Your Pension – Part 2:
The skeptics also point out that credit spreads for junk bonds are so low today because we've had several years of historically low bond default rates. But anyone who's ever opened up a book on economic history will tell you that most bad loans are made when times are good and the markets are complacent, not when times are bad and Wall Street is full of fear.
The central premise of this post is that risk is being mispriced by the market (by failing to account for the risks bonds… are overpriced). And that when those risks are exposed (for example, as the sub prime crisis builds, recession…) prices will fall. Historically markets do exhibit this pattern – when times are good risks are not fully factored into prices, then those risks are appreciated and prices decline.
Related: adjustable rate mortgage – investment risks – Mortgage Defaults: Latest Woe for Housing – Coming Collapse in Housing? – How Not to Convert Equity – Saving for Retirement
This interesting graph, shows the amount of adjustable rate mortgages due for interest rate adjustments (which will increase mortgage payments for millions of people).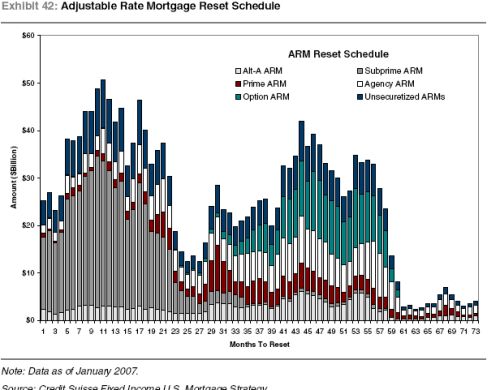 Comments