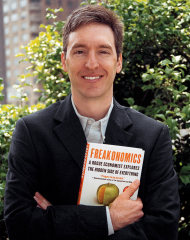 You might be surprised to learn that the National Science Foundation Fellowship program includes Economics. Steven Levitt's Levitt's NSF graduate research fellowship profile:
Steven Levitt, an NSF Fellow from 1992 to 1994, is a prominent economist best known for co-authoring the 2005 bestseller Freakonomics. He is currently the Alvin H. Baum Professor of Economics at the University of Chicago, director of the Becker Center, co-editor of the Journal of Political Economy published by the University of Chicago Press.
Levitt and his co-author, Stephen Dubner, explored a variety of topics in Freakonomics using analyses of statistics databases. The popularity of this book has made him one of the most well known economists among laymen. It was announced in 2007 that the two authors were working on a sequel.
Levitt's other awards and honors include: named one of Time magazine's "100 People Who Shape Our World" in 2006, named the Harry V. Roberts Statistical Advocate of the Year in 2006, the John Bates Clark Medal in 2003, the Garvin Prize in 2003, and the Duncan Black Prize in 2000.
In my full time job I work as an IT program manager for ASEE on, among other things, the NSF Graduate Research Fellowship Program. This blog is my own and not associated with ASEE.
Related: Science Fellowship Directory
Comments