I have update my article showing the historical comparison of 30 year fixed mortgage rates and the federal funds rate. When deciding whether to lock in a rate for a 30 year fixed rate mortgage (when refinancing or buying a new home) some believe moves in the federal reserve discount rate will raise or lower that mortgage rate directly. This is not the case, in general. The effect of federal reserve discount rates on other mortgage rates (such as adjustable rate mortgages is not the same and can be predictably affected by fed fund rate moves).
The chart shows the federal funds rate and the 30 year fixed rate mortgage rate from January 2000 through December 2007 (for more details see the article).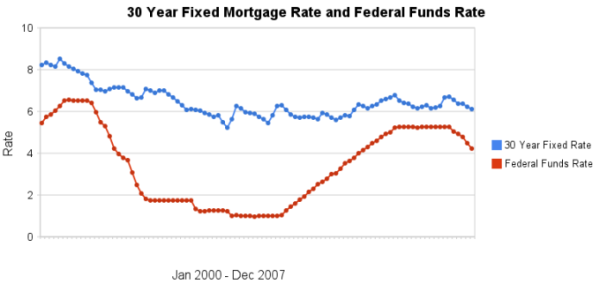 There is not a significant correlation between moves in federal funds rate and 30 year mortgage rates that can be used for those looking to determine short term (over a few days, weeks or months) moves in the 30 year fixed mortgage rates. For example if 30 year rates are at 6% and the federal reserve drops the federal funds rate 50 basis points that tells you little about what the 30 year rate will do. No matter how often those that should know better repeat the belief that there is such a correlation you can look at the actual data in the graph above to see that it is not the case.

30 year rates are largely effected by supply and demand of funds available for long term loans and the anticipated inflation rate. Often the federal reserve lowers the fund rate when the economy is struggling which will also normally mean that the demand for long term loans is reduced – that is the primary reason for some correlation between the rates (not that a drop or increase in federal funds rate causes the 30 year rate to move but that the same economic factor – a slow economy, for example, that prompts the federal reserve to lower rates reduces the demand of long term borrowing which can lower the rate of 30 year mortgages).
For more see: 30 year fixed mortgage rates not affected much by federal funds rate changes.
Related: real estate articles – Fed Plans To Curb Mortgage Excesses – How Not to Convert Equity – mortgage terms – Mortgage Payments by Credit Score
Comments