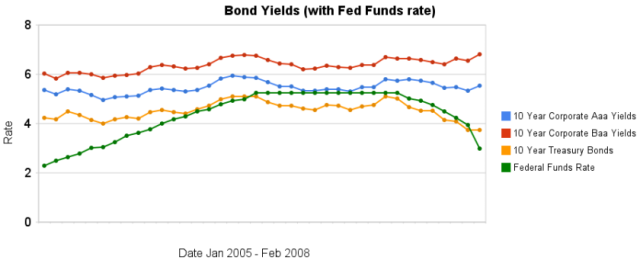 From January 2005 to July 2007 the Federal Funds Rate was steadily increased. The rate was held for a year. Since then the rate has been decreasing (dramatically, recently). As you can see from the chart, 10 year bond yields have been much less variable. The chart also shows 10 year corporate bond yields increasing in February when the federal funds rate fell 100 basis points.
Is the worst over, or just beginning?
The yield on the benchmark U.S. 10-year Treasury currently stands at about 3.33%, down from nearly 4% about a month ago.
…
If rates continue to fall, they could hit not only a new low for the year – the 10-year briefly touched 3.28% in January – but could come close to falling below the 3.07% level they hit in June 2003, which was a 45-year low at the time.
Treasury bond yields are down but a huge part of the reason is a "flight to quality," where investors are reluctant to hold other bonds (so they buy treasuries when they sell those bonds). Therefore other bond yields (and mortgage rates) are not decreasing (the data in the chart is a bit old – the yields may well decrease some for both 10 year bonds once the March data is posted, though I would expect the spread between treasuries be larger than it was in January).
Data from the federal reserve – corporate Aaa – corporate Baa – ten year treasury – fed funds
Related: 30 Year Fixed Mortgage Rates versus the Fed Funds Rate – After Tax Return on Municipal Bonds
Comments