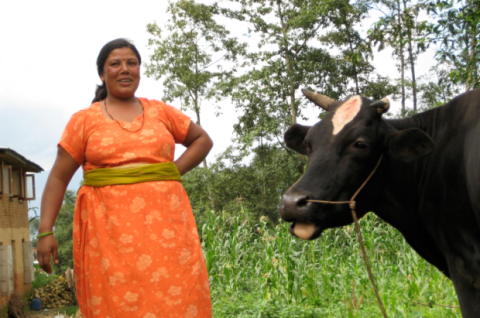 Kiva has added a fellows blog – which is a great idea. The fellows are funded by Kiva (fellows are unpaid) to go to spend time in the countries Kiva facilitates loans for working with the local partners. This post is about Rita Bashnet (in photo) an entrepreneur from Nepal:
Field visits are by far the best part about being a Kiva Fellow. You're given the opportunity to hop on a motorbike, hike up a village trail, and actually see the impact of a Kiva loan firsthand.
…
Five years ago, Ms. Rita took her first loan of NRs. 10,000 (USD $150) and purchased some extra seed and fertilizer in the hopes of expanding her small vegetable patch. With the profits from this initial investment and a second loan from Patan Business and Professional Women (they offer a graduated loan program), she then purchased her first dairy cow.
…
After hearing about a program that subsidized the installation of methane gas storage tanks, Ms. Rita took another loan and applied for the program. With this new system, she is now able to capture the valuable gas released from her cow's waste in a simple controlled-release storage tank. Today she no longer purchases gas from the city and can even sell some during times of shortage.
…
Ms. Rita exemplifies the potential of microfinance. A combination of access to capital and strategic investment has allowed her and her family to drastically improve their economic situation in a short five years.
Great story, and exactly my hope for using capitalism to improve the standard of living for people around the globe. I notice today, for the first time, some of those seeking loans are about to have their listings expire unfunded. Kiva gives listings 30 days to be funded. I have no problem if some loans are not funded (I want to help entrepreneurs by providing funding to build a business – some loans are for things like adding a room onto their house, which is fine but not what I want to support with interest free loans from me). But, this is a big change from when I couldn't find anyone to loan to (they had so many people looking to lend that they didn't have enough loans to fund). If you haven't loaned money through Kiva (or you haven't added to your loan portfolio recently), please consider it now. If you do, send me your Kiva lender link and I will add it to Curious Cat Kivans. My biggest wish for this blog is to get more readers listed on that page.
Related: Using Capitalism to Make a Better World – Funding Entrepreneurs in Nicaragua, Ghana, Viet Nam, Togo and Tanzania – 2006 Nobel Peace Prize to Economist – Frontline Explores Kiva in Uganda – Trickle Up
Comments