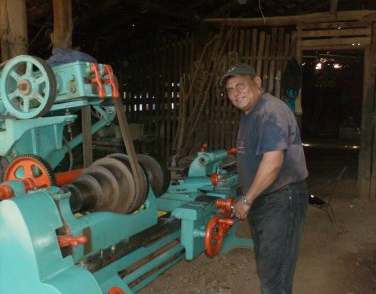 photo of Cesar Augusto Santamaría Escoto in his welding workshop, Chinandega, Nicaragua.
I made my 100th contribution to a micro-loan through Kiva last week. Participating with Kiva is a great antidote to reading about the unethical "leaders" taking huge sums to run their companies into the ground (or even just taking obscene sums to maintain their company). The opportunity to give real capitalists an chance at a better life is wonderful.
Kiva allows you to lend money to entrepreneur (in increments of $25). The most you get back is the amount you loaned, and if the entrepreneur, does not pay back the loan then you take a loss. This is something you do if you believe if giving people an opportunity to make a better life for themselves through hard work and intelligent economic choices.
I encourage you to join me: let me know if you contribute to Kiva and I will add your Kiva page to our list of Curious Cat Kivans. Also join the Curious Cats Kiva Lending Team.
My loans have been made to in 32 countries including: Ghana, Cambodia, Uganda, Viet Nam, Peru, Ukraine, Mongolia, Ecuador and Tajikistan. Kiva provides sector (but I think this data is a not that accurate – it depends on the Kiva partners that are not that accurate on identifying the sectors (it seems to me). A large number of the loans are in retail, clothing and food. I like making loans that will improve productivity (manufacturing, providing productivity enhancing services…) but can't find as many of those as I would like (8% of my loans are in manufacturing, 11% agriculture, retail 18%, 23% food, 25% services (very questionable – these are normally really retail or food, it seems to me).
Some examples of the entrepreneurs I have lent to: welding workshop (Nicaragua), expanding generator services business with computer services (Cambodia), food production (Ghana), manufacturing nylon (Nigeria), internet cafe (Lebanon), electronics repair (Benin), new engine for mill (Togo), weaving (Indonesia) and a food market (Mexico).
Related: Financial Thanksgiving – MicroFinance Currency Risk – Creating a World Without Poverty – Provide a Helping Hand
21 of my loans have been paid back in full. 3 have defaulted. Those figure give a distorted picture though (I believe). There was a problem with a Kiva partner (they partner with micro-finance banks around the world) MIFEX, in Ecuador. Kiva discovered that MIFEX (i) improperly inflated the loan amounts it posted for entrepreneurs on the Kiva website and (ii) kept the excess amount of the posted loan to fund its own operational expenses. Kiva does not expect any further payments on these loans. I had 2, so I think those 2 give a fair impression. The 3rd default is from Kenya. That loan was to a business selling bicycle parts. In 2008, in Kenya, the prevailing political crisis deteriorated and businesses have either been destroyed or closed in fear of looters. Technically the loan did default, however, I was paid $71.50 out of $75 loan (so the defaulted amount was very small.

In addition, of the 72 active loans only 1 is delinquent. Granted some are new, and have not had a chance to go delinquent but many have been paid successfully for a year or more and over 10 are within 2 months of being paid off. For Kiva overall the default rate is a bit over 2%. I think a more interesting figure would be the % of capital that had defaulted. So if $10,000,000 had been loaned, then how much was paid back. So with the Kenya loan above 95.3% of the loan was repaid.
Rather than that loan being counted as a binary defaulted yes or no, counting it as a 4.7% default provides a more accurate picture to me. If I had 100 identical loans and everyone defaulted I would have 95.3% of my original capital. Or I could have a 10% default rate at that same (95.3%) payback level in which case I would have 99.5% of my original capital. Or I could have a 5% default rate with a 5% payback level (they paid back $5 of a $100 loan) and I would have 95.3% of my original capital. It seems to me when you have the same percentage of original capital remaining with default percentages of 100% and 5% that means the default figure is not providing as valuable an insight as it could. I believe the % of original capital returned for the whole portfolio would provide a better measure of default performance.
I fully expect more situations similar to MIFEX, in Ecuador, where defaults happen. Historically micro-credit default rates have been very low. But as they become increasing popular and especially as they grown incredibly fast (due to organizations like Kiva) it is natural to expect some unwise decisions will be made and problems will follow. I am perfectly happy to have a few problems that result in some of my loan capital being lost, while helping a great number of people.
The thing I really worry about is not losing the money I put into Kiva, but the loans not creating value to the entrepreneurs. Being successful with a small business is hard. As the micro-lenders grow it is natural that getting loans will be easier. For those that make good choice that is wonderful. But there will also be loans made to people that will make bad choice or suffer from macro-economic conditions that result in the loans becoming a hardship rather than a boon. To some extent that is fine, with opportunity for success comes a certain amount of risk.
What I am concerned about most is maximizing the success and minimizing the failure. I believe in a model where the borrowers have to deal with real economic consequences and are rewarded for making good choices and hard work. But I want them to have good chances for success which will rely on not just their hard work but good decisions by the micro-lending banks and the economic conditions in their country. It does no good to make loans to entrepreneurs that are not likely to have success. As I wrote in 2007, getting unethical investment banks involved would be a very bad idea.
Comments