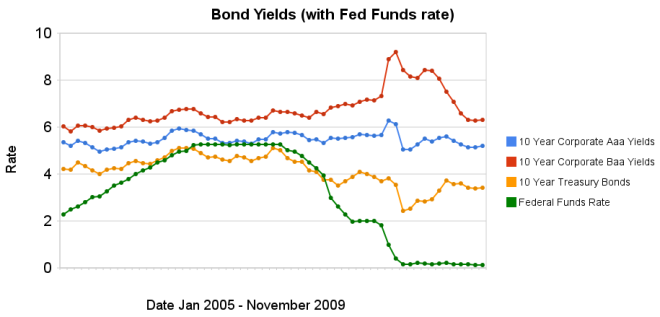 Chart showing corporate and government bond yields from 2005-2009 by Curious Cat Investing Economics Blog,
Creative Commons Attribution
, data from the Federal Reserve.
Bond yields have remained low, with little change over the last 4 months. Earlier in the year, yield spreads decreased dramatically, and those reductions have remained over the last 4 months. The federal funds rate remains under .25%.
Data from the federal reserve: corporate Aaa – corporate Baa – ten year treasury – fed funds
Related: Continued Large Spreads Between Corporate and Government Bond Yields (April 2009) – Chart Shows Wild Swings in Bond Yields (Jan 2009) – investing and economic charts
Comments