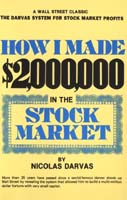 For the most part my investment philosophy is based on fundamental long term investing strategies. But I do also occasionally speculate with a portion of my portfolio. It is risky (and honestly most people will lose money trying so it is unwise for most, if not all, to try) but can bring great returns for the successful speculator/trader. My methods are significantly influenced by Nicolas Darvas who wrote the classic investment book – How I Made $2,000,000 in the Stock Market (which I am re-reading now). In it he provides an honest and open look at his experience from his naive start to his eventual success. He lays out, in great detail, exactly what he did and how foolish some of his actions were. Then he explains how he came to find success by focusing on the price and volume action of stocks and a pseudo fundamental component (more of a story that could presage future fundamental success than actual fundamental strength). While honing his investment strategy, in the 1950's, he traveled the world working as a world class ballroom dancer and placed order via cable.
Darvas' method was a forerunner of the many technical analysis schemes used today. He is extensively referenced by William O'Neil (of Investor's Business Daily fame) and other leading technicians. An extremely simplified overview of Darvas' method: determine "boxes" (trading ranges) for a stock and buy on the breakout, to the upside, of the topmost box. He used a rest period of several days to set the top of the box and then determine the bottom of the box after that top was set. He used very close trailing stop loss orders to minimize losses. He sought to make large gains (let his winners run) and cut losses quickly.
Nicholas Darvas' ideas and books included a disdain for wall street insiders, analysts and rumors. The CAN SLIM (William O'Neil and Investor's Business Daily) investing style owes a great deal to Darvas' ideas on investing.
I have created a new twitter account [removed] for to comment and follow others trading ideas. I would suggest only experience and successful investors even consider trading with a small portion of their portfolio. For most it is a losing proposition.
More on Darvas' investing ideas and other leading investors. Books by Nicolas Darvas: Wall Street: The Other Las Vegas – You Can Still Make It in the Market (republished after a long period when it was not available) – Darvas System for Over the Counter Profits
Comments