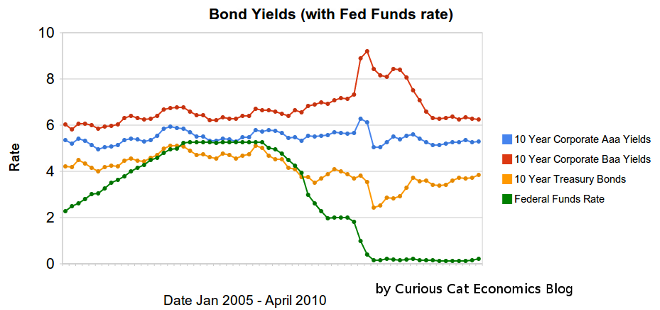 Chart showing corporate and government bond yields from 2005-2010 by Curious Cat Investing Economics Blog,
Creative Commons Attribution
, data from the
Federal Reserve
.
Bond yields have remained low, with little change over the last 6 months. 10 year Aaa corporate bonds yields have increase 10 basis points to 5.29%. 10 year Baa yields have decreased 7 basis points to 6.25%. 10 year USA treasury bonds have increased 45 basis points (largely the effective of money scared into the safety of US treasuries leaving as the credit crisis eased. The federal funds rate remains under .25%.
The United States economy appears to be gaining strength and if job growth can continue the Fed will likely reduce the amount giveaways to the banks by increasing the fed funds rate (though when this will happen is still very hard to judge). The Fed will also likely sell mortgages back to the market which will increase long term rates. The Fed will likely start by changing the wording that the economic conditions "are likely to warrant exceptionally low levels of the federal funds rate for an extended period." When this language changes rates may well go up 25 to 50 basis points quickly.
Related: Bond Yields Change Little Over Previous Months (December 2009) – Chart Shows Wild Swings in Bond Yields in Late 2008 – Real Estate and Consumer Loan Delinquency Rates 1998-2009 – Government Debt as Percentage of GDP 1990-2008 in OECD: USA, Japan, Germany…
Comments