I made 6 more loans to entrepreneurs through Kiva today, including the 2 mentioned below. I have now made 227 loans through Kiva.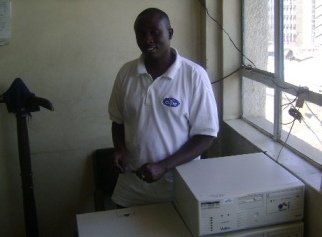 Christopher Kibubi Wahinya (in photo), Nairobi, Kenya, buys old computers, which he repairs and sells to the local people. He has been in this kind of business for the last four years and he says that the business is profitable. He is using his loan of Kes 50,000 to purchase old computers, repair them and sell to the local people. He plans to grow his business by moving to the ground floor of a busy building where he will stock all computer accessories and later own a computer showroom.
Carlos Alberto Pereira Granados is 43 years old and resides in the town of Cojutepeque, El Salvador. He has a workshop where he repairs sewing machines and sells all types of related parts. His business is located at the municipal market. Carlos Alberto works Monday through Sunday repairing the machines of his customers. He is requesting a loan so that he can buy sewing machines wholesale as well as parts such as bobbins, belts, hooks, and other items so that he has everything required to perform his work and attract more customers.
Kiva is a great way to support entrepreneurs. I try to focus on loans I think will benefit the borrower and grow the economy (not always easy). One of the things I try to watch is the "portfolio yield" (which is similar to Annual Percentage Rate) – the lower the better. Some banking Kiva partners are charities or partially funded by charities and therefore can 1) fund some of the administrative expenses of the bank and 2) are focused on helping the customers not making a profit. I would rather have my money used where it most helps entrapranuers so the lower the rate the better.
I encourage you to join me: let me know if you contribute to Kiva and I will add your Kiva page to our list of Curious Cat Kivans. Also join the Curious Cats Kiva Lending Team (the team has now lent over $7,500).
Related: Micro-credit Research – 100th Entrepreneur Loan – MicroFinance Currency Risk
Comments