Manufacturing employment is on a long term decline, in the USA and the world. The massive increases in productivity allow fewer and fewer people to produce more and more good. This is a good thing as it allows us to afford more good with less cost. But it does mean fewer manufacturing jobs, which are very good jobs, exist. This is a shame but something we shouldn't anticipate changing. Believing we will globally, or in the USA, return to the huge number of manufacturing that were available previously jobs is not a wise conclusion to reach. Certainly there can be short term fluctuations that lead to increased jobs – that has happened in the last year for example.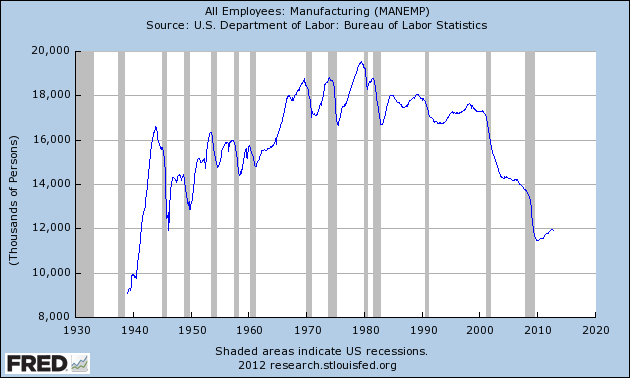 The most surprising thing to me about this graph is how stable employment was through 2000. From 1980 to 2000 the most common idea was the USA no longer manufactured anything. This idea was wrong, as I have written about previously: Chart of top 15 countries manufacturing output over time (2009) – Top 10 manufacturing countries in 2006. But I did think employment declined more from 1970 to 2000.
One factor in this perception is that the number of employed people in the USA has continued to grow. So even remaining somewhat stable from 1970 to 2000, as a percentage of the labor force the jobs kept shrinking. The more important factor that played on people emotionally is factories being shut down got much more attention in the news than new jobs being added. So the perception was tons of jobs were being lost and none were being gained.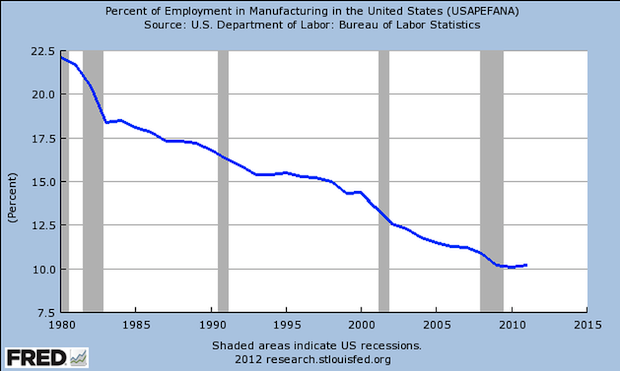 In 1980 manufacturing jobs accounted for over 22% of USA jobs; by 1990 that fell to 17%, by 2000 to 14% and by 2010 to 10%.
Related: Manufacturing Employment Data: USA, Japan, Germany, UK… 1990-2009 – Chart of Manufacturing Output as Percent of GDP by Country – Federal Reserve Economic Data (data for the included charts)
Comments