Options can be used as an aggressive strategy to make money with investments. By following news events for quite a few different companies you can put yourself in the position to act when stories break, or events occur which can cause mini trends in their stock price.
Volatile stocks with frequent news provide the opportunity to make money on large changes in price. Amazon is a company an Amazon that often makes headlines. Recently, they have been in the news quite a bit, and savvy binary options traders have been cleaning up.
Binary options are a type of option in which the payoff can take only two possible outcomes. The cash-or-nothing binary option pays some fixed amount of cash if the option expires in-the-money while the asset-or-nothing pays the value of the underlying security.
For example, a purchase is made of a binary cash-or-nothing call option on Amazon at $320 with a binary payoff of $1000. Then, if at the future maturity date, the stock is trading at or above $320, $1000 is received. If its stock is trading below $100, nothing is received. An investor could also sell a put where they would make a payoff if the conditions are met and have to payoff nothing if the conditions are not met.
Examples of big news in the recent past
Amazon Fire Cell Phone – Earlier this year, we watched as Jeff Bezos unveiled the new Amazon Fire 3-D cell phone. As happens in most cases when a company unveils a great new product, we saw this cell phone cause Amazon's stock price to go through the roof. So, as a trader, seeing the unveiling happen first hand would indicate that the value of Amazon was going to rise, and give the trader unique opportunity to make trades on realistic expectations with this asset.

Jeff Bezos spending spree – The day following the unveiling of the Amazon Fire 3-D cell phone, we watched as Amazon's stock price plummeted. Why? Well, investors were putting pressure on Amazon to stop the overwhelming spending spree they've been on investing in new products and fulfillment centers. And this continues the long term trend of Amazon delaying earnings to invest in the long term. The stock price has done very well, though under some pressure the last year. The level of spending was just too much for some investors.
Jeff Bezos announced that although he understands that the amount of spending is a bit overwhelming, he feels as though it's necessary for long term production. In the same announcement, he explained that as a result of that spending, Amazon would be generating a loss for the quarter and most likely the next. Because investors don't buy in on losses, this presented an opportunity to make successful "Put" trades.
Amazon unveils a book subscription service – A couple of weeks ago, Amazon announced a new, "unlimited" (though limited to participating publishers which leaves out many, probably most, popular books) eBook subscription that gave users access to hundreds of thousands of book titles. As a result, the following day we saw a decent increase in Amazon's stock price. As with the Amazon Fire 3-D cell phone, this presented traders with an opportunity to make informed, successful trades.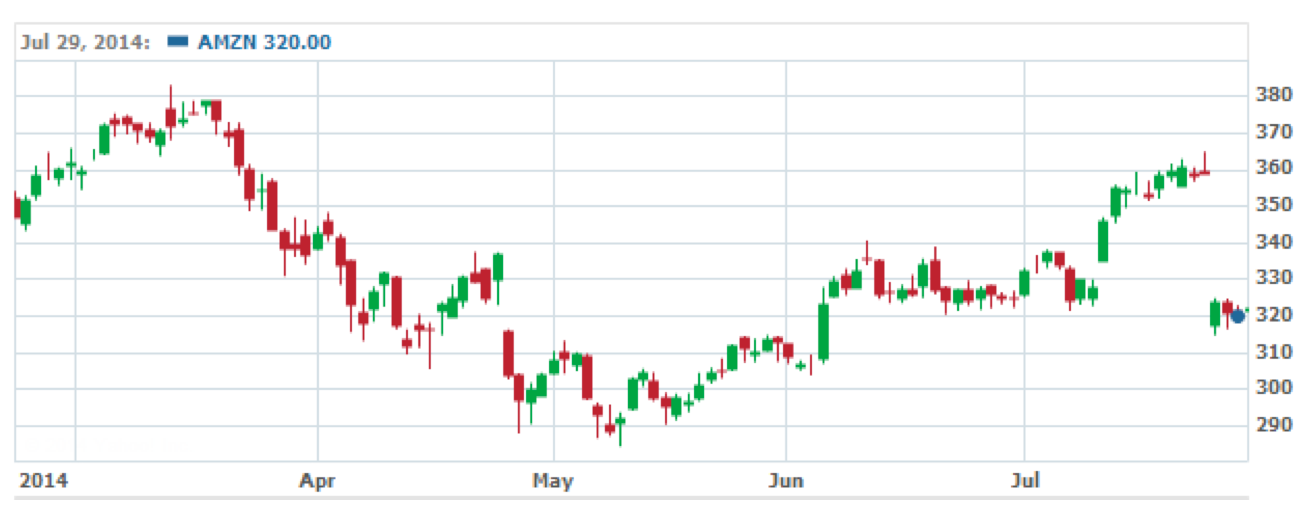 Amazon's Binary Options Candelstick Chart- Source: Yahoo Finance
Earnings reports – Earnings reports offer the ideal window to make some profits, and when Amazon  released its second quarter earnings report, the resulting down trend, was a binary options trader's dream. Based on the investments into new products and fulfillment centers, investors expected a loss similar to the drop in net income in April 2011. However, they didn't expect for losses to be so large. In their Q2 earnings report, Amazon posted a loss of $126 million. As a result, Friday brought a dramatic landslide to the Amazon stock chart with shares falling nearly $40 each.
Trading with the news can be very profitable
Although, we talk about Amazon, in this post – this strategy of trading with news, and following the trends that ensue can be applied to any stock. Every day, events happen, such as product launches, earning's reports, changes to high level management, scandals, all these have an impact on the price of a stock, and if we are ready to trade as these events unfold in real-time, as traders we can make hay as the sun shines.
They key, is to have your finger on the pulse, stay abreast of daily events, and news stories that have a direct impact on stocks, and be ready to trade on the back of them.
Related: Selling Covered Call Options – Google to Let Workers Sell Options Online
Comments