While people question the value of a college degree a recent study by the New York Federal Reserve shows a degree is close to as valuable today as it has ever been. The costs to get that value have risen but even with the increased cost students earn on average a 15% annual rate of return on their investment.
Of course, not every student will earn that, some will earn more and some less.
We estimate that the value of a college degree fell from about $120,000 in the early 1970s to about $80,000 in the early 1980s, before more than tripling to nearly $300,000 by the late 1990s, where it has remained, more or less, ever since. Despite drifting down somewhat in the aftermath of the Great Recession, the value of a bachelor's degree has remained near its all-time high.
…
The time required to recoup the costs of a bachelor's degree has fallen substantially over time, from more than twenty years in the late 1970s and early 1980s to about ten years in 2013. So despite the challenges facing today's college graduates, the value of a college degree has remained near its all-time high, while the time required to recoup the costs of the degree has remained near its all-time low.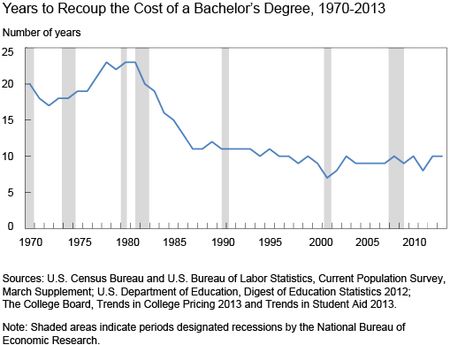 So a college education is a great investment for most people. This can create a problem however, when people then assume that all they need to do is go to college and they will do well no matter what. The same thing happens in other markets. Real estate has proven to be a great investment. that doesn't mean every real estate investment is good. It doesn't mean you can ignore the costs and risks of a particular investment. The same goes for stocks.

In education there is a sensible case to made that the more people getting degrees the more risky it is. If very qualified people get degrees and that is limited to 10% of the population it isn't hard to imagine those people will do well. Partially if they are selected somewhat effectively based on merit and potential (lets just say that it works out to 50% of the top 20% of the population for capability and potential) they would do well even if all you did was select them for college and nothing else (they never went to college).
Now if you start getting to the people with the 50th to 60th percentile capability and potential there is a reasonable case that these people are less likely to thrive economically. So if the costs of college for them are just as high as those in the top tenth percentile it is reasonable to expect they may take longer to pay it back or fail to do so.
I believe this is more a thought experiment than something to definitively measure. I think you can classify people to some degree by merit and capability but it is a measure prone to much error. Over large population however I think it is possible.
Another point is while I can imagine the payoff for college would be lower for people below the 50th percentile of this made up merit and capability measure it may be this expectation is just wrong. Maybe those people would benefit economically just as much or maybe even more. Some data could be collected on this (and I imagine is). I imagine it is not studied too much as there would be lots of political incorrect baggage about data showing people on some measures have less potential to earn back the costs of higher education.
I question for example the benefit of many of these for-profit "education" organization that seem much less focused on education and much more focused on their profit. Frankly I am very disappointed with the lack of education focus at those schools we think of as the best of the best. These schools often seem to lose themselves in vanity ego projects, hiding intellectual advances behind pay-walls and other bad practices.
But taking all the failures of these schools into account I am much more worried about others taking advantage of students to encourage unrealistic expectations about taking on debt for students that are less capable or even interested in academic pursuits.
Still for those with reasonable capability and interest the Fed study shows the payoff of education is still strong. It is sad that the costs have risen so much (again due in large part to the actions of educational institutions focusing on playing to the leaders egos instead of focusing on education for students at a reasonable cost). But even with the poor management by education leaders making the burden on students higher taking on that burden is wise for most students.
A second post by the Fed looks at that question: College May Not Pay Off for Everyone
Measured at the medians, the wage premium for a bachelor's degree has generally hovered between 60 and 70 percent since the 1990s. As we have cautioned before, this earnings gap may arise at least in part from differences in the skills and abilities of those who earn a college degree compared with those who don't, rather than from the knowledge and skills acquired while in college.
However, when we look at wages for the 25th percentile of college graduates, the picture is not quite so rosy. In fact, there is almost no difference in the wages for this percentile ranking of college graduates and the median wage for high school graduates throughout the entire period. This means that the wages for a sizable share of college graduates below the 25th percentile are actually less than the wages earned by a typical worker with a high school diploma.
While we can't be sure that the wages of this group wouldn't have been lower if they had never gone to college, this pattern strongly suggests that the economic benefit of a college education is relatively small for at least a quarter of those graduating with a bachelor's degree.
..
once the costs of attending college are considered, it is likely that earning a bachelor's degree would not have been a good investment for many in the lowest 25 percent of college graduate wage earners.
I made the last sentence bold.
Related: The Value of Various College Degrees –
Engineering Graduates Earned a Return on Their Investment In Education of 21% (annual rate of return) – The Global Workplace and Your Career
Update, study finds: "The marginal admission yields earnings gains of 22% between 8 and 14 years after high school completion. These gains outstrip the costs of college attendance, and they are largest for male students and free-lunch recipients."
Comments