I have been giving loans through Kiva for many years now. I enjoy the opportunity to help out entrepreneurs around the world. And the web site is well done to give you a psychological boost – photos of the entrepreneurs, stories on what they will do, etc..
I often have difficulty finding real entrepreneurs (many of the loans are for things like education, fixing up their house, buying motorcycle/car, etc. that may well be very important but are not really related to entrepreneurship in most cases). That is fine, in this session I had 3 loans to entrepreneurs and 2 loans for solar energy solutions for people's homes. Improved energy, cooking or water access are some things I am happy to lend to that are not entrepreneur related. Though usually the water loans are – to an entrepreneur that will sell clean water to a neighborhood and sometimes the solar energy ones are, though not in this case.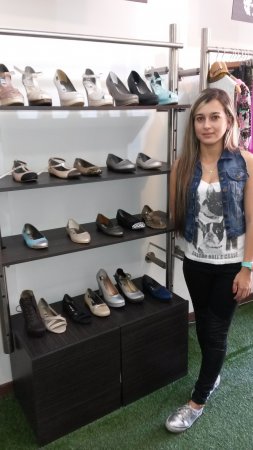 Kelly in Medellin, Columbia is starting a shoe business.
The write-ups on Kiva are often fairly well done; targeting those interested in making loans. Kelly's:
Kelly, 26, is very clear about what she wants in life and is determined to finish her studies in order to move froward and have a good life.
She works as a saleswoman in different shoe stores in the municipality of Medellin.
She wants to start her own business making and selling shoes of all styles. She wants to start this activity because she has the desire to generate the resources she needs to support herself and her education, in addition to helping with expenses at home.
She is a young, very disciplined entrepreneur. She is requesting a loan to buy a wide range of materials such as leather, soles, adhesives, and fabrics. With these elements, she can start this business and improve her quality of life.
I often screen the data on delinquencies and defaults for the partner bank in making loan decisions. It isn't because I am worried about losing my loan (I just re-lend what I get paid back). But if I lend to organizations that are having more failures I increase their supply of money to make loans which don't seem to be working out for borrowers as well as another lender). I want my money going to help people, not get people into a mess.

The stats for this lender are bad. But there is an explanation (for the bad delinquency rate, at least). The default rate is 3.99% which is also bad, but the way Kiva collects that isn't great (they have called things defaulted that just had the borrower paying everything back but there was a currency exchange loss – which is a loss to the lender but not truly a default). I would hope Kiva fixed that, but I don't know that they have.
I decided to give this entrepreneur a chance. I hope she is successful. It isn't easy and I do worry about setting people up for a difficult time when they are not ready for the challenge of making the loan work for them. The loans I really like are ones like the one I made today on Kiva Zip for a entrepreneur in Kenya to have their Posho Mill fixed. They saw a market need for a more convenient mill (for her village) and bought one and has been running her business.
I started my business after doing my own survey and realized that the people in my community had to walk a long distance in order to get the posho mill services.After having made some savings from my grocery business i decided to purchase a posho mill machine machine.
I am glad I am successful enough to help people out with loans. And also with donations through sites like Global Giving (which also does a good job of using the web to encourage investment by donors/lenders) and Trickle Up. It is wonderful to see people have success creating a business that can greatly improve their lives, which helping customers and sometimes creating jobs for others.
Related: Kiva Loans Give Entrepreneurs a Chance to Succeed – More Kiva Entrepreneur Loans: Kenya, Honduras, Armenia… – Funding Entrepreneurs in Nicaragua, Ghana, Viet Nam, Togo and Tanzania
The 3rd entrepreneur loan is to a women in India to buy a press to make leaf plates. "As the business will grow, she can also employ a few women, creating employment." Indian loans have special provisions (due to Indian government rules – which were put in place due to horrible practices, people killing themselves due to crushing debt and collection actions). This is another reminder that while, I like the opportunity these loans provide they are by no means perfect. For people really worried about this but that like the idea, look at Trickle Up; they do similar thing but with micro grants instead of micro loans. I have been giving to Trickle Up for much longer (since I was in college, actually).
I also like how Kiva includes a map showing the country of the borrower on the loan profile page. It is another good way to help people learn about the world while they are helping others.
It is a quirk that both are women. I am biased toward manufacturing loans and also to individual loans (over group loans). I think both of those (especially manufacturing) have many more men on Kiva. I am also a bit biased toward helping women with my loans but someone looking at the data might not think that (58% of my loans have been to men).
Top countries for my loans (I have lent to 60 of the 79 countries in which Kiva offers loans)
Cambodia – 7%
Kenya – 6.7%
Bolivia – 5.6%
Vietnam – 4.9%
Togo – 4.8%
Philippines – 4.4%
Nicaragua – 4.3%
El Salvador – 4.1%
Senegal 4%
Colombia 4%
USA is 2.5%
I have also noticed quite a few loans the last 6 months that are very near expiration with under 5% of the loan amount lent. If they don't get 100% they loan is refunded via Kiva to the lenders. Most of the loans are actually already made but if Kiva doesn't have lenders pick it up that means the partner bank has that loan on their books (tying up their capital so they can't make as many loans). I think it is probably a good thing, in general. I would imagine a significant amount of cash is sitting on Kiva users balances (they get excited and lend but after awhile don't come back and re-lend), but I could be wrong about that.
There is a Curious Cats group on Kiva that has now lent $25,075 in 664 loans.
Comments