The report, The Dwindling Taxable Share Of U.S. Corporate Stock, from the Brookings Institution Tax Policy Center includes some amazing data.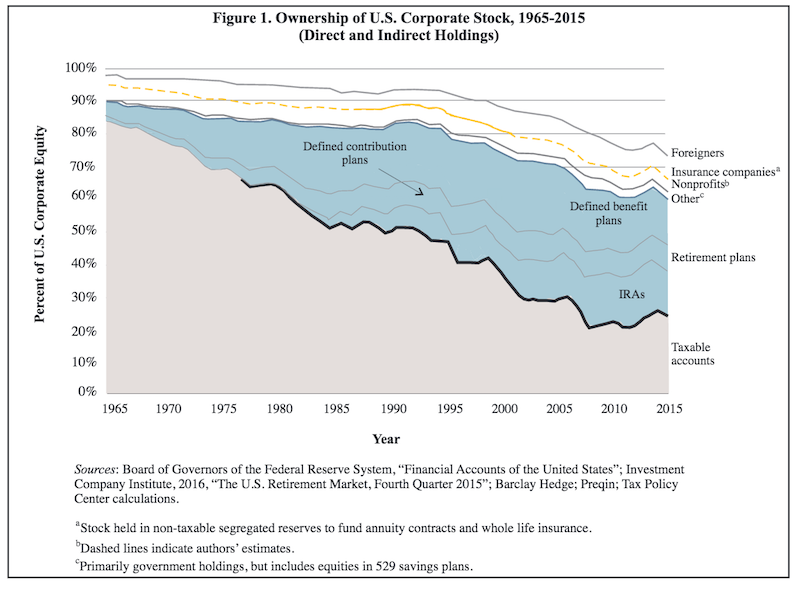 In 1965 foreign ownership of USA stocks totaled about 2%, in 1990 it had risen to 10% and by 2015 to 26%. That the foreign ownership is so high surprised me. Holdings in retirement accounts (defined benefit accounts, IRAs etc.) was under 10% in 1965, rose to over 30% in 1990 and to about 40% in 2015. The holdings in retirement accounts doesn't really surprise me.
The combination of these factors (and a few others) has decreased the holding of USA stocks that are taxable in the USA from 84% in 1965 to 24% in 2015. From the report
We treated foreigners as nontaxable as their income from stock generally is not subject to U.S.tax — or subject to just a little tax. Their stock gains almost always are exempt from taxation.Their dividends are subject to a 30 percent U.S.withholding tax for portfolio investments, which is typically reduced, by treaty, to 15 percent…
As with much economic data it isn't an easy matter to determine what values to use in order to get figures such as "foreign ownership." Still this is very interesting data, and as the report suggests further research in this area would be useful.
Related: There is No Such Thing as "True Unemployment Rate" – The 20 Most Valuable Companies in the World – February 2016 (top 10 all based in the USA) – Why China's Economic Data is Questionable – Data provides an imperfect proxy for reality (we often forget the proxy nature of data)
Comments