Abuse of the credit system by 3rd party collection agencies (and credit reporting agencies) in the USA has been a long term problem.
An attempt to partially address some of the abuses was a change in the required reporting practices that impacted collections accounts specifically, known as the National Consumer Assistance Plan (NCAP), which rolled into effect during the second half of 2017. The plan has many components, including: (1) a requirement for more frequent, detailed, and accurate reporting of collections accounts, including reflecting when those accounts have been paid; (2) a prohibition against reporting debts that did not arise from an agreement to pay, or from, medical collections less than 180 days old; (3) the removal of collections accounts that did not arise from a contract or agreement to pay; and (4) permission to report any account only when there is sufficient information to link the account with an individual's credit files (requiring a name, address, and some other personally identifying information such as a Social Security number or date of birth).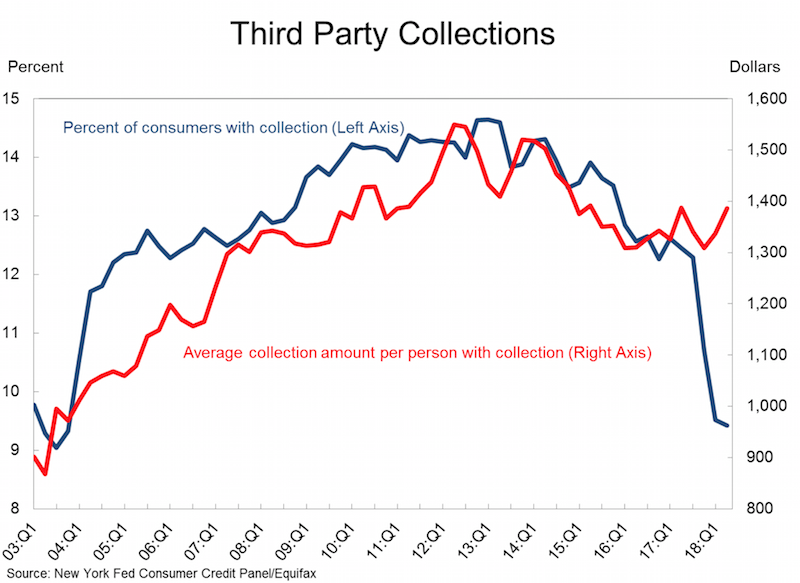 All in all, the changes in credit reporting prompted by the National Consumer Assistance Plan have resulted in an $11 billion reduction in the collections accounts balances being reported on credit reports. A total of 8 million people had collections accounts completely removed from their credit report. However, collections accounts do indeed align with other negative events and the cleanup of collections accounts had the largest impact on the borrowers with the lowest scores.
These borrowers will certainly benefit in the long run from the cleanup of their credit reports, since higher scores are associated with better access to credit, to the job market, and even to the rental housing market. But the immediate impact of the removal of collections will be muted for most of those affected (other items are also impacting their current credit score).
In the longer-term there may be a rebound in collections account reporting because creditors will likely begin collecting the newly required personally identifying information as they adjust to this reporting change.
This was a small good step in protecting consumers from the bad behavior of credit reporting companies and their customers. But much more must be done to protect us from having our financial lives negatively impacted by bad practices of the credit reporting companies.
Related: Cleaning Up Collections – Avoiding the Vicious Cycle of Credit Problems – Truly Free Credit Report – USA Household Debt Jumps to Record $13.15 Trillion
Comments