Asia
banking
bonds
capitalism
chart
China
commentary
consumer debt
Credit Cards
credit crisis
curiouscat
debt
economic data
Economics
economy
employment
energy
entrepreneur
Europe
Financial Literacy
government
health care
housing
interest rates
Investing
Japan
John Hunter
manufacturing
markets
micro-finance
mortgage
Personal finance
Popular
quote
Real Estate
regulation
Retirement
save money
Saving
spending money
Stocks
Taxes
Tips
USA
Warren Buffett
One thing for investors consulting historical data to remember is we may have had fundamental changes in stock valuations over the decades (and I suspect they have). Just to over simplify the idea if lets say the market valued the average stock at a PE of 11 and everyone found stocks a wonderful investment. And so more and more people buy stocks and with everyone finding stocks wonderful they keep buying and after awhile the market is valuing the average stock at a PE of 14.
Within the market there is tons of variation those things of course are not nearly that simple, but the idea I think holds. Well if you look back at historical data the returns will include the adjustment of going from a PE of 11 to a PE of 14. Now maybe the new few decades would adjust from PE of 14 to PE of 17 but maybe not. At some point that fundamental re-adjustment will stop.
And therefore future returns would be expected to be lower than historically due to this one factor. Now maybe other factors will increase returns to compensate but if not the historical returns may well provide an overly optimistic view.
And if there is a short term bubble that lets say pushes the PR to 16 while the "fair" long term value is 14, then there will be a negative impact on the returns going forward bringing the PE from 16 to 14. That isn't necessarily a drop (though it could be) in stock prices, it could just be very slow increases as earning growth slowly pushes PE back to 14.
Another thing to consider is another long term macro-economic factor may also be giving long term historical returns an extra boost. The type of economic growth from the end of World War I to 1973 (just to pick a specific time, there was a big economic slowdown after OPEC drastically increased the price of oil). While that period includes the great depression and World War II, which massively distorts figures, from the end of WW I through the 1960s Europe and the USA went through an amazing amount of economic growth.
This richest 1% continue to take advantage of economic conditions to amass more and more wealth at an astonishing rate. These conditions are perpetuated significantly by corrupt politicians that have been paid lots of cash by the rich to carry out their wishes.
One thing people in rich countries forget is how many of them are in the 1% globally. The 1% isn't just Bill Gates and Warren Buffett. 1% of the world's population is about 72 million people (about 47 million adults). Owning $1 million in assets puts you in the top .7% of wealthy adults (Global Wealth Report 2013' by Credit Suisse). That report has a cutoff of US $798,000 to make the global 1%. They sensibly only count adults in the population so wealth of $798,000 puts you in the top 1% for all adults.
$100,000 puts you in the top 9% of wealthiest people on earth. Even $10,000 in net wealth puts you in the top 30% of wealthiest people. So while you think about how unfair it is that the system is rigged to support the top .01% of wealthy people also remember it is rigged to support more than 50% of the people reading this blog (the global 1%).
I do agree we should move away from electing corrupt politicians (which is the vast majority of them in DC today) and allowing them to continue perverting the economic system to favor those giving them lots of cash. Those perversions go far beyond the most obnoxious favoring of too-big-to-fail banking executives and in many ways extend to policies the USA forces on vassal states (UK, Canada, Australia, France, Germany, Japan…) (such as those favoring the copyright cartel, etc.).
Those actions to favor the very richest by the USA government (including significantly in the foreign policy – largely economic policy – those large donor demand for their cash) benefit the global 1% that are located in the USA. This corruption sadly overlays some very good economic foundations in the USA that allowed it to build on the advantages after World War II and become the economic power it is. The corrupt political system aids the richest but also damages the USA economy. Likely it damages other economies more and so even this ends up benefiting the 38% of the global .7% that live in the USA. But we would be better off if the corrupt political practices could be reduced and the economy could power economic gains to the entire economy not siphon off so many of those benefits to those coopting the political process.
The USA is home to 38% of top .7% globally (over $1,000,000 in net assets).
country
% of top .7% richest
% of global population
USA
38.3%
4.5%
Japan
8.6%
1.8%
France
7.5%
.9%
UK
6.1%
.9%
Germany
5.9%
1.1%
other interesting countries
China
3.4%
19.2%
Korea
1%
.7%
Brazil
.6%
2.8%
India
.5%
17.5
Indonesia
.3%
3.5%
Oxfam published a report on these problems that has some very good information: Political capture and economic inequality
Most popular posts on the Curious Cat Investing and Economics blog in 2014 (by page views).
Related: 20 Most Popular Post on Curious Cat Science and Engineering Blog in 2014 – 10 Most Popular Posts on the Curious Cat Management Blog in 2014 – Most Popular Posts on the Curious Cat Management Comments Blog –
The article, What's the Real U.S. Unemployment Rate? We Have No Idea, provides interesting information on the process for calculating the unemployment rate.
But it also misleads in saying "real US unemployment rate."
As Dr. Deming said: "there is no true value" of any measured process. The results depend on the process which includes the operation definitions used.
Over time the value of a measure (as a proxy measure for some condition you care to monitor) can change.
It is important to update measures to avoid using proxies that lose value.
The unemployment rate certainly has proxy issues. But there is no "true unemployment rate." There are ways to change the process to focus on different things (make the proxy better matched to certain issues). But also it seems to me, unemployment rate needs to have other related measures that are considered in concert with the unemployment rate (such as the labor force participation rate, perhaps some measure of under-employment etc.).
Those paying much attention do use other measures in concert but the last few years I read lots of different people complaining that the unemployment rate doesn't capture various aspects of how the job market is poor (and often claiming the unemployment rate was "inaccurate" as though there was a platonic form of the actual rate divorced from the measure process.
Related: What Do Unemployment Stats Mean? – Economic Measurement Issues Arising from Globalization – Why China's Economic Data is Questionable
In 2013 the addition to wind power capacity slowed a great deal in most countries. Globally capacity was increased just 13% (the increases in order since 2006: 26%, 27%, 29%, 32%, 25%, 19% and again 19% in 2012). China alone was responsible for adding 16,000 megawatts of the 25,838 total added globally in 2013.
At the end of 2013 China had 29% of global capacity (after being responsible for adding 62% of all the capacity added in 2013). In 2005 China had 2% of global wind energy capacity.
The 8 countries shown on the chart account for 81% of total wind energy capacity globally. From 2005 to 2013 those 8 countries have accounted for between 79 and 82% of total capacity – which is amazingly consistent.
Wind power now accounts for approximately 4% of total electricity used.
Related: Chart of Global Wind Energy Capacity by Country 2005 to 2012 – In 2010 Global Wind Energy Capacity Exceeded 2.5% of Global Electricity Needs – Global Trends in Renewable Energy Investment – Nuclear Power Generation by Country from 1985-2010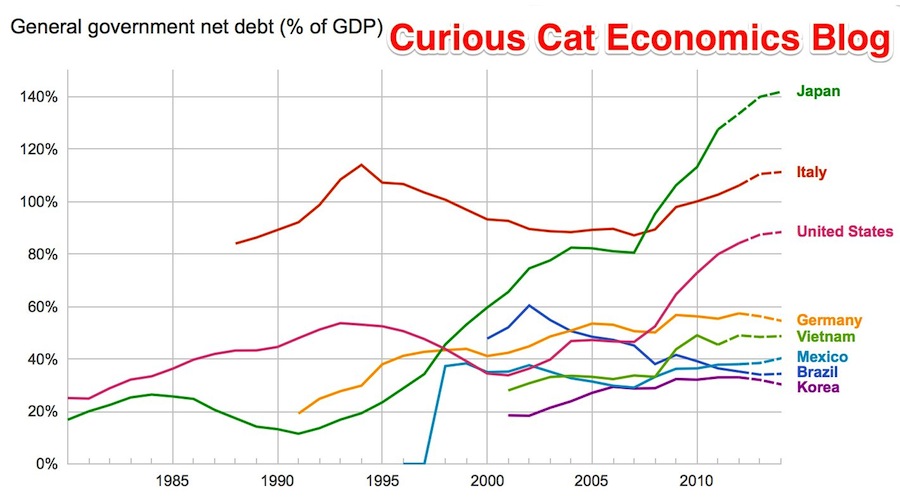 The data, from IMF, does not include China or India.
The chart shows data for net debt (gross debt reduced by certain assets: gold, currency deposits, debt securities etc.).
Bloomberg converted the data to look at debt load per person (looking at gross debt – estimated for 2014). Japan has ill-fortune to lead in this statistic with $99,725 in debt per person (242% of GDP), Ireland is in second with $60, 356 (121% of GDP). USA 3rd $58,604 (107%). Singapore 4th $56,980 (106%). Italy 6th $46,757 (133%). UK 9th $38,939 (95%). Greece 12th $38,444 (174%). Germany 14th $35,881 (78%). Malaysia 32nd $6,106 (57%). China 48th $1,489 (21%). India 53rd $946 (68%). Indonesia 54th $919 (27%).
I think the gross debt numbers can be more misleading than net debt figures. I believe Singapore has very large assets so that the "net" debt is very small (or non-existent). Japan is 242% in gross debt to GDP but 142% of net debt (which is still huge but obviously much lower). The USA in contrast has gross debt at 107% with a net debt of 88%.
Related: Government Debt as Percent of GDP 1998-2010 for OECD – Gross Government Debt as Percentage of GDP 1990-2009: USA, Japan, Germany, China – Chart of Largest Petroleum Consuming Countries from 1980 to 2010 – Top Countries For Renewable Energy Capacity
USA health care spending increased at a faster rate than inflation in 2012, yet again; increasing 3.7%. Total health expenditures reached $2.8 trillion, which translates to $8,915 per person or 17.2% of the nation's Gross Domestic Product (GDP).
The GDP is calculated was adjusted in 2013 and the data series going back in time was adjusted. These changes resulted in increasing historical GDP values and making the portion of GDP for health care to decline (for example in 2011 using the old calculation health care was 17.9% of GDP and now 2011 is shown as health care spending representing 17.3% of GDP).
While health care spending increased faster than inflation yet again, the economy actually grew at a higher rate than health care spending grew. That the spending on health care actually declined as a percentage of GDP is good news; and it may even be that this hasn't happened for decades (I am not sure but I think that might be the case).
Still health care spending growing above the rate of inflation is bad news and something that has to change. We have to start addressing the massive excessive costs for health care in the USA versus the rest of the world. The broken USA health care system costs twice as much as other rich countries for worse results. And those are just the direct accounting costs – not the costs of millions without preventative health care, sleepness nights worrying about caring for sick children without health coverage, millions of hours spent on completing forms to try and comply with the requirements of the health care system's endless demand for paperwork, lives crippled by health care bankruptcies…
Health Spending by Type of Service or Product: Personal Health Care
Hospital Care: Hospital spending increased 4.9% to $882 billion in 2012.
Physician and Clinical Services: Spending on physician and clinical services increased 4.6% in 2012 to $565 billion.
Other Professional Services: Spending for other professional services reached $76 billion in 2012, increasing 4.5%. Spending in this category includes establishments of independent health practitioners (except physicians and dentists) that primarily provide services such as physical therapy, optometry, podiatry, and chiropractic medicine.
Looking at stock market capitalization by country gives some insight into how countries, and stocks, are doing. Looking at the total market capitalization by country doesn't equate to the stock holdings by individuals in a country or the value of companies doing work in a specific country. Some countries (UK and Hong Kong, for example) have more capitalization based there than would be indicated by the size of their economy.
It is important to keep in mind the data is in current USA dollars, so big swings in exchange rates can have a big impact (and can cause swings to be exacerbated when they move in tandem with stock market movements – if for example the market declines by 15% and the currency declines by 10% against the US dollar those factors combine to move the result down).
As with so much recent economic data China's performance here is remarkable. China grew from 1.8% of world capitalization in 2000 to 6.9% in 2012. And Hong Kong's data is reported separately, as it normally is with global data sets. Adding Hong Kong to China's totals would give 3.7% in 2000 with growth to to 8.9% in 2012 (Hong Kong stayed very stable – 1.9% in 2000, 2% in 2012). China alone (without HK) is very slightly ahead of Japan.
The first chart shows the largest 4 market capitalizations (2012: USA $18.6 trillion, China and Japan at $3.7 trillion and UK at $3 trillion). Obviously the dominance of the USA in this metric is quite impressive the next 7 countries added together don't quite reach the USA's stock market capitalization. I also including the data showing the global stock market capitalization divided by 3 (I just divide it by three to have the chart be more usable – it lets us see the overall global fluctuations but doesn't cram all the other data in the lower third of the chart).
Canada is the 5th country by market capitalization (shown on the next chart) with $2 trillion. From 2000 to 2012 China's market capitalization increased by $3.1 trillion. The USA increased by $3.6 trillion from a much larger starting point. China increased by 536% while the USA was up 23.5%. The world stock market capitalization increased 65% from 2000 to 2012.
Related: Stock Market Capitalization by Country from 1990 to 2010 – Government Debt as Percent of GDP 1998-2010 – Manufacturing Output by Country 1999-2011: China, USA, Japan, Germany
Global wind power capacity has increased 391% from 2005 to 2012. The capacity has grown to over 3% of global electricity needs.
The 8 countries shown on the chart account for 82% of total wind energy capacity globally. From 2005 to 2012 those 8 countries have accounted for between 79 and 82% of total capacity – which is amazingly consistent.
Japan and Brazil are 13th and 15th in wind energy capacity in 2012 (both with just over one third of France's capacity). Japan has increased capacity only 97% from 2005 to 2012 and just 13% from 2010 to 2012. Globally wind energy capacity increased 41% from 2010 to 2012. The leading 8 countries increased by 43% collectively lead by China increasing by 68% and the USA up by 49%. Germany added only 15% from 2010 through 2012 and Spain just 10%.
Brazil has been adding capacity quickly – up 170% from 2010 through 2012, by far the largest increase for a county with significant wind energy capacity. Mexico, 24th in 2012, is another country I would expect to grow above the global rate in the next 10 years (I also expect Brazil, India and Japan to do so).
In 2005 China accounted for 2% of wind energy capacity globally they accounted for 30% in 2012. The USA went from 15% to 24%, Germany from 31% to 12%, Spain from 17% to 9% and India from 8% to 7%.
Related: Global Wind Energy Capacity Exceeds 2.5% of Global Electricity Needs (2011) – Nuclear Power Generation by Country from 1985-2010 – Chart of Wind Power Generation Capacity Globally 2005 to 2012 (through June)
Eurozone unemployment hits new high with quarter of under-25s jobless
The problem was most extreme in Greece where almost two-thirds of those under-25 are unemployed. The rate was 62.5% in February, the most recently available data.
…
Youth unemployment in Spain is 56.4%, in Portugal 42.5%. Italy recorded its highest overall unemployment rate since records began in 1977, at 12%, with youth joblessness at 40.5%. Economists said that the rise in unemployment was fairly broad-based with rises in so-called core countries as well, including Belgium and the Netherlands. The rate in France was 11%.
…
Ireland recorded one of the biggest falls in unemployment, down to 13.5% from 14.9% a year ago. That compares with a rate of 7.7% for the UK, where youth unemployment is 20.2%. The lowest rates for youth unemployment were in Germany at 7.5% and Austria at 8%.
Unemployment continues to be a huge problem. The slow recovery from the great recession caused by the too big to fail financial institutions continues to do great damage. That damage is very visible in unemployment figures and the huge transfer of wealth from savers to bail out otherwise failed financial institutions (that not only haven't been made to be small enough to fail but continue to pay themseves enormous bonuses while taking the billions in transfer of wealth from retirees that have had their income sliced by the interest rate policies necessatated to bail out the bankers).
The USA employment situation is still bad but has actually could easily be much worse. Unemployment in the USA stands at 7.5% now (the rate for teenagers is 24.1%).
Related: 157,000 Jobs Added in January and Adjustments for the Prior Two Months add 127,000 More (Feb 2013) – USA Unemployment Rate Drops to 7.8%, 200,000 Jobs Added (Oct 2012) – USA Adds 216,00 Jobs in March and the Unemployment Rate Stands at 8.8% (March 2011)
Comments