Asia
banking
bonds
capitalism
chart
China
commentary
consumer debt
Credit Cards
credit crisis
curiouscat
debt
economic data
Economics
economy
employment
energy
entrepreneur
Europe
Financial Literacy
government
health care
housing
interest rates
Investing
Japan
John Hunter
manufacturing
markets
micro-finance
mortgage
Personal finance
Popular
quote
Real Estate
regulation
Retirement
save money
Saving
spending money
Stocks
Taxes
Tips
USA
Warren Buffett
In 2013 the addition to wind power capacity slowed a great deal in most countries. Globally capacity was increased just 13% (the increases in order since 2006: 26%, 27%, 29%, 32%, 25%, 19% and again 19% in 2012). China alone was responsible for adding 16,000 megawatts of the 25,838 total added globally in 2013.
At the end of 2013 China had 29% of global capacity (after being responsible for adding 62% of all the capacity added in 2013). In 2005 China had 2% of global wind energy capacity.
The 8 countries shown on the chart account for 81% of total wind energy capacity globally. From 2005 to 2013 those 8 countries have accounted for between 79 and 82% of total capacity – which is amazingly consistent.
Wind power now accounts for approximately 4% of total electricity used.
Related: Chart of Global Wind Energy Capacity by Country 2005 to 2012 – In 2010 Global Wind Energy Capacity Exceeded 2.5% of Global Electricity Needs – Global Trends in Renewable Energy Investment – Nuclear Power Generation by Country from 1985-2010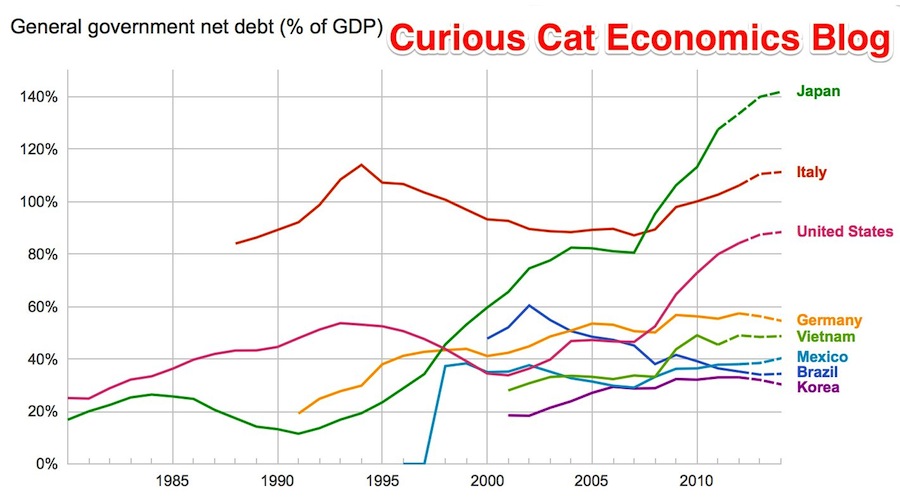 The data, from IMF, does not include China or India.
The chart shows data for net debt (gross debt reduced by certain assets: gold, currency deposits, debt securities etc.).
Bloomberg converted the data to look at debt load per person (looking at gross debt – estimated for 2014). Japan has ill-fortune to lead in this statistic with $99,725 in debt per person (242% of GDP), Ireland is in second with $60, 356 (121% of GDP). USA 3rd $58,604 (107%). Singapore 4th $56,980 (106%). Italy 6th $46,757 (133%). UK 9th $38,939 (95%). Greece 12th $38,444 (174%). Germany 14th $35,881 (78%). Malaysia 32nd $6,106 (57%). China 48th $1,489 (21%). India 53rd $946 (68%). Indonesia 54th $919 (27%).
I think the gross debt numbers can be more misleading than net debt figures. I believe Singapore has very large assets so that the "net" debt is very small (or non-existent). Japan is 242% in gross debt to GDP but 142% of net debt (which is still huge but obviously much lower). The USA in contrast has gross debt at 107% with a net debt of 88%.
Related: Government Debt as Percent of GDP 1998-2010 for OECD – Gross Government Debt as Percentage of GDP 1990-2009: USA, Japan, Germany, China – Chart of Largest Petroleum Consuming Countries from 1980 to 2010 – Top Countries For Renewable Energy Capacity
USA health care spending increased at a faster rate than inflation in 2012, yet again; increasing 3.7%. Total health expenditures reached $2.8 trillion, which translates to $8,915 per person or 17.2% of the nation's Gross Domestic Product (GDP).
The GDP is calculated was adjusted in 2013 and the data series going back in time was adjusted. These changes resulted in increasing historical GDP values and making the portion of GDP for health care to decline (for example in 2011 using the old calculation health care was 17.9% of GDP and now 2011 is shown as health care spending representing 17.3% of GDP).
While health care spending increased faster than inflation yet again, the economy actually grew at a higher rate than health care spending grew. That the spending on health care actually declined as a percentage of GDP is good news; and it may even be that this hasn't happened for decades (I am not sure but I think that might be the case).
Still health care spending growing above the rate of inflation is bad news and something that has to change. We have to start addressing the massive excessive costs for health care in the USA versus the rest of the world. The broken USA health care system costs twice as much as other rich countries for worse results. And those are just the direct accounting costs – not the costs of millions without preventative health care, sleepness nights worrying about caring for sick children without health coverage, millions of hours spent on completing forms to try and comply with the requirements of the health care system's endless demand for paperwork, lives crippled by health care bankruptcies…
Health Spending by Type of Service or Product: Personal Health Care
Hospital Care: Hospital spending increased 4.9% to $882 billion in 2012.
Physician and Clinical Services: Spending on physician and clinical services increased 4.6% in 2012 to $565 billion.
Other Professional Services: Spending for other professional services reached $76 billion in 2012, increasing 4.5%. Spending in this category includes establishments of independent health practitioners (except physicians and dentists) that primarily provide services such as physical therapy, optometry, podiatry, and chiropractic medicine.
Looking at stock market capitalization by country gives some insight into how countries, and stocks, are doing. Looking at the total market capitalization by country doesn't equate to the stock holdings by individuals in a country or the value of companies doing work in a specific country. Some countries (UK and Hong Kong, for example) have more capitalization based there than would be indicated by the size of their economy.
It is important to keep in mind the data is in current USA dollars, so big swings in exchange rates can have a big impact (and can cause swings to be exacerbated when they move in tandem with stock market movements – if for example the market declines by 15% and the currency declines by 10% against the US dollar those factors combine to move the result down).
As with so much recent economic data China's performance here is remarkable. China grew from 1.8% of world capitalization in 2000 to 6.9% in 2012. And Hong Kong's data is reported separately, as it normally is with global data sets. Adding Hong Kong to China's totals would give 3.7% in 2000 with growth to to 8.9% in 2012 (Hong Kong stayed very stable – 1.9% in 2000, 2% in 2012). China alone (without HK) is very slightly ahead of Japan.
The first chart shows the largest 4 market capitalizations (2012: USA $18.6 trillion, China and Japan at $3.7 trillion and UK at $3 trillion). Obviously the dominance of the USA in this metric is quite impressive the next 7 countries added together don't quite reach the USA's stock market capitalization. I also including the data showing the global stock market capitalization divided by 3 (I just divide it by three to have the chart be more usable – it lets us see the overall global fluctuations but doesn't cram all the other data in the lower third of the chart).
Canada is the 5th country by market capitalization (shown on the next chart) with $2 trillion. From 2000 to 2012 China's market capitalization increased by $3.1 trillion. The USA increased by $3.6 trillion from a much larger starting point. China increased by 536% while the USA was up 23.5%. The world stock market capitalization increased 65% from 2000 to 2012.
Related: Stock Market Capitalization by Country from 1990 to 2010 – Government Debt as Percent of GDP 1998-2010 – Manufacturing Output by Country 1999-2011: China, USA, Japan, Germany
Global wind power capacity has increased 391% from 2005 to 2012. The capacity has grown to over 3% of global electricity needs.
The 8 countries shown on the chart account for 82% of total wind energy capacity globally. From 2005 to 2012 those 8 countries have accounted for between 79 and 82% of total capacity – which is amazingly consistent.
Japan and Brazil are 13th and 15th in wind energy capacity in 2012 (both with just over one third of France's capacity). Japan has increased capacity only 97% from 2005 to 2012 and just 13% from 2010 to 2012. Globally wind energy capacity increased 41% from 2010 to 2012. The leading 8 countries increased by 43% collectively lead by China increasing by 68% and the USA up by 49%. Germany added only 15% from 2010 through 2012 and Spain just 10%.
Brazil has been adding capacity quickly – up 170% from 2010 through 2012, by far the largest increase for a county with significant wind energy capacity. Mexico, 24th in 2012, is another country I would expect to grow above the global rate in the next 10 years (I also expect Brazil, India and Japan to do so).
In 2005 China accounted for 2% of wind energy capacity globally they accounted for 30% in 2012. The USA went from 15% to 24%, Germany from 31% to 12%, Spain from 17% to 9% and India from 8% to 7%.
Related: Global Wind Energy Capacity Exceeds 2.5% of Global Electricity Needs (2011) – Nuclear Power Generation by Country from 1985-2010 – Chart of Wind Power Generation Capacity Globally 2005 to 2012 (through June)
Eurozone unemployment hits new high with quarter of under-25s jobless
The problem was most extreme in Greece where almost two-thirds of those under-25 are unemployed. The rate was 62.5% in February, the most recently available data.
…
Youth unemployment in Spain is 56.4%, in Portugal 42.5%. Italy recorded its highest overall unemployment rate since records began in 1977, at 12%, with youth joblessness at 40.5%. Economists said that the rise in unemployment was fairly broad-based with rises in so-called core countries as well, including Belgium and the Netherlands. The rate in France was 11%.
…
Ireland recorded one of the biggest falls in unemployment, down to 13.5% from 14.9% a year ago. That compares with a rate of 7.7% for the UK, where youth unemployment is 20.2%. The lowest rates for youth unemployment were in Germany at 7.5% and Austria at 8%.
Unemployment continues to be a huge problem. The slow recovery from the great recession caused by the too big to fail financial institutions continues to do great damage. That damage is very visible in unemployment figures and the huge transfer of wealth from savers to bail out otherwise failed financial institutions (that not only haven't been made to be small enough to fail but continue to pay themseves enormous bonuses while taking the billions in transfer of wealth from retirees that have had their income sliced by the interest rate policies necessatated to bail out the bankers).
The USA employment situation is still bad but has actually could easily be much worse. Unemployment in the USA stands at 7.5% now (the rate for teenagers is 24.1%).
Related: 157,000 Jobs Added in January and Adjustments for the Prior Two Months add 127,000 More (Feb 2013) – USA Unemployment Rate Drops to 7.8%, 200,000 Jobs Added (Oct 2012) – USA Adds 216,00 Jobs in March and the Unemployment Rate Stands at 8.8% (March 2011)
USA health care spending continues to grow, consuming an ever increasing share of the economic production of the USA. USA health care spending is twice that of other rich countries for worse health care results.
USA health care expenditures grew 3.9% to $2.7 trillion in 2011, or $8,680 per person, and accounted for 17.9% of Gross Domestic Product (GDP).
Medicare spending grew 6.2% to $554.3 billion in 2011, to 21% of total health care spending.
Medicaid spending grew 2.5% to $407.7 billion in 2011, or 15% of total health care spending.
Private health insurance spending grew 3.8% to $896.3 billion in 2011, or 33 percent of total health care expenditures.
Out of pocket spending grew 2.8% to $307.7 billion in 2011, or 11 percent of total health care spending.
Hospital expenditures grew 4.3% to $850.6 billion in 2011.
Physician and clinical services expenditures grew 4.3% to $541.4 billion in 2011.
Prescription drug spending increased 2.9% to $263.0 billion in 2011.
Per person personal health care spending for the 65 and older population was $14,797 in 2004, 5.6 times higher than spending per child ($2,650) and 3.3 times spending per working-age person ($4,511).
Individuals (28%) and the federal government (28%) accounted for the largest share of those paying for health care in the USA. Businesses pay 21% of the costs of health care while state and local governments pay 17%.
The United States Centers for Medicare & Medicaid Services (CMS) project that health care spending will rise to 19.6% of GDP by 2021. Since the long term failure of the USA health care system has resulted in costs increasing faster than inflation every year for decades, it seems reasonable to expect that trend to continue. The burden on the USA grows more and more harmful to the USA each year these rising costs continue.
In 2004, the elderly (65 years old and older) accounted for 12% of the population, and accounted for 34% of spending.
Data from US CMS (sadly the way they provide the data online my guess is this url will fail to work in a year, as they post the updated data – I don't see a way to provide a link to a url with persistent data).
Half of the population spends little or nothing on health care, while 5% of the population spends almost half of the total amount (The High Concentration of U.S. Health Care Expenditures: Research in Action).
Related: USA Spends Record $2.5 Trillion, $8,086 per person 17.6% of GDP on Health Care in 2009 – USA Spent $2.2 Trillion, 16.2% of GDP, on Health Care in 2007 – USA Health Care Costs reach 15.3% of GDP – the highest percentage ever (2005) – Systemic Health Care Failure: Small Business Coverage
The story of global manufacturing production continues to be China's growth, which is the conventional wisdom. The conventional wisdom however is not correct in the belief that the USA has failed. China shot past the USA, which dropped into 2nd place, but the USA still manufactures a great deal and has continually increased output (though very slowly in the last few years).
The story is pretty much the same as I have been writing for 8 years now. The biggest difference in that story is just that China actually finally moved into 1st place in 2010 and, maybe, the slowing of the USA growth in output (if that continues, I think the USA growth will improve). I said last year, that I expected China to build on the lead it finally took, and they did so. I expect that to continue, but I also wouldn't be surprised to see China's momentum slow (especially a few more years out – it may not slow for 3 or 4 more years).
As before, the four leading nations for manufacturing production remain solidly ahead of all the rest. Korea and Italy had manufacturing output of $313 billion in 2011 and Brazil moved up to $308 are in 4-6 place. Those 3 countries together could be in 4th place (ahead of just Germany). Even adding Korea and Italy together the total is short of Germany by $103 in 2011). I would expect Korea and Brazil to grow manufacturing output substantially more than Italy in the next 5 years.
Total nonfarm payroll employment increased by 157,000 in January, and the unemployment rate was essentially unchanged at 7.9%, the USA Bureau of Labor Statistics reported today. The change in total nonfarm payroll employment for November was revised from +161,000 to +247,000, and the change for December was revised from +155,000 to +196,000 which means this report shows an increase of 284,000 (157+86+41). In 2012, employment growth averaged 181,000 per month.
The number of unemployed persons, at 12.3 million, was little changed in January. The
unemployment rate was 7.9% and has been at or near that level since September 2012.
Among the major worker groups, the unemployment rates for adult men (7.3%), adult women (7.3%), teenagers (23.4%), whites (7.0%), african-american (13.8%), Hispanics (9.7%), and Asians (6.5%) showed little or no change in January.
In January, the number of long-term unemployed (those jobless for 27 weeks or more) was about unchanged at 4.7 million and accounted for 38.1% of the unemployed. The continued high level of long term unemployment is a continuing concern.
Health care continued to add jobs in January (+23,000). Within health care, job growth occurred in ambulatory health care services (+28,000), which includes doctors' offices and outpatient care centers. In the last year, health care employment has increased by 320,000.
Manufacturing employment was essentially unchanged in January and has changed little, on net, since July 2012.
Average hourly earnings for all employees on private nonfarm payrolls rose by 4 cents to $23.78. Over the year, average hourly earnings have risen by 2.1 percent. In January, average hourly earnings of private-sector production and nonsupervisory employees increased by 5 cents to $19.97.
Related: 243,000 Jobs Added in January 2012 to Bring the USA Unemployment Rate Down to 8.3% – USA Unemployment Rate Remains at 9.7% (Feb 2010) – What Do Unemployment Stats Mean?
A recent report by Deloitte, The Hidden Costs of U.S. Health Care: Consumer Discretionary Health Care Spending provides some interesting data.
Between 2006 and 2010 USA health care expenditures increased by 19%. Government spending accounted for 40% of costs (remember that figure is lowered due to Deloitte's including inputed value for care of relatives). Those 65 and older account for 61% of the inputed cost care that is provided.
An additional $621 billion in direct and indirect costs was estimated for goods and services above what is captured in NHEA accounting. Of this additional amount, $492 billion (79 percent) is the imputed value of unpaid supervisory care given to individuals by family or friends.
I find this imputed value largely not worth considering. There are problems with the way we count GDP and economic activity (that affect health care and lots of other things). It is fine to be aware that they think $492 billion of extra care is given by family members but using that figure in any sensible way (other than saying hey there is a huge cost in people's time to dealing with our health care system and sick people that isn't counted in economic data) is questionable.
It is useful in looking at the increasingly old population we will see in the future and judging their is a large need for supervisory care that is not captured in just looking at the costs included in economic data currently. Not only will our grandkids have to pay for our living beyond our means today they will have to do so while providing unpaid care to their parents and grandparents.
The burden of long term supervisor care (that which can be provided by a non-health care professional) is one reason a resurgence in multi-generation housing options make sense to me. There are other good reasons also (child care, socialization, financial support to the young…). There are some real advantages and real disadvantages to such options. But I think economic advantages are going to encourage more of this going forward.
Related: Personal Finance Basics: Long-term Care Insurance – Health Care in the USA Cost 17.9% of GDP, $2.6 Trillion, $8,402 per person in 2010 – Resources for Improving Health Care System Performance
Comments