This year, the average discount rate has fallen every month while the average 30 year mortgage rate has climbed all but 1 month (a 5 basis point drop). In January, 2008 the discount rate averaged 3.94% and 30 year conventional fixed rate mortgages averaged 5.76%. In May, 2008 the discount rate had fallen to 1.98% (for a 196 basis point drop) and 30 year conventional fixed rates had risen to 6.04% (for a 28 basis point increase).
The chart shows the federal funds rate and the 30 year conventional fixed rate mortgage rate from January 2000 through May 2008 (for more details see: historical comparison of 30 year fixed mortgage rates and the federal funds rate).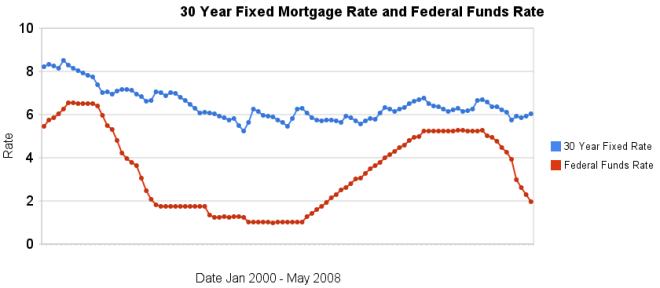 Related: Affect of Fed Funds Rates Changes on Mortgage Rates – real estate articles – Bond Yields 2005-2008 – Jumbo and Regular Mortgage Rates By Credit Score

Want more data? See graphs of the federal funds rate versus mortgage rates for 1980-1999.
Stubborn mortgage rates defy conventional wisdom
The Federal Reserve has aggressively cut interest rates. Houses are sitting around unsold. The stage appears to be set for mortgage rates to fall as lenders compete to attract that scarce quarry: the well-qualified home buyer. You wish.
Comments