Since August of 2008 conforming mortgage rates are have declined a huge amount. Jumbo rates have fallen a large amount also, but much less (for example for a credit score of 700-759 the jumbo rates declined 73 basis points while the conventional rate declined 172 basis points.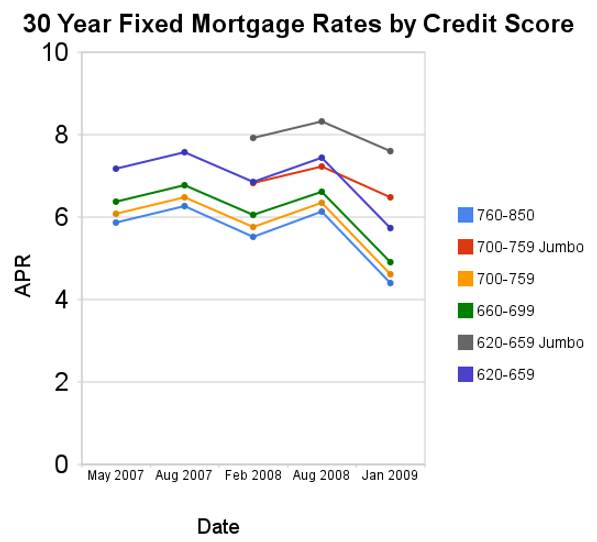 For scores above 620, the APRs above assume a mortgage with 1 point and 80% Loan-to-Value Ratio. For scores below 620, these APRs assume a mortgage with 0 points and 60 to 80% Loan-to-Value Ratio. You can see, with these conditions the rate difference between a credit score of 660 and 800 is not large (remember this is with 20% down-payment) and has not changed much (the difference between the rates if fairly consistent).
Related: Low Mortgage Rates Not Available to Everyone – 30 Year Fixed Rate Mortgage Rate Data – Real Free Credit Report (in USA) – Jumbo Mortgage Shoppers Get Little Relief From Rates – posts on mortgages

I had to make some guesses based on the data I can find this time. The 30 year mortgage rates from myfico.com show the exact same mortgage rates for jumbo and conventional loan amounts. However, looking at the monthly payment figures (for jumbo and non-jumbo amounts they are obviously not using the same rates.
So I am guessing the jumbo rates are just displaying incorrectly and the monthly amounts are accurate. This definitely leaves the reliability of the data in question. However the rates seem to be about what would be expected, when comparing to other rate quotes now
For Jan 2009 data:
Chart shows average for 660-679 and 680-699 rates. Chart shows average for 640-659 and 620-639 rates.
This second chart is the same data as the chart above, plus some additional data. The details on the data above apply to this chart. Also, the data for credit scores below 620 was not available for Jan 2009.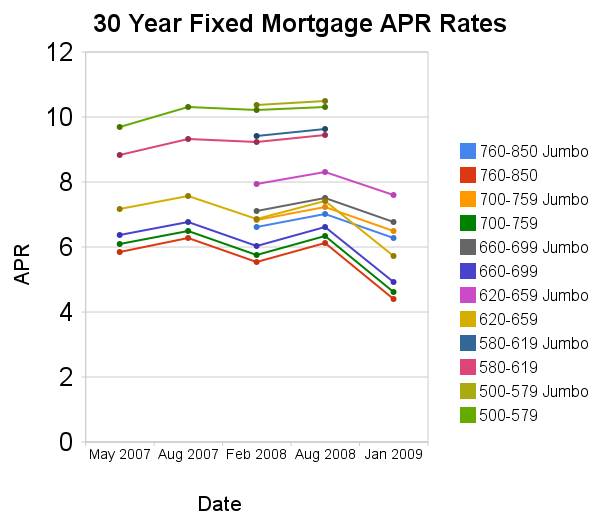 Previous posts on this topic: August 2008 – Feb 2008 – August 2007 – May 2007.
Comments