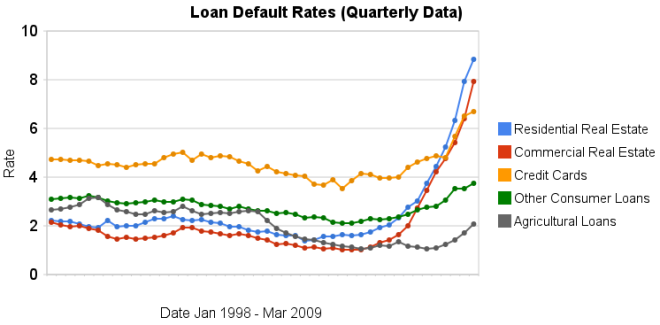 Chart showing loan delinquency rates for real estate, consumer and agricultural loans for 1998 to 2009 by the Curious Cat Investing Economics Blog,
Creative Commons Attribution
, data from the Federal Reserve.
Delinquency rates on commercial (up another 151 basis points) and residential (93 basis points) real estate continued to increase dramatically in the second quarter. Credit card delinquency rates increased but only by 20 basis points.
Real estate delinquency rates exploded in 2008. In the 4th quarter of 2007 residential delinquency rates were 3.02% by the 4th quarter of 2008 they were 6.34% and in the 2nd quarter of this year they were 8.84% (582 basis points above the 4th quarter of 2007). Commercial real estate delinquency rates were at 2.74% in the 4th quarter of 2007, 5.43% in the fourth quarter of 2008 and 7.91% in the 2nd quarter of 2009 (a 517 basis point increase).
Credit card delinquency rates were much higher than real estate default rates for the last 10 years (the 4-5% range while real estate hovered above or below 2%). Now they are over 200 and 300 basis points bellow residential and commercial delinquency rates respectively. From 4.8% in the 3rd quarter 2008 to 5.66% in the 4th and 6.5% in the 1st quarter of 2009.
The delinquency rate on other consumer loans and agricultural loan delinquency rates are up but nowhere near the amounts of real estate or credit cards.
As I wrote recently bond yields in the last few months show a dramatic increase in investor confidence for corporate bonds.
Related: Loan Delinquency Rates: 1998-2009 – The Impact of Credit Scores and Jumbo Size on Mortgage Rates – 30 Year Mortgage Rate and Federal Funds Rate Chart
Comments