30 year fixed mortgage rates have declined a bit over the last few months and remain at very low levels.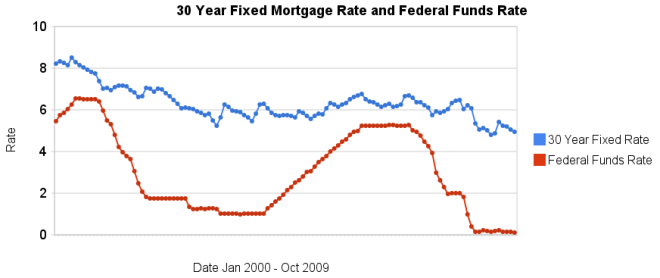 The poor economy, Unemployment Rate Reached 10.2%, has the Fed continuing massive intervention into the economy. The Fed is keeping the fed funds rate at close to 0% (.12% in October). They also continue to hold massive amounts of long term government and mortgage debt (in order to suppress interest rates on long term bonds – by reducing the supply of such bonds in the market).
I can't see how lending US dollars, over the long term, at 5%, makes any sense. I would much rather borrow at those rates than lend. If you have not refinanced yet, doing so now may well make sense. And if you are looking at a new real estate purchase, financing a 30 year mortgage sure is attractive at rates close to 5%.
Related: historical comparison of 30 year fixed mortgage rates and the federal funds rate – Lowest 30 Year Fixed Mortgage Rates in 37 Years – Jumbo v. Regular Fixed Mortgage Rates: by Credit Score – What are mortgage definitions – Ignorance of Many Mortgage Holders
For more data, see graphs of the federal funds rate versus mortgage rates for 1980-1999. Source data: federal funds rates – 30 year mortgage rates
Comments