The United States uses far more oil than any other country. The chart shows this very well. The chart shows all countries using over 2 million barrels of oil a day. The USA consumed 18.7 million barrels a day in 2009. Only China was also over 5 million barrels, they reached 8.2 million in 2009. Japan is next at 4.4 million.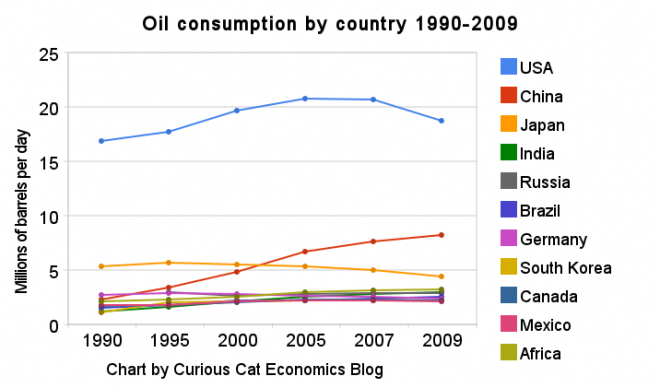 The data is from the US Department of Energy for total consumption of petroleum products.
Mexico, Canada, South Korea, Germany, Brazil, Russia and India all use between 2 and 3 million barrels a day. All of Africa is at 3.2 million.
Related: Oil Consumption by Country in 2007 – Manufacturing output by Country 1990-2008 – Increasing USA Foreign Oil Dependence In The Last 40 years – Wind Power Capacity Up 170% Worldwide from 2005-2009
Comments