30 year fixed mortgage rates have declined sharply recently to close to 4.5%.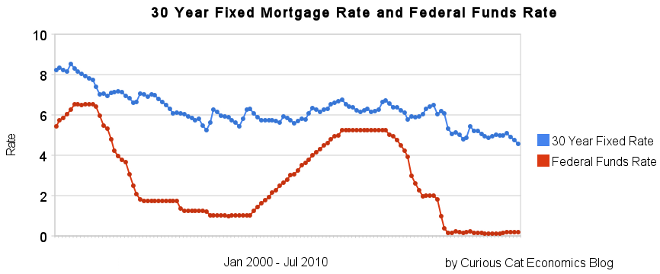 If you are considering refinancing a mortgage now may well be a very good time. If you are not, you maybe should consider it. If so look to shorten the length. If you originally took out a 30 year mortgage and now have, for example, 24 years let, don't add 6 years to your repayment term by getting a new 30 year mortgage. Instead, look to shorten your pay back period with a 20 year mortgage. The 20 year mortgage will have an even lower rate than the 30 year mortgage.
If you plan on staying in the house, a fixed rate mortgage is definitely the better option, in my opinion. If you are going to move (and sell your hose) in a few years, an adjustable rate mortgage may make sense, but I would learn toward a fixed rate mortgage unless you are absolutely sure (because situations can change and you may decide you want to stay).
The poor economy, unemployment rate still at 9.5%, has the Fed continuing massive intervention into the economy. The Fed is keeping the fed funds rate at close to 0%.
If you are looking at a new real estate purchase, financing a 30 year mortgage sure is attractive at rates under to 4.5%.
Related: historical comparison of 30 year fixed mortgage rates and the federal funds rate – 30 Year Fixed Mortgage Rates Remain Low (Dec 2009) – Lowest 30 Year Fixed Mortgage Rates in 37 Years – What are mortgage definitions
For more data, see graphs of the federal funds rate versus mortgage rates for 1980-1999. Source data: federal funds rates – 30 year mortgage rates
Comments