Asia
banking
bonds
capitalism
chart
China
commentary
consumer debt
Credit Cards
credit crisis
curiouscat
debt
economic data
Economics
economy
employment
energy
entrepreneur
Europe
Financial Literacy
government
health care
housing
India
interest rates
Investing
Japan
John Hunter
manufacturing
markets
micro-finance
mortgage
Personal finance
Popular
quote
Real Estate
regulation
Retirement
save money
Saving
spending money
Stocks
Taxes
Tips
USA
One factor you must understand when evaluating economic data is that the data is far from straight forward. Even theoretically it is often confusing what something like "savings rate" should represent. And even if that were completely clear the ability to get data that accurately measures what is desired is often difficult if not impossible. Therefore most often there is plenty of question about economic conditions even when examining the best available data. Learning about these realities is important if you wish to be financially literate.
Bigger U.S. Savings Than Official Stats Suggest
The official data from the Bureau of Economic Analysis say that in February personal spending was down 0.4%, or $40 billion, from the year before. Certainly any drop is bad news, since consumer spending rarely decreases – but $40 billion out of total spending of $10 trillion doesn't seem like enough to wreak economic havoc.
A closer look, however, shows that Americans have tightened their belts more sharply than the numbers report. The reason? Official figures for personal spending include a lot of categories, such as Medicare outlays, that are not under the control of households. They also include items, such as education spending, that should be treated as investment in the future rather than current consumption.
After removing these spending categories from the data, let's call what's left "pocketbook" spending – the money that consumers actually lay out at retailers and other businesses. By this measure, Americans have cut consumption by $200 billion, or 3.1%, over the past year. This explains why the downturn has hit Main Street hard.
…
Finally, for technical reasons the BEA throws in some "spending" categories where no money actually changes hands. The biggest is "rent on owner-occupied housing," the money that people supposedly pay themselves for living in their own homes. Despite the housing bust, this number rose by 2.6% over the past year, to $1.1 trillion.
…
A closer look at BEA numbers shows that Americans reduced spending by 3.1% in the past year, indicating that the savings rate has risen to 6.4%
He raises good issues to consider though I am not sure I agree 100% with his reasoning.
Related: The USA Should Reduce Personal and Government Debt – Financial Markets with Robert Shiller – Save Some of Each Raise – Over 500,000 Jobs Disappeared in November (2008)
Consumer borrowing falls in March at fastest pace in over 18 years, Americans saving more
Consumer borrowing
plunged in March at the fastest pace in 18 years as Americans put away their credit cards and hoarded cash amid the worst recession in decades. The
Federal Reserve
said Thursday that consumer borrowing dropped 5.2 percent in March, the biggest decline since an 8.1 percent fall in December 1990.
In dollar terms, consumer borrowing plunged by $11.1 billion. That's the largest dollar amount on records dating to 1943, and more than three times the $3.5 billion drop that economists expected. The borrowing category that includes credit cards dropped 6.8 percent in March after a 12.1 percent plunge in February. The category that includes auto loans fell 4.2 percent after rising by 1.2 percent in February.
The Commerce Department last week said that the personal savings rate edged up to 4.2 percent in March, marking the first time in a decade that the savings rate has been above 4 percent for three straight months.
Good. Consumer debt is far to large and should be paid down. This is a start but a small start, but a much larger reduction in outstanding consumer debt is needed before we have reached a healthy level of debt. The continued improvement in that debt level signifies a stronger economy. Far too many financial journalists instead of pointing out the benefits of such improvement note that this reduces current consumption (and thus, effectively, will lower current GDP – compared to what it would be if we continued to spend beyond our means). You cannot spend money your don't have forever.
Having more stuff in your house (along with an increased outstanding credit card balance) does not make you economically more successful. And the same holds true for the economy. Having more stuff sitting in people's house and an increasing debt load is not the sign of a stronger economy (even if it is a route to a higher current GDP). Increased saving and reducing debt will strengthen the economy and improve our economic success over the long term.
Related: Will Americans Actually Save and Worsen the Recession? – Proper credit card use – Personal Saving and Personal Debt in the USA – Americans are Drowning in Debt – Buying Stuff to Feel Powerful
The recent performance of investments can be discouraging. However, the most damaging reaction to your financial future is to reduce your contributions to retirement savings. IRAs and 401(k)s are great ways to save for retirement. In fact the recent performance has convinced me to increase my contributions. This is for two reasons.
First, I had been somewhat optimistic in my guesses about investment returns. The current decline means that investments in the S&P 500 have returned about 0% over the last 10 years. That is a horrible performance and it will take many years to even bring that up to a bad performance. So if you reduce your long term investment performance expectations you need to add more while you are working (or reduce your retirement expectations – or work longer).
Second, I think now is a very good time (long term) to be investing. I think the declines in the markets (both the stock market and real estate market) now provide good investment opportunities. Of course I could be wrong but I am willing to make investments based on this believe. And I believe there are plenty of place real estate prices may still be too high, but I believe there are also good buys.
A third reason worth considering is the damage done to the economy over the last 10 years and the costs of dealing with that today. Those costs are going to have long term impacts. Likely the economy will be stressed paying for the over-indulgences of the past for quite a long time. That means the risks to those in that economy will increase. And therefore having larger reserves is a wise course of action to survive the rough times ahead. Those rough times include a substantial risk of inflation. Investing to protect against that risk is important.
I would recommend starting with at least a 200 basis point increase in retirement contributions. For example, if you were saving 10% for retirement, increase that to 12%. If you have not added to your IRA for 2008, do so now (you have until April 15th to do so). In fact, if you haven't added to your IRA for 2009, do so now.
Related: How Much Will I Need to Save for Retirement? – Nearly half of all workers have less than $25,000 in retirement savings – Investing – What I am Doing Now
I think this article stretches pretty far to try and find a silver lining but these days it is hard to find anything positive: A silver lining to the economic crisis? by James Melik
"People are now understanding they are going to have to depend on each other – employees are deciding to take a day off work without pay, or even a pay cut, to avoid their colleagues losing their jobs – that's kind of a new phenomenon," says Mr Wallis. He believes there is a growing sense of community.
"People are trying to understand that we are all in this together, not just in an idealistic, altruistic way, but in a practical way," he says. He is also concerned about how future generations will look after the environment. "We are stewards of fragile resources," he says.
"That conversion to a green economy is more than structural, it is also spiritual and that is the chance this crisis offers us," he says.
We certainly do need people to be more financially responsible in their spending habits. Poor spending habits have been a problem for quite some time, the poor economy just is now focusing more people on those bad habits.
Related: Trying to Keep up with the Jones – Can I Afford That? – Too Much Stuff – Americans are Drowning in Debt
Retirement Myths and Realities provides some ideas from former Boeing President, Henry Hebeler:
Hebeler says all Americans should become self-educated about retirement issues, even if they have a financial planner.
…
My father used to tell me to save 10 percent of my wages all the time for retirement. And so I did. I never looked at any retirement plan; we didn't have retirement planning tools in those days.
…
I think the number is closer to 15 (percent) to 20 percent — that's from the time when you're a relatively young person, say, 30 years old or something like that.
…
A retiree's inflation rate is about 0.2 percent higher than the normal Consumer Price Index. When you retire, you have medical expenses that continually increase. You have more need for this service and the unit cost is increasing much faster than inflation.
…
Now, if you're going to retire at 80 years old, you could actually have a bigger number than 4 percent. If you're going to retire around 65 or so, 4 percent is not a bad number. Some people are now saying 3.5 percent instead of 4 percent. If you're going to retire at 55, you'd better spend a lot less than 4 percent because you've got another 10 years of life that you're going to have to support.
He makes some interesting points. I agree it is very important for people to become financially literate and take the time to understand their retirement plans. Just hoping it will work out or trusting that just doing what someone told you are very bad ideas. You need to educate yourself and learn about financing your retirement.
I am not really convinced by his idea that you need to start saving 15-20% for retirement at age 30. But that is a decision each person has to make for themselves. Of course there are many factors including how much risk you are willing to accept, when you plan on retiring, what standard of living you want in retirement…
Related: How Much Retirement Income? – posts on retirement – Saving for Retirement – Our Only Hope: Retiring Later
All you need is a broadband internet connection and you can Kiss your phone bill good-bye:
The Ooma service uses so-called Voice over Internet Protocol (or VOIP) technology to deliver calls to your existing phone using a broadband connection. Consumers need only to buy a $249
Ooma Hub
(it was a hefty $399 when the service launched last year); all domestic calls are free. (Ooma charges a few pennies a minute for international calls to landlines and 20 to 30 cents a minute for overseas calls to mobile phones. Calls from Ooma box to Ooma box are free.)
…
Replacing your phone service is, of course, just the start for Ooma. In some ways, calling is the Trojan horse to get the box in your house and then figure out other services to sell, like enhanced network security or kid-safe Web surfing.
One Year Later: Ooma by Michael Arrington
I've been a happy Ooma customer for a year now. I also use Vonage, and Ooma's call quality is better and there are fewer problems in general. If I didn't have one I'd buy one now.
I just ordered mine from Amazon for $203. I have been using Vonage for awhile and have been considering canceling it for awhile (and just using my cell phone) but I currently have a limited cell phone plan (because unlike so many people, I don't feel a need to talk to someone every single minute of the day). I normally just use the cell phone if I am meeting someone or traveling. Otherwise, just leave a message, I don't need to speak to you right now.
Related: Save Money on Printing – Frugality Plus – Save Money on Food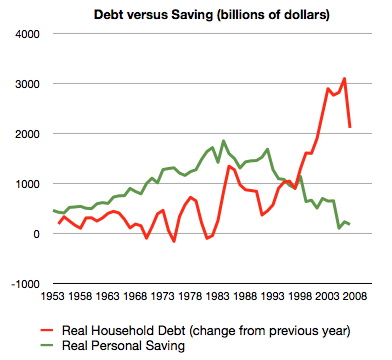 The whole sorry mess in one picture (including chart) by Philip Brewer
Take a gander at that graph. The green line is personal savings. The Bureau of Economic Analysis calculates that. It's just income minus spending–the obvious way of figuring saving. The red line is debt. The Federal Reserve calculates that value. The value on the graph is the change from the previous year–that is, it shows each year's new debt, just like the green line shows each year's saving. Both values are adjusted for inflation–the graph is in billions of (year 2000) dollars.
…
Starting back in about 2005, the American consumer reached the point that they could no longer service ever-increasing amounts of debt. That led to the housing bubble popping. The result is what you can see in the last datapoint on the graph–less new borrowing in 2007.
Related: $2,540,000,000,000 in USA Consumer Debt – Americans are Drowning in Debt – save an emergency fund – Financial Illiteracy Credit Trap – posts on saving money
Americans need to save much more money. This is true for people's personal financial health. And it is true for the long term health of the economy. Of course the credit card immediate gratification culture doesn't put much weight on those factors. And if Americans actually do reduce their consumption to save more that will harm the economy in the short term. But since those reading this are people (the economy can't read) the smart thing for most readers is to save more to create a stronger financial future for themselves.
Turmoil May Make Americans Savers, Worsening 'Nasty' Recession
U.S. retail sales fell in September for the third straight month, the longest slump since the government began keeping records in 1992.
…
From 1960 until 1990, households socked away an average of about 9 percent of their after-tax income, Commerce Department figures show. But Americans got out of the saving habit starting in the 1990s
…
"Consumers are starting to realize that they've been
living in a fantasy world
," says Lyle Gramley, a former Fed governor who is now senior economic adviser at Stanford Group Co. in Washington. "They will have to begin
salting away money for retirement
, their children's education and other reasons."
Americans have a way to go to catch up with their counterparts in other countries. The 0.4 percent of disposable income that U.S. households saved last year compares with 10.9 percent for Germany and 3.1 percent for Japan
Related: Americans are Drowning in Debt – Too Much Stuff – Financial Illiteracy Credit Trap
I enjoy working. More specifically, I enjoy working inside my interests, anything that drives me toward a vision outside sitting behind a desk, fingers on keys for eight hours a day.In my mind I assemble new ways to do things; creating, crafting, improving, and collaborating. Until recently I was hung up on where to put that effort, managerial day-job or elsewhere?
I want to be free to make my own decisions. I like the security of a corporate job, the health and financial benefits, but it IS a business. They're in the market to make money. If that means cutting jobs and salary, that's part of the equation.
…
I want to do something that I'm responsible for; something I've poured my heart and soul into. As it happens, I don't think my current day-job is that "something" which will help build those dreams…
I like this post. For me personal finance is a subset of life. Like health and education, personal finance, can hamper or provide options to your life. You need to keep track of your finances and manage them but that is in order to provide yourself options to live the life you want. Don't forget to decide what you want out of life. Then see how you can help make that happen based on finances or what steps you need to take to live your dreams in the future.
comic: Wanna play work? – also see: Joy in Work
Related: Medieval Peasants had More Vacation Time – Signs You Have a Great Job … or Not – How to Protect Your Financial Health – Credit Card Tips – Provide a Helping Hand – 1,000 True Fans
401(k)s are a great way to save. Yes, today those that have been saving money have the disappointment of bad recent results. But that is a minor factor compared to the major problem: Americans not saving what they need to for retirement in 401(k)s, IRAs, even just emergency funds… Do not use the scary financial market performance recently as an excuse to avoid retirement savings (if you have actually been doing well).
The importance of saving enough for retirement is actually increased by the recent results. You might have to re-evaluate your expectations and see whether you have been saving enough. I am actually considering increasing my contributions, mainly to take advantage of lower prices. But another benefit of doing so would be to add more to retirement savings, given me more safety in case long term results are not what I was hoping for.
Now there can be some 401(k) plans that are less ideal. Limited investing options can make them less valuable. Those limited options could include the lack of good diverse choices, index funds, international, money market, real estate, short term bond funds… My real estate fund is down about 2% in the last year (unlike what some might think based on the media coverage of declining housing prices). And poor investing options could include diverse but not good options (options with high expenses… [ the article, see blow, mentions some with a 2% expense rate – that is horrible]).
But those poor implementations of 401(K)s are not equivalent to making 401(k)s un-viable for saving. It might reduce the value of 401(k)s to some people (those will less good 401(k) plans). Or it might even make it so for people with bad 401(k) options that they should not save using it (or that they limit the amount in their 401k). I don't know of such poor options, but it is theoretically possible.
The tax deferral is a huge benefit. That benefit will only increase as tax rates rise (given the huge debt we have built up it is logical to believe taxes will go up to pay off spending today with the tax increases passed to the future to pay for our current spending).
And if you get matching of 410(k) contributions that can often more than make up for other less than ideal aspects of a particular 401(k) option.
Also once you leave a job you can roll the 401(k) assets into an IRA and invest in a huge variety of assets. So even if the 401k options are not great, it is normally wise to add to them and then just roll them into an IRA when you leave. If the plan is bad, also you can use an IRA for your first $5,000 in annual retirement savings and then add additional amounts in the 401k (if they are matching funds normally adding enough to get the matching is best).
401(k)s, 403(b), IRAs… are still great tools for saving. The performance of financial markets recently have been poor. Accepting periods of poor performance is hard psychologically. But retirement accounts are still a excellent tool for saving for retirement. Using them correctly is important: allocating resources correctly, moving into safer asset allocations as one approaches and reaches retirement…
Read more
Comments