Asia
banking
bonds
capitalism
chart
China
commentary
consumer debt
Credit Cards
credit crisis
curiouscat
debt
economic data
Economics
economy
employment
energy
entrepreneur
Europe
Financial Literacy
government
health care
housing
interest rates
Investing
Japan
John Hunter
manufacturing
markets
micro-finance
mortgage
Personal finance
Popular
quote
Real Estate
regulation
Retirement
save money
Saving
spending money
Stocks
Taxes
Tips
USA
Warren Buffett
The Great Convergence by Richard Baldwin makes some interesting points about "globalization." I actually find the long term history the most interesting aspect. It is very easy for people today to forget the recently rich "West" has not always been so dominant.
China and India/Pakistan accounted for 73% of the world manufacturing output in 1750. They continued to account for over half of global output even as later as 1830. By 1913, however, their share had dropped to 7.5%.
That shows how quickly things changed. The industrialization of Europe and the USA was an incredibly powerful global economic force. The rapid economic gains of Japan, Korea, Singapore, China and India in the last 50 years should be understood in the context of the last 200 years not just the last 100 years.
A central point Richard advocates for in the book is realizing that the current conditions are different from the conditions in which traditional economic theory (including comparative advantage) hold. The reasoning and argument for this claim are a bit too complex to make sensibly in this post but the book does that fairly well (not convincingly in my opinion, but enough to make the argument that we can't assume traditional economic theory for international trade is completely valid given the current conditions).
Freer trade does allow all nations to gain by "doing what they do best and importing the rest." But the fact is that TPP is much more like the soccer coach training the other team. TPP will make it easier to move advance know-how to low-wage nations – an outcome that is not covered by Adam Smith's reasoning."
I don't expect this blog post to convince people. I don't even think his book will. But he makes a case that is worth listen to. And I believe he is onto something. I have for years been seeing the strains of "comparative advantage" in our current world economy. That doesn't mean I am not mainly a fan of freer trade. I am. I don't think complex trade deals such as TPP are the right move. And I do think more care needs to be taken to consider current economic conditions and factor that into our trade policies.
Richard Baldwin uses 3 costs and the economic consequences of those changing over time to show globalizations history, where we are today and where we are going.
The cost of moving goods came down first, followed by the cost of moving ideas. The third constraint, the cost of moving people, has yet to be relaxed.
It isn't very easy to follow but the book provides lots of explanation for the dramatic consequences of these costs changing over time.
One of his themes is that mobility of labor is still fairly costly. It isn't easy to move people from one place to another. Though he does discuss how alternatives that are similar to this (for example telepresence and remote controlled robots to allow a highly technical person to operate remotely) without actually do moving the person are going to have huge economic consequences.
The "high spillovers" are the positive externalities that spin off of a highly knowledgable workforce.
Even if some lobbyists and their friends in Washington DC try to distract from the long term failure of the USA health care system the data continues to pour in about how bad it is.
U.S. Health-Care System Ranks as One of the Least-Efficient
America was 50th out of 55 countries in 2014, according to a Bloomberg index that assesses life expectancy, health-care spending per capita and relative spending as a share of gross domestic product. Expenditures averaged $9,403 per person, about 17.1 percent of GDP, that year — the most recent for which data are available — and life expectancy was 78.9. Only Jordan, Colombia, Azerbaijan, Brazil and Russia ranked lower.
None of these rankings are perfect and neither is this one. But it is clear beyond any doubt that the USA healthcare system is extremely costly for no better health results than other rich countries (and even more expensive with again no better results than most poor countries). It is a huge drain on the economy that we continue to allow lobbyists and special interests to take advantage of the rest of us via the Democrats and Republican parties actions over the last few decades.
We have to improve. The costs imposed on everyone to support those benefiting from this decades old transfer of economic wealth to health care special interests should no longer be accepted.
The top 5 countries are: Hong Kong, Singapore, Spain, South Korea and Japan. The first four have costs about 25% of the USA. Japan costs about 40% of the USA per person cost.
Mylan's despicable actions with Epi-pen and the direct participation of both political parties in increasing the costs foisted on the health care system by Mylan is just one in hundreds of the individual actions that continue to saddle the rest of USA economy with huge costs.
Related: Out of Pocket "Maximum", Understanding USA Health Care Costs – Decades Later The USA Health Care System is Still a Deadly Disease for Our Economy – 2015 Health Care Price Report, Costs in the USA and Elsewhere – USA Health Care Spending 2013: $2.9 trillion $9,255 per person and 17.4% of GDP – USA Spends $7,960 Compared to Around $3,800 for Other Rich Countries on Health Care with No Better Health Results (2009 data)
The International Federation of Health Plans has published the 2015 Comparative Price Report, Variation in Medical and Hospital Prices by Country. Once again this illustrates the excessive cost of health care in the USA. See related posts for some of our previous posts on this topic.
The damage to the USA economy due to inflated health care costs is huge. A significant portion of the excessive costs are due to policies the government enacts (which only make sense if you believe the cash given to politicians by those seeking to retain the excessive costs structure in the USA the last few decades buy the votes of the political parties and the individual politicians).
In 2015, Humira (a drug from Abbvie to treat rheumatoid arthritis that is either the highest grossing drug in the world, or close to it) costs $2,669 on average in the USA; $822 in Switzerland; $1,362 in the United Kingdom. This is the cost of a 28 day supply.
All the prices shown here are for the prices reported are the average allowed costs, which include both member cost sharing and health plan payment. So it only includes costs for those covered by health plans (it doesn't include even much larger price tags given those without insurance in the USA).
Harvoni (a drug from Gilead to treat hepatitis C is also near the top of drugs with the largest revenue worldwide). This is also a drug that has been used as a lightning rod for the whole area of overpriced drugs. One interesting thing is this is actually one that is not nearly as inflated in the USA over other countries nearly as much as most are. Again, for a 28 day supply the costs are $16,861 in Switzerland; $22,554 in the United Kingdom and $32,114 in the USA. Obviously quite a lot but "only" double the cost in the USA instead of over triple for Humira (from Switzerland to the USA).
Tecfidera is prescribed to treat relapsing multiple sclerosis. The cost for a 30 day supply vary from $663 in the United Kingdom to $5,089 in the USA ($1,855 Switzerland).
There are actually some drugs that are more expensive outside the USA (though it is rare). OxyContin is prescribed to treat severe ongoing pain and is also abused a great deal. The prices vary from $95 in Switzerland to $590 in the United Kingdom ($265 in United States).
The report also includes the cost of medical procedures. For both the drugs and the procedures they include not only average but measures to show how variable the pricing is. As you would expect (if you pay attention to the massive pricing variation in the USA system) the variation in the cost of medical procedures is wide. For an appendectomy in the USA the 25th percentile of cost was $9,322 and for the 95th was $33,250; the average USA cost was $15,930. The average cost in Switzerland was $6,040 and in the United Kingdom was $8,009.
As has been obvious for decades the USA needs to stop allowing those benefiting from the massively large excessive health care costs in the USA from buying the Democrats and Republicans support to keep prices so high. But there has been very little good movement on this front in decades.
Related: USA Heath Care System Needs Reform – USA Health Care Spending 2013: $2.9 trillion $9,255 per person and 17.4% of GDP – Decades Later The USA Health Care System is Still a Deadly Disease for Our Economy – USA Spends $7,960 per person Compared to Around $3,800 for Other Rich Countries on Health Care with No Better Health Results (2009) – Drug Prices in the USA (2005)
The report, The Dwindling Taxable Share Of U.S. Corporate Stock, from the Brookings Institution Tax Policy Center includes some amazing data.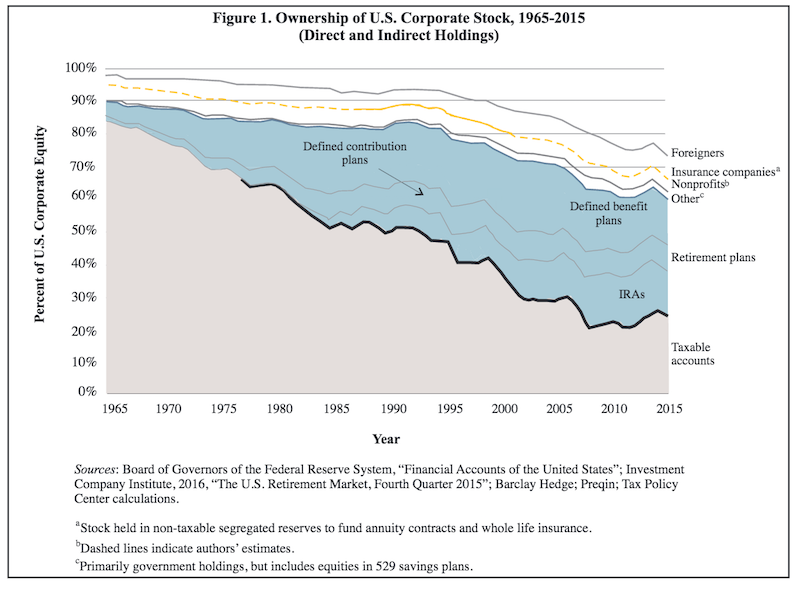 In 1965 foreign ownership of USA stocks totaled about 2%, in 1990 it had risen to 10% and by 2015 to 26%. That the foreign ownership is so high surprised me. Holdings in retirement accounts (defined benefit accounts, IRAs etc.) was under 10% in 1965, rose to over 30% in 1990 and to about 40% in 2015. The holdings in retirement accounts doesn't really surprise me.
The combination of these factors (and a few others) has decreased the holding of USA stocks that are taxable in the USA from 84% in 1965 to 24% in 2015. From the report
We treated foreigners as nontaxable as their income from stock generally is not subject to U.S.tax — or subject to just a little tax. Their stock gains almost always are exempt from taxation.Their dividends are subject to a 30 percent U.S.withholding tax for portfolio investments, which is typically reduced, by treaty, to 15 percent…
As with much economic data it isn't an easy matter to determine what values to use in order to get figures such as "foreign ownership." Still this is very interesting data, and as the report suggests further research in this area would be useful.
Related: There is No Such Thing as "True Unemployment Rate" – The 20 Most Valuable Companies in the World – February 2016 (top 10 all based in the USA) – Why China's Economic Data is Questionable – Data provides an imperfect proxy for reality (we often forget the proxy nature of data)
When I lived in Malaysia I learned that the residential electricity rates were very low for the low levels of use and climbed fairly rapidly as you used a lot of electricity (say running your air conditioner a lot). I think this is a very good idea (especially for the not yet rich countries). In rich countries even most of the "poor" have high use of electricity and it isn't a huge economic hardship to pay the costs.
Effectively the rich end up subsidizing the low rates for the poor, which is a very sensible setup it seems to me. The market functions fairly well even though it is distorted a bit to let the poor (or anyone that uses very little electricity) to pay low rates.
In a country like Malaysia as people become rich they may well decide to use a great deal of electricity for air conditioning (it is in the tropics). But their ancestors didn't have that luxury and having that be costly seems sensible to me. Allowing the poor to have access to cheap electricity is a very good thing with many positive externalities. And subsidizing the rate seems to be a good idea to me.
Often you get bad distortions in how markets work when you try to use things like subsidies (this post is expanded from a comment I made on Reddit discussing massive bad investments created by free electricity from the power company to city governments – including free electricity to their profit making enterprises, such as ice rinks in Puerto Rico).
With the model of low residential rates for low usage you encourage people to use less electricity but you allow everyone to have access at a low cost (which is important in poor or medium income countries). And as people use more they have to pay higher rates (per kwh) and those rates allow the power company to make a profit and fund expansion. Often in developing countries the power company will be semi-private so the government is involved in providing capital and sharing in profits (as well as stockholders).
The USA mainly uses central air conditioning everywhere. In Malaysia, and most of the world actually, normally they just have AC units in some of the rooms. In poor houses they may well have none. In middle class houses they may have a one or a couple rooms with AC units.
Even in luxury condos (and houses) they will have some rooms without AC at all. I never saw a condo or house with AC for the kitchen or bathrooms. The design was definitely setup to use AC in fairly minimal ways. The hallways, stairways etc. for the "interior" of the high rise condos were also not air conditioned (they were open to the outside to get good air flow). Of course as more people become rich there is more and more use of AC.
Related: Traveling for Health Care – Expectations – Looking at the Malaysian Economy (2013) – Pursuing a Growing Economy While Avoiding the Pitfalls That Befall to Many Middle Income Countries – Singapore and Iskandar Malaysia – Looking at GDP Growth Per Capita for Selected Countries from 1970 to 2010 – Malaysian Economy Continues to Expand, Budget Deficits Remain High (2012) – Iskandar Malaysia Housing Real Estate Investment Considerations (2011)
Total nonfarm payroll employment increased by 271,000 in October, and the unemployment rate was essentially unchanged at 5.0%. Over the prior 12 months, employment growth had averaged 230,000 per month – which is quite an excellent result. We are still recovering from the job losses suffered during the great recession but even considering that the results are excellent.
As my recent post noted, adding 50,000 jobs a month is the new 150,000 in the USA due to demographic changes. That means job gains in the last year have added about 180,000 jobs per month above the 50,000 needed to accommodate growth due to demographic changes (a larger population of adults.
The change in total nonfarm payroll employment for August was revised from +136,000 to +153,000, and the change for September was revised from +142,000 to +137,000. With these revisions, employment gains in August and September combined were 12,000 more than previously reported.
Household Survey Data
Both the unemployment rate (5.0%) and the number of unemployed persons (7.9 million) were essentially unchanged in October. Over the past 12 months, the unemployment rate dropped by 70 basis (from 5.7%) and 1.1 million fewer people are listed as unemployed.
Among the major worker groups, the unemployment rates for adult men (4.7%), adult women (4.5%), teenagers (15.9%), whites (4.4%), blacks (9.2%), Asians (3.5%), and Hispanics (6.3%) showed little or no change in October.
The number of long-term unemployed (those jobless for 27 weeks or more) was essentially unchanged at 2.1 million in October and has shown little change since June. These individuals accounted for 26.8% of the unemployed in October.
USA health care spending increased at a faster rate than inflation in 2013, yet again; increasing 3.5%. Total health expenditures reached $2.9 trillion, 17.4% of the nation's Gross Domestic Product (GDP) or $9,255 per person.
While this remains bad news the rate at which heath care is increasingly costing those in the USA has been slower the last 5 years than it has been in past years. Basically the system is getting worse at a slower rate than we used to be, so while that isn't great, it beats getting worse as quickly as we used to be. For the last 5 years the rate of increase has been between 3.6% and 4.1%.
GDP has increased more than inflation. As the GDP grows the economy has more production for society to split. The split between the extremely wealthy and the rest of society has become much more weighted to the extremely wealthy (they have taken most of the gains to the overall economy in the last 20 years). Health care has a similar track record of devouring the gains made by the economy. This has resulted in health care spending soaring over the decades in an absolute basis and as a percentage of GDP.
The slow down in how badly the health care system has performed in the USA has resulted in the share of GDP taken by the health care system finally stabilizing. Health care spending has remained near 17.4% since 2009. While hardly great news, this is much better news than we have had in the last 30 years from the USA health care system. The percentage of GDP taken by the USA health care system is double what other rich countries spend with no better health results.
It is similar to if a team started as a championship team and then got worse every year and now they have finally stopped getting even worse. Granted they have become the worst team in the league but if, say, their record has now been 5-55 for 3 years in a row, they at least are not winning fewer game in each subsequent year anymore. But you can hardly think you are doing a great job when you are clearly the worst team each and every year.
Obviously there is a need for much much more improvement in the USA health care system. Still stopping the growth in spending, as a percent of GDP, is a positive step toward drastically decreasing it to reach a level more in live with all other rich countries. Even this goal is only to have the USA reach a level of mediocrity. If you actually believe the USA can to better than mediocre that would imply a combination of drastic declines in spending (close to 50%) and drastic gains in outcomes. Decreasing spending by 50% would put the USA at essentially the definition of mediocre – middling result with average spending.
Health Spending by Type of Service or Product
Hospital Care: Hospital spending increased 4.3% to $936.9 billion in 2013 compared to 5.7% growth in 2012. The lower growth in 2013 was influenced by growth in both prices and non-price factors (which include the use and intensity of services).
Physician and Clinical Services: Spending on physician and clinical services increased 3.8% in 2013 to $586.7 billion, from 4.5% growth in 2012. Slower price growth in 2013 was the main cause of the slowdown, as prices grew less than 0.1%, due in part to the sequester and a zero-percent payment update.
A reasonable amount of government debt is not a problem in a strong economy. If countries take on debt wisely and grow their economy paying the interest on that debt isn't a problem. But as that debt grows as a portion of GDP risks grow.
Debt borrowed in other currencies is extremely risky, for substantial amounts. When things go bad they snowball. So if your economy suffers, your currency often suffers and then the repayment terms drastically become more difficult (you have to pay back the debt with your lower valued currency). And the economy was already suffering which is why the currency decreased and this makes it worse and they feed on each other and defaults have resulted in small economies over and over from this pattern.
If a government borrows in their currency they can always pay it back as the government can just print money. They may pay back money not worth very much but they can pay it back. Of course investors see this risk and depending on your economy and history demand high interest to compensate for this risk (of being paid back worthless currency). And so countries are tempted to borrow in another currency where rates are often much lower.
If you owe debts to other countries you have to pay that money outside the system. So it takes a certain percentage of production (GDP) and pays the benefit of that production to people in other countries. This is what has been going on in the USA for a long time (paying benefits to those holding our debt). Ironically the economic mess created by central banks and too-big-to-fail banks has resulted in a super low interest rate environment which is lousy for lenders and great for debtors (of which the USA and Japanese government are likely the 2 largest in the world).
The benefits to the USA and Japan government of super low interest rates is huge. It makes tolerating huge debt loads much easier. When interest rates rise it is going to create great problems for their economies if they haven't grown their economies enough to reduce the debt to GDP levels (the USA is doing much better in this regard than Japan).
Japan has a much bigger debt problem than the USA in percentage terms. Nearly all their debt is owed to those in Japan so when it is paid it merely redistributes wealth (rather than losing it to those overseas). It is much better to redistribute wealth within your country than lose it to others (you can always change the laws to redistribute it again, if needed, as long as it is within your economy).
The article, What's the Real U.S. Unemployment Rate? We Have No Idea, provides interesting information on the process for calculating the unemployment rate.
But it also misleads in saying "real US unemployment rate."
As Dr. Deming said: "there is no true value" of any measured process. The results depend on the process which includes the operation definitions used.
Over time the value of a measure (as a proxy measure for some condition you care to monitor) can change.
It is important to update measures to avoid using proxies that lose value.
The unemployment rate certainly has proxy issues. But there is no "true unemployment rate." There are ways to change the process to focus on different things (make the proxy better matched to certain issues). But also it seems to me, unemployment rate needs to have other related measures that are considered in concert with the unemployment rate (such as the labor force participation rate, perhaps some measure of under-employment etc.).
Those paying much attention do use other measures in concert but the last few years I read lots of different people complaining that the unemployment rate doesn't capture various aspects of how the job market is poor (and often claiming the unemployment rate was "inaccurate" as though there was a platonic form of the actual rate divorced from the measure process.
Related: What Do Unemployment Stats Mean? – Economic Measurement Issues Arising from Globalization – Why China's Economic Data is Questionable
Fed Continues Adding to Massive Quantitative Easing
In fact, while the Fed has pumped about $2.8 trillion into the financial system through nearly five years of asset buying.

Bank excess reserves deposited with the New York Fed have mushroomed from less than $2 billion before the financial crisis to $2.17 trillion today. In essence, roughly two-thirds of the money the Fed pumped into the banking system never left the building.
The Fed now pays banks for their deposits. These payment reduce the Fed's profits (the Fed send profits to the treasury) by paying those profits to banks so they can lavish funds on extremely overpaid executives that when things go wrong explain that they really have no clue what their organization does. It seems very lame to transfer money from taxpayers to too-big-to-fail executives but that is what we are doing.
Quantitative easing is an extraordinary measure, made necessary to bailout the too-big-to-fail institutions and the economies they threatened to destroy if they were not bailed out. It is a huge transfer payment from society to banks. It also end up benefiting anyone taking out huge amounts of new loads at massively reduced rates. And it massively penalizes those with savings that are making loans (so retirees etc. planing on living on the income from their savings). It encourages massively speculation (with super cheap money) and is creating big speculative bubbles globally.
This massive intervention is a very bad policy. The bought and paid for executive and legislative branches that created, supported and continue to nurture the too-big-to-fail eco-system may have made the choice – ruin the economy for a decade (or who knows how long) or bail out those that caused the too-big-to-fail situation (though only massively bought and paid for executive branch could decline to prosecute those that committed such criminally economically catastrophic acts).
The government is saving tens of billions a year (maybe even hundred of billions) due to artificially low interest rates. To the extent the government is paying artificially low rates to foreign holders of debt the USA makes out very well. To the extent they are robbing retirees of market returns it is just a transfer from savers to debtors, the too-big-to-fail banks and the federal government. It is a very bad policy that should have been eliminated as soon as the too-big-to-fail caused threat to the economy was over. Or if it was obvious the bought and paid for leadership was just going to continue to nurture the too-big-to-fail structure in order to get more cash from the too-big-to-fail donors it should have been stopped as enabling critically damaging behavior.
It has created a wild west investing climate where those that create economic calamity type risks are likely to continue to be rewarded. And average investors have very challenging investing options to consider. I really think the best option for someone that has knowledge, risk tolerance and capital is to jump into the bubble created markets and try to build up cash reserves for the likely very bad future economic conditions. This is tricky, risky and not an option for most everyone. But those that can do it can get huge Fed created bubble returns that if there are smart and lucky enough to pull off the table at the right time can be used to survive the popping of the bubble.
Maybe I will be proved wrong but it seems they are leaning so far into bubble inflation policies that the only way to get competitive returns is to accept the bubble nature of the economic structure and attempt to ride that wave. It is risky but the supposedly "safe" options have been turned dangerous by too-big-to-fail accommodations.
Berkshire's Munger Says 'Venal' Banks May Evade Needed Reform (2009)
Munger said the financial companies spent $500 million on political contributions and lobbying efforts over the last decade. They have a "vested interest" in protecting the system as it exists because of the high levels of pay they were earning, he said. The five biggest U.S. securities firms, only two of which still exist as independent companies, paid their employees about $39 billion in bonuses in 2007.
Related: The Risks of Too Big to Fail Financial Institutions Have Only Gotten Worse – Is Adding More Banker and Politician Bailouts the Answer? – Anti-Market Policies from Our Talking Head and Political Class
Comments