Asia
banking
bonds
capitalism
chart
China
commentary
consumer debt
Credit Cards
credit crisis
curiouscat
debt
economic data
Economics
economy
employment
energy
entrepreneur
Europe
Financial Literacy
government
health care
housing
interest rates
Investing
Japan
John Hunter
manufacturing
markets
micro-finance
mortgage
Personal finance
Popular
quote
Real Estate
regulation
Retirement
save money
Saving
spending money
Stocks
Taxes
Tips
USA
Warren Buffett
Elizabeth Warren is the single person I most trust with understanding the problems of our current credit crisis and those who perpetuate the climate that created the crisis. Unfortunately those paying politicians are winning in their attempts to retain the current broken model. We can only hope we start implementing policies Elizabeth Warren supports – all of which seem sensible to me (except I am skeptical on her executive pay idea until I hear the specifics).
She is completely right that the congress giving hundreds of billions of dollars to those that give Congressmen big donations is wrong. Something needs to be done. Unfortunately it looks like the taxpayers are again looking to re-elect politicians writing rules to help those that pay the congressmen well (one of the problems is there is little alternative – often both the Democrat and Republican candidates will both provide favors to those giving them the largest bribes/donations – but you get the government you deserve and we don't seem to deserve a very good one). We suffer now from the result of them doing so the last 20 years. Wall Street has a winning model and betting against their ability to turn Washington into a way for them to mint money and be favored by Washington rule making is probably a losing bet. If Wall Street wins the cost will again be in the Trillions for the damage caused to the economy.
Related: If you Can't Explain it, You Can't Sell It – Jim Rogers on the Financial Market Mess – Misuse of Statistics – Mania in Financial Markets – Skeptics Think Big Banks Should Not be Bailed Out
The credit card delinquency rate (borrowers 90 days or more delinquent on one or more of their credit cards) dropped to 1.10% percent in the third quarter of 2009, down 6 basis points from the previous quarter. Year over year, credit card delinquencies remained essentially flat from 1.09% in the third quarter of 2008.
Credit card delinquency was highest in Nevada (1.98%), Florida (1.47%) and Arizona (1.35%). Credit card delinquency rates were lowest in North Dakota (0.66%), South Dakota (0.70%) and Alaska (0.73%).
Average credit card borrower debt decreased to $5,612 from the previous quarter's $5,719, and $5,710 for the third quarter of 2008.
"At end of the 2001 recession, the national bankcard delinquency rate had increased to a high of 1.69% as that recession came to a close (in November of 2001)," said Ezra Becker, with Transunion.
The slight declines in credit card debt are an encouraging sign that more people are taking the right action to eliminate their credit card debt.
Related: USA Consumers Paying Down Debt – Consumer Debt Down Over $100 Billion So Far in 2009 – Families Should not Finance Everyday Purchases on Credit – Some Movement on Regulating Credit Cards Companies
Retailers Ready for Fight on Credit-Card Fees
Americans are being forced to pay significantly higher swipe fees whenever they use their credit cards than any of their peers in the industrialized world, according to a report by the Merchants Payments Coalition.
The report, released Thursday by a coalition of retailers, supermarkets, drugstores and other businesses, found that Americans currently pay about $2 in "interchange" fees for every $100 they spend using credit cards. The fee is actually paid by retailers, though consumers feel it in a higher retail price. This rate is twice that charged in the U.K. and New Zealand, four times the rate levied in Australia and more than six times the cross-border rate charged in the European Union, the study says..
…
"If we paid the same low credit- and debit-card swipe fees as consumers in Australia pay, then the net benefit for American consumers would have totaled $125 billion over the last four years," the report says.
It truly is amazing how incredibly poor the banking services in the USA are. The banks have managed to provide mediocre service at exceedingly high prices. It sure seems to be due to unfair trade practices (allowed by poor regulation). See our tips on how to avoid getting ripped off by credit card companies, though it won't help with these excessive fees.
Related: Continued Credit Card Company Customer Dis-Service – More Outrageous Credit Card Fees – Hidden Credit Card Fees – Poor Customer Service by Discover Card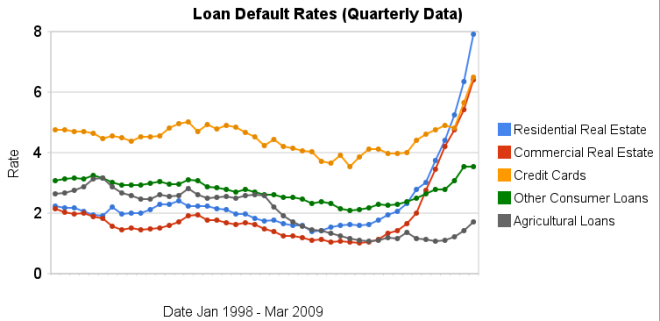 Chart showing loan default rates for real estate, consumer and agricultural loans for 1998 to 2009 by the Curious Cat Investing Economics Blog,
Creative Commons Attribution
, data from the Federal Reserve.
As you can see real estate default rates exploded in 2008. In the 4th quarter of 2007 residential default rates were 3.02% by the 4th quarter of 2008 they were 6.34% and in the 1st quarter of this year they were 7.91% (471 basis points above the 4th quarter of 2007). Commercial real estate default rates were at 2.74 in the 4th quarter of 2007, 5.43% in the fourth quarter of 2008 and 6.5% in the 1st quarter of 2009 (a 366 basis point increase).
Credit card default rates were much higher for the last 10 years (the 4-5% range while real estate hovered above or below 2%). In the last 2 quarters it has increased sharply. From 4.8% in the 3rd quarter 2008 to 5.66% in the 4th and 6.5% in the 1st quarter of 2009. The default rate on other consumer loans are up but nowhere near the amounts of real estate or credit cards.
Agricultural loan default rates are actually about as low now as they have every been 1.71%. That is up a bit from the 1.06% low the default rate hit in the 1st quarter of 2009 but actually lower than it was for half of the last decade (the last 5 years it has been lower but prior to that it was higher – in fact with higher default rates than either real estate loan category).
Related: Mortgage Rates: 6 Month and 5 Year Charts – Jumbo Loan Defaults Rise at Fast Pace – Continued Large Spreads Between Corporate and Government Bond Yields – Nearly 10% of Mortgages Delinquent or in Foreclosure
Sneaky changes to your credit cards
Although banks are scooping up billions in bailout money or borrowing money from the Federal Reserve at as low as 0%, they aren't passing on those savings to consumers. Credit card interest rates have increased for many major card issuers and even doubled or tripled for some consumers who pay their bills on time. Bank of America is raising interest rates on about 4 million customers with balances. Citigroup and Capital One have also jacked up rates.
Credit card interest rates are typically pegged to the prime rate, which has fallen from 5.25% a year ago to 3.25% now. But the national average rate for credit cards has actually risen over that period, moving from 11.3% to 12.4%
…
* The standard balance transfer fee has risen to 3%, and Bank of America recently joined Discover in increasing that fee to 4% on certain offers.
* Cash advance fees had been 3%, but Bank of America now has 5% cash advance fees for money obtained through ATMs and at banks, and 4% fees on advances via direct deposit and checks.
* Foreign transaction fees — charged when you make purchases in other countries or use foreign banks — are going up for many cardholders. Starting June 1, Bank of America will begin charging for a service it had previously provided free: Transactions made in U.S. dollars but processed through foreign banks (such as online purchases from overseas merchants using foreign banks) will be hit with 3% fees.
The incredibly large fees are a good reason to not use your credit card for these activities. 5% to get money from an ATM. You have to be crazy to submit to such a fee. The banks continue to fight with the airlines for who can keep providing the most horrible customer service.
Related: How to avoid getting ripped off by credit card companies – Sneaky Credit Card Fees – Avoid Getting Squeezed by Credit Card Companies – Incredibly Bad Customer Service from Discover Card – more posts on credit cards
Punctual Payers Face Higher Rates From Card Companies
His reward for paying on time was an interest rate increase to 19 percent from 12 percent.
…
The average interest rate charged on credit-card balances decreased to 13.4 percent in November from 14.4 percent a year earlier, according to the Federal Reserve's December G19 report, which tracks rates for credit-card accounts. The prime rate has decreased to 3.25 percent from 6 percent last February. Most variable credit-card rates are linked to the prime rate, which follows the federal funds rate.
Rate changes announced by New York-based Citigroup Inc., the biggest U.S. credit-card issuer, American Express Co. and Charlotte, North Carolina-based Bank of America Corp. are intended to raise revenue, said Woolsey, who is based in Austin, Texas.
Citigroup's charge-off rates of loans increased by 88 percent, climbing to 7.81 percent in December from 4.16 percent a year earlier, according to data compiled by Bloomberg. Charge- offs are loans the banks don't expect to be repaid. American Express's charge-off rates more than doubled to 7.23 percent from 3.32 percent while Bank of America's rates increased to 8.45 percent from 5.24 percent, a 61 percent jump.
You can avoid worries about credit card companies increase your interest rates by taking sensible financial precautions and avoiding credit card debt.
Related: posts on credit cards – Don't Let the Credit Card Companies Play You for a Fool – Legislation to Address the Worst Credit Card Fee Abuse – Incredibly Bad Customer Service from Discover Card
How Should Parents Teach Teens About Credit Cards? by Nancy Trejos
a 2007 Charles Schwab survey that showed that only 45 percent of teens know how to use a credit card. Even worse, just 26 percent of teens understood credit card interest and fees
…
there are prepaid cards targeted specifically at teens, such as the Visa Buxx card. With such a card, Bellamkonda would be able to log in and monitor his daughter's spending online
…
Bill Hardekopf, chief executive of LowCards.com, said parents should pull out their own credit card bills and talk their children through them. Explain the interest rate, minimum payments, grace period and finance charges. If they've had late fees or payment problems, they shouldn't hide them. "Use these as teaching examples," he said. "Getting a teenager a credit card while she lives in your home is a great teaching opportunity on finances."
I agree it is wise to explain the use of credit cards to teenagers. I also agree it is wise to have them actually use their own card, assuming they aren't unreasonably immature and have shown an understanding of personal finance.
Books: Money Sense for Kids – Growing Money: A Complete Investing Guide for Kids – The Motley Fool Investment Guide for Teens – Raising Financially Fit Kids – A Smart Girl's Guide to Money: How to Make It, Save It, And Spend It
Related: Teaching Children About Money Matters – Student Credit Cards – Majoring in Credit Card Debt
Consumer Credit Falls By Record Amount in November
The Federal Reserve reported yesterday that borrowing through credit cards and other consumer loans dropped $7.94 billion in November, the biggest decline in 65 years of record-keeping. That also was much larger than the $500 million decline economists expected, and left total consumer credit outstanding at $2.57 trillion.
This is good news. People need to stop spending money they don't have. I understand perfectly well this means that spending will go down (which will likely lead to reduced economic output – though technically it doesn't have to, a reduction in imported goods could more than offset the reduced spending and GDP would not decline). Living beyond your means is not a good thing. We should hope that consumer debt continues to decrease. If that means we have some suffering today to pay for living beyond our means for years the "fix" is not to continue to live beyond our means. The "fix" is to accept the consequences of past behavior and build a more sustainable economy now for the future.
Ideally this decrease can be someone gradual, abrupt changes in the economy often cause problems, but far too many economists and policy makers only care about today and the next 6 months. They have been living this way for decades. And it is not sustainable. Consumer debt levels in the USA are far too high. The UK has an even worse personal debt problem. They should come down. Reducing those levels is good for the individuals involved (they gain most of the benefit) and also for the health of the economy (though it does decrease the current economy a bit while making the foundation for future economy much stronger).
Read more
I don't believe you should carry credit card debt at all. See my tips on using credit cards effectively. And you should have an emergency fund to pay at least 6 months of expenses to tap before using credit card debt. But if you do have debt and you are in such a bad personal financial situation where you will not be able to pay back what you have borrowed this might be useful information: Credit Card Companies Willing to Deal Over Debt
After helping to foster the explosive growth of consumer debt in recent years, credit card companies are realizing that some hard-pressed Americans will not be able to pay their bills as the economy deteriorates.
So lenders and their collectors are rushing to round up what money they can before things get worse, even if that means forgiving part of some borrowers' debts. Increasingly, they are stretching out payments and accepting dimes, if not pennies, on the dollar as payment in full.
…
Lenders are not being charitable. They are simply trying to protect themselves. Banks and card companies are bracing for a wave of defaults on credit card debt in early 2009, and they are vying with each other to get paid first.
…
Card companies will offer loan modifications only to people who meet certain criteria. Most customers must be delinquent for 90 days or longer. Other considerations include the borrower's income, existing bank relationships and a credit record that suggests missing a payment is an exception rather than the rule.
While a deal may help avoid credit card cancellation or bankruptcy, it will also lead to a sharp drop in the borrower's credit score for as long as seven years, making it far more difficult and expensive to obtain new loans. The average consumer's score will fall 70 to 130 points, on a scale where the strongest borrowers register 700 or more.
This is only an option to minimize a big mistake that results in you finding your self in a very bad situation. The credit card companies are not charities or known for giving away money. They are only going to do this when they figure they won't get the full amount they are owed and figure getting some is the best they can hope for.
Related: Americans are Drowning in Debt – Families Shouldn't Finance Everyday Purchases on Credit – Don't Let the Credit Card Companies Play You for a Fool – Hidden Credit Card Fees
Fed Could Remake Credit Card Regulations
The Federal Reserve on Thursday will vote on sweeping reform of the credit card industry that would ban practices such as retroactively increasing interest rates at will and charging late fees when consumers are not given a reasonable amount of time to make payments.
…
The proposal would also dictate how credit card companies should apply customers' payments that exceed the minimum required each month. When different annual percentage rates apply to different balances on the same card, banks would be prohibited from applying the entire amount to the balance with the lowest rate. Many card issuers do that so that debts with the highest interest rates linger the longest, thereby costing the consumer more.
Industry officials have lobbied against the provisions, particularly the one restricting their ability to raise interest rates. They have warned that the changes would force them to withhold credit or raise interest rates because they won't be able to manage their risk.
"If the industry cannot change the pricing for people whose credit deteriorates then they have to treat most credit-worthy customers the same as someone whose credit has deteriorated," Yingling said. "What that means for most people is they'll pay a higher interest rate."
The government has been far to slow in prohibiting the abusive practices of credit card companies.
Related: How to Use Your Credit Card Responsibly – Avoid Getting Squeezed by Credit Card Companies – Legislation to Address the Worst Credit Card Fee Abuse – Maybe (Dec 2007) – Sneaky Credit Card Fees – Poor Customer Service: Discover Card
Comments