Asia
banking
bonds
capitalism
chart
China
commentary
consumer debt
Credit Cards
credit crisis
curiouscat
debt
economic data
Economics
economy
employment
energy
entrepreneur
Europe
Financial Literacy
government
health care
housing
interest rates
Investing
Japan
John Hunter
manufacturing
markets
micro-finance
mortgage
Personal finance
Popular
quote
Real Estate
regulation
Retirement
save money
Saving
spending money
Stocks
Taxes
Tips
USA
Warren Buffett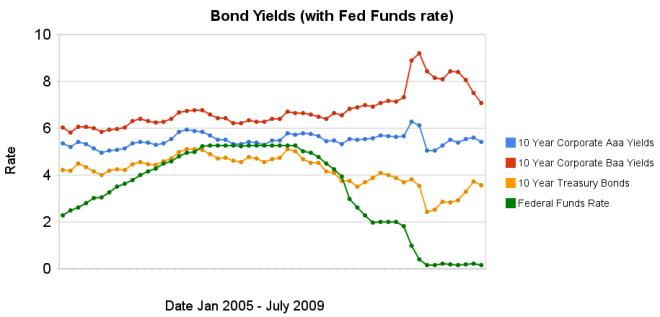 Chart showing corporate and government bond yields by Curious Cat Investing Economics Blog,
Creative Commons Attribution
, data from the Federal Reserve.
The changes in bond yields over the last 3 months months indicate a huge increase in investor confidence. The yield spread between corporate Baa 10 year bonds and 10 year treasury bonds increased 304 basis points from July 2008 to December 2008, indicating a huge swing in investor sentiment away from risk and to security (US government securities). From April 2009 to July 2009 the yield spread decreased by 213 basis points showing investors have moved away from government bonds and into Baa corporate bonds.
From April to July 10 year corporate Aaa yields have stayed essentially unchanged (5.39% to 5.41% in July). Baa yields plunged from 8.39% to 7.09%. And 10 year government bond yields increased from 2.93% to 3.56%. federal funds rate remains under .25%.
Investors are now willing to take risk on corporate defaults for a much lower premium (over government bond yields) than just a few months ago. This is a sign the credit crisis has eased quite dramatically, even though it is not yet over.
Data from the federal reserve: corporate Aaa – corporate Baa – ten year treasury – fed funds
Related: Continued Large Spreads Between Corporate and Government Bond Yields (April 2009) – Chart Shows Wild Swings in Bond Yields (Jan 2009) – investing and economic charts
I originally setup the 10 stocks for 10 years portfolio in April of 2005. In order to track performance created a marketocracy portfolio but had to make some minor adjustments (and marketocracy doesn't allow Tesco to be purchased, though it is easily available as an ADR to anyone in the USA to buy in real life – it is based in England). The current marketocracy calculated annualized rate or return (which excludes Tesco) is 3.5% (the S&P 500 annualized return for the period is -1.7%) – marketocracy subtracts the equivalent of 2% of assets annually to simulate management fees – as though the portfolio were a mutual fund – so without that the return is about 5.5%).
The current stocks, in order of return:
| Stock | | Current Return | % of sleep well portfolio now | % of the portfolio if I were buying today |
| --- | --- | --- | --- | --- |
| Amazon – AMZN | | 136% | 9% | 9% |
| Google – GOOG | | 105% | 15% | 13% |
| Templeton Dragon Fund – TDF | | 80% | 11% | 11% |
| PetroChina – PTR | | 78% | 11% | 10% |
| Templeton Emerging Market Fund – EMF | | 28% | 5% | 6% |
| Cisco – CSCO | | 15% | 6% | 8% |
| Toyota – TM | | 7% | 9% | 11% |
| Danaher – DHR | | -14% | 6% | 9% |
| Tesco – TSCDY | | -14%* | 0%* | 10% |
| Intel – INTC | | -15% | 4% | 6% |
| Pfizer – PFE | | -38% | 5% | 7% |
| Dell | | -60% | 4% | 0% |
The portfolio is beating the S&P 500 by 5.2% annually (which is actually quite good. Also it is a bit confused due to to Tesco not being included. View the current marketocracy Sleep Well portfolio page.
Related: 12 Stocks for 10 Years Update – June 2008 – posts on stocks – investing books
Read more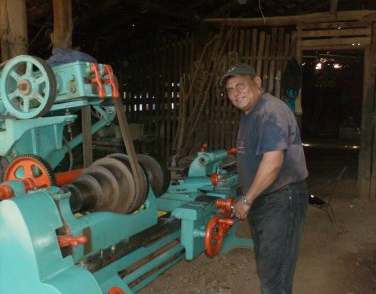 photo of Cesar Augusto Santamaría Escoto in his welding workshop, Chinandega, Nicaragua.
I made my 100th contribution to a micro-loan through Kiva last week. Participating with Kiva is a great antidote to reading about the unethical "leaders" taking huge sums to run their companies into the ground (or even just taking obscene sums to maintain their company). The opportunity to give real capitalists an chance at a better life is wonderful.
Kiva allows you to lend money to entrepreneur (in increments of $25). The most you get back is the amount you loaned, and if the entrepreneur, does not pay back the loan then you take a loss. This is something you do if you believe if giving people an opportunity to make a better life for themselves through hard work and intelligent economic choices.
I encourage you to join me: let me know if you contribute to Kiva and I will add your Kiva page to our list of Curious Cat Kivans. Also join the Curious Cats Kiva Lending Team.
My loans have been made to in 32 countries including: Ghana, Cambodia, Uganda, Viet Nam, Peru, Ukraine, Mongolia, Ecuador and Tajikistan. Kiva provides sector (but I think this data is a not that accurate – it depends on the Kiva partners that are not that accurate on identifying the sectors (it seems to me). A large number of the loans are in retail, clothing and food. I like making loans that will improve productivity (manufacturing, providing productivity enhancing services…) but can't find as many of those as I would like (8% of my loans are in manufacturing, 11% agriculture, retail 18%, 23% food, 25% services (very questionable – these are normally really retail or food, it seems to me).
Some examples of the entrepreneurs I have lent to: welding workshop (Nicaragua), expanding generator services business with computer services (Cambodia), food production (Ghana), manufacturing nylon (Nigeria), internet cafe (Lebanon), electronics repair (Benin), new engine for mill (Togo), weaving (Indonesia) and a food market (Mexico).
Related: Financial Thanksgiving – MicroFinance Currency Risk – Creating a World Without Poverty – Provide a Helping Hand
21 of my loans have been paid back in full. 3 have defaulted. Those figure give a distorted picture though (I believe). There was a problem with a Kiva partner (they partner with micro-finance banks around the world) MIFEX, in Ecuador. Kiva discovered that MIFEX (i) improperly inflated the loan amounts it posted for entrepreneurs on the Kiva website and (ii) kept the excess amount of the posted loan to fund its own operational expenses. Kiva does not expect any further payments on these loans. I had 2, so I think those 2 give a fair impression. The 3rd default is from Kenya. That loan was to a business selling bicycle parts. In 2008, in Kenya, the prevailing political crisis deteriorated and businesses have either been destroyed or closed in fear of looters. Technically the loan did default, however, I was paid $71.50 out of $75 loan (so the defaulted amount was very small.
Read more
The recent performance of investments can be discouraging. However, the most damaging reaction to your financial future is to reduce your contributions to retirement savings. IRAs and 401(k)s are great ways to save for retirement. In fact the recent performance has convinced me to increase my contributions. This is for two reasons.
First, I had been somewhat optimistic in my guesses about investment returns. The current decline means that investments in the S&P 500 have returned about 0% over the last 10 years. That is a horrible performance and it will take many years to even bring that up to a bad performance. So if you reduce your long term investment performance expectations you need to add more while you are working (or reduce your retirement expectations – or work longer).
Second, I think now is a very good time (long term) to be investing. I think the declines in the markets (both the stock market and real estate market) now provide good investment opportunities. Of course I could be wrong but I am willing to make investments based on this believe. And I believe there are plenty of place real estate prices may still be too high, but I believe there are also good buys.
A third reason worth considering is the damage done to the economy over the last 10 years and the costs of dealing with that today. Those costs are going to have long term impacts. Likely the economy will be stressed paying for the over-indulgences of the past for quite a long time. That means the risks to those in that economy will increase. And therefore having larger reserves is a wise course of action to survive the rough times ahead. Those rough times include a substantial risk of inflation. Investing to protect against that risk is important.
I would recommend starting with at least a 200 basis point increase in retirement contributions. For example, if you were saving 10% for retirement, increase that to 12%. If you have not added to your IRA for 2008, do so now (you have until April 15th to do so). In fact, if you haven't added to your IRA for 2009, do so now.
Related: How Much Will I Need to Save for Retirement? – Nearly half of all workers have less than $25,000 in retirement savings – Investing – What I am Doing Now
President Barack Obama's Inaugural Address
We remain the most prosperous, powerful nation on Earth. Our workers are no less productive than when this crisis began. Our minds are no less inventive, our goods and services no less needed than they were last week, or last month, or last year. Our capacity remains undiminished. But our time of standing pat, of protecting narrow interests and putting off unpleasant decisions — that time has surely passed. Starting today, we must pick ourselves up, dust ourselves off, and begin again the work of remaking America.
That sounds nice I believe however, it is fairly irrelevant. Economic demand is what is down, not production capacity. We are "no less productive than when this crisis began." Ok, that is probably true. So what. That implies that the crisis has something to do with productivity. If we say the color of our eyes is the same as when the crisis began it is obvious that is a non-sequitur. Well so is the quote by the new President, though that is less obvious.
Our demand was definitely over stimulated using massive federal government budget deficits, massive trade deficits, massive amounts of consumer debt, massive amounts of unjustified mortgage debt and massive amounts of leverage. None of those things has anything to do with capacity in the implied sense – capacity to produce. They have to do with the capacity to consume. And while our capacity to consume has not declined. The funding that allows that consumption (foreign lending, high leverage, junk mortgages…) has decreased.
Read more
The economy (in the USA and worldwide) continues to struggle and the prospects for 2009 do not look good. My guess is that the economy in 2009 will be poor. If we are lucky, we will be improving in the fall of 2009, but that may not happen. But what does that mean for how to invest now?
I would guess that the stock market (in the USA) will be lower 12 months from now. But I am far from certain, of that guess. I have been buying some stocks over the last few months. I just increased my contributions to my 401(k) by about 50% (funded by a portion of my raise). I changed the distribution of my future contributions in my 401(k) (I left the existing investments as they were).
My contributions are now going to 100% stock investments (if I were close to retirement I would not do this). I had been investing 25% in real estate. I also moved into a bit more international stocks from just USA stocks. I would be perfectly fine continuing to the 25% in real estate, my reason for switching was more that I wanted to buy more stocks (not that I want to avoid the real estate). The real estate funds have declined less than 3% this year. I wouldn't be surprised for it to fall more next year but my real reason for shifting contributions to stocks is I really like the long term prospects at the current level of the stock market (both globally and in the USA). The short term I am much less optimistic about – obviously.
I will also fully fund my Roth IRA for 2009, in January. I plan to buy a bit more Amazon (AMZN) and Templeton Emerging Market Fund (EMF). And will likely buy a bit of Danaher (DHR) or PetroChina (PTR) with the remaining cash.
Related: 401(k)s are a Great Way to Save for Retirement – Lazy Portfolio Results – Starting Retirement Account Allocations for Someone Under 40
When looking at the long term data, USA manufacturing output continues to increase. For decades people have been repeating the claim that the manufacturing base is eroding. It has not been true. I realize the economy is on weak ground today, I am not talking about that, I am looking at the long term trends.
The USA manufactures more than anyone else – by far. The percentage of total global manufacturing is the same today it was two decades ago (and further back as well). For decades people have been saying the USA has lost the manufacturing base – it just is not true. No matter how many times they say it does not make it true. It is true since 2000 the USA increase in manufacturing output (note not a decrease) has not kept pace with global grown in manufacturing output (global output in that period is up 47% and the USA is up 19% – Japan is down 10% for that period).
I would guess 20 years from today the USA will have a lower percentage of worldwide manufacturing. But I don't see any reason believe the USA will see a decline in total manufacturing output. I just think the rest of the world is likely to grow manufacturing output more rapidly.
Looking at a year or even 2 or 3 years of manufacturing output data leaves a great deal of room to see trends where really just random variation exists. Even for longer periods trends are hard to project into the future.
Conventional wisdom is correct about China growing manufacturing output tremendously. China has grown from 4% of the output of the largest manufacturing companies in 1990 to manufacturing 16% of the total output in China today. That 12% had to come from other's shares. And given all you hear from the general press, financial press, politicians, commentators… you would think the USA must have much less than China today, so may 10% and maybe they had 20% in 1990. When actually in 1990 the USA had 28% and in 2007 they had 27%.
Manufacturing jobs are not moving oversees. Manufacturing jobs are decreasing everywhere.
Read more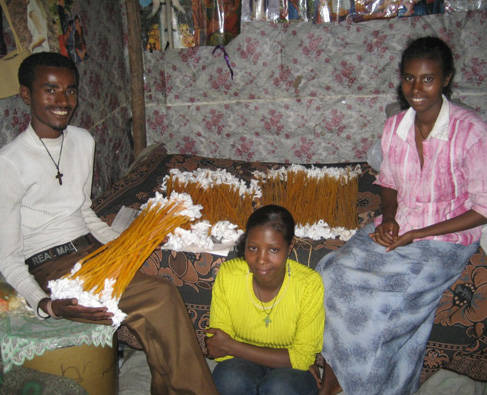 For me, giving back to others is part of my personal financial plan. As I have said most people that are actually able to read this are financially much better off than billions of other people today. At least they have the potential to be if they don't chose to live beyond their means. Here are some of the ways I give back to others.
Kiva is a wonderful organization and particularly well suited to discuss because they do a great job of using the internet to make the experience rewarding for people looking to help – as I have mentioned before: Using Capitalism to Make a Better World. One of my goals for this blog is to increase the number of readers participating in Kiva – see current Curious Cat Kivans. I have also created a lending team on Kiva. Kiva added a feature that allows people to connect online. When you make a loan you may link you loan to a group.
I actually give more to Trickle Up (even though I write about Kiva much more). I have been giving to them for a long time. They appeal to my same desire to help people help themselves. I believe in the power of capitalism and people to provide long term increases in standards of living. I love the idea of providing support that grows over time. I like investing and reaping the rewards myself later (with investment I make for myself). But I also like to do that with my gifts. I would like to be able to provide opportunities to many people and have many of them take advantage of that to build a better life for themselves, their families and their children.
The photo shows Frew Wube, Haimanot and Melkan (brother and two sisters), an entrepreneur that received a grant from Trickle up. Trickle Up provides grants to entrepreneur, similar to micro loans, except the entrepreneur does not have to pay back the grant. They are able to use the full funds to invest in their business and use all the income they are able to generate to increase their standard of living and re-invest in the business.
Haimanot and Melkan quickly learned the ropes of the job and started working with their brother in the business. Soon, the two girls managed the clothing business on their own, and Frew began to think about other income-generating opportunities.
"I also save every month," says Frew, who has over $40 stored in a cooperative savings fund. The capital he has saved with other people in his group is used to provide loans to group members at a low interest rate. Frew, now able to access credit thanks to his Trickle Up clothing business, has taken progressively larger loans from the group, including his latest loan of $300 to start a candle business.
In a recent article in Business Week Michael E. Porter makes some excellent points – Why America Needs an Economic Strategy:
First, the U.S. has an unparalleled environment for entrepreneurship and starting new companies.
Second, U.S. entrepreneurship has been fed by a science, technology, and innovation machine that remains by far the best in the world. While other countries increase their spending on research and development, the U.S. remains uniquely good at coaxing innovation out of its research and translating those innovations into commercial products.
…
Third, the U.S. has the world's best institutions for higher learning, and they are getting stronger. They equip students with highly advanced skills and act as magnets for global talent, while playing a critical role in innovation and spinning off new businesses.
Fourth, America has been the country with the strongest commitment to competition and free markets.
…
An inadequate rate of reinvestment in science and technology is hampering America's feeder system for entrepreneurship. Research and development as a share of GDP has actually declined, while it has risen in many other countries.
…
A creeping relaxation of antitrust enforcement has allowed mergers to dominate markets. Ironically, these mergers are often justified by "free market" rhetoric. The U.S. is seeing more intervention in competition, with protectionism and favoritism on the rise. Few Americans know that the U.S. ranks only 20th among countries in openness to capital flows, 21st on low trade barriers, and 35th on absence of distortions from taxes and subsidies
I have discussed similar idea in this blog and the Curious Cat Science and Engineering Blog: The Future is Engineering – Engineering the Future Economy – Science Gap – Not Understanding Capitalism
The updated data from the United Nations on manufacturing output by country clearly shows the USA remains by far the largest manufacturer in the world. UN Data, in billions of current US dollars:
Country
1990
1995
2000
2005
2006
2007
USA
1,041
1,289
1,543
1,663
1,700
1,831
China
143
299
484
734
891
1,106
Japan
804
1,209
1.034
954
934
926
Germany
438
517
392
566
595
670
Russian Federation
211
104
73
222
281
362
Italy
240
226
206
289
299
345
United Kingdom
207
219
228
269
303
342
France
224
259
190
249
248
296
Korea
65
129
134
200
220
241
Canada
92
100
129
177
195
218
Spain
101
103
98
164
176
208
Brazil
120
125
96
137
170
206
Additional countries of interest – not the next largest
India
50
59
67
118
135
167
Mexico
50
55
107
122
136
144
Indonesia
29
60
46
80
102
121
Turkey
33
38
38
75
85
101
The USA's share of the manufacturing output of the countries that manufactured over $200 billion in 2007 (the 12 countries on the top of the chart above) in 1990 was 28%, 1995 28%, 2000 33%, 2005 30%, 2006 28%, 2007 27%. China's share has grown from 4% in 1990, 1995 7%, 2000 11%, 2005 13%, 2006 15%, 2007 16%.
Total manufacturing output in the USA was up 76% in 2007 from the 1990 level. Japan, the second largest manufacturer in 1990, and third today, has increased output 15% (the lowest of the top 12, France is next lowest at 32%) while China is up an amazing 673% (Korea is next at an increase of 271%).
Read more
Comments