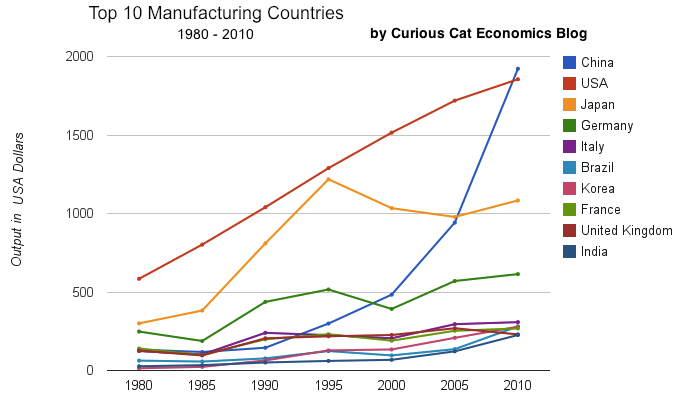 Chart of output by top 10 manufacturing countries from 1980 to 2010. The chart was created by the Curious Cat Economics Blog based on UN data. You may use the chart with attribution.
China has finally actually taken the lead as the largest manufacturer in the world. Reading many news sources and blogs you may have thought the USA lost the lead a couple of decades ago, but you would be wrong. In 1995 it looked like Japan was poised to take the lead in manufacturing production, but they have slumped since then (still they are solidly the 3rd biggest manufacturer). China has been growing manufacturing output enormously for 20 years, and they have now taken the lead from the USA.
As I have been saying for years the biggest economic story about manufacturing is the dramatic and long term increase of productive capacity in China. The next is the continuing global decline in manufacturing employment: increased productivity has seen production rise year after year and employment fall. What is the next most interesting stories is debatable: I would say the continuing failure to appreciate the continuing strong manufacturing production increases by the USA. Another candidate is the the decline in Japan. Another is the increase in several other counties: Korea, Brazil, India, Indonesia…
Looking more closely at some of the long term data shows how much China stands out. From 1980 to 2010 China increased output 1345%. The total top 10 group increased output 302% (all data is in current USD so inflation accounts for most of the gain, 100 1980-USD equal 280 2010-USD). From 1995 to 2010 China increased output 543%. The group increased 64%. For 1980-2010, the results for the other 3 largest manufacturing countries are: USA up 218%, Japan up 261% and Germany up 148% (other countries doing very well are Korea up 1893% and India up 737%). Looking at the last half of that period, from 1995-2010 the: USA up 44%, Japan down 11% and Germany up 19%.
One thing to remember about adjusting manufacturing data for inflation is that often the products created in later years are superior and cost less. So that a computer manufactured in 1990 which added $5,000 to the manufacturing total is far inferior to one in 2010 that added just $1,000. This point is mainly to say that while the increase in manufacturing in real (not inflated dollars) is not as high as it might seem the real value of manufacturing good did likely increase a great deal. But the economic data is based on price so manufacturing increases are reduced by cost decreases. Computers are the most obvious example, but it is also true with many other manufactured goods.
You can that the other largest manufacturing countries fail to keep up with the increases of the entire group of the top 10. China's gains are just too large for others to match. If you remove China's results (just to compare how the non-China countries are doing) from 1980-2010 the increase was 216% (so compared to the other 9 top manufacturers over this period the USA was even and Japan better than the average and Germany was worse). And from 1995-2010 the top 9 group (top 10, less China) increased just 28%: so the USA beat while Japan and Germany did worse than the other 9 as a group.

So you can see even with China growing manufacturing output enormously most other countries are also increasing manufacturing output (no matter how may articles talk about disappearing manufacturing in the USA and Europe), in constant dollars. The growth in output globally has been tremendous – largely driven by growing demand in China, India, Korea, Brazil, Mexico, Malaysia… in addition to growing demand in USA, Japan, Germany, UK, France, Italy… In the next 20 years more of the growth is likely to be in the first group listed in the previous sentence (as well as in Africa, if we are lucky – there are many good signs from Africa in the last 10 years).
Another interesting story, in the long term, is that Europe fell to just 5 of the top 10 countries this year and is likely to lose more. Brazil, Korea and India are not likely to be overtaken. Those three have the fastest growth rates since 1995 (other than China) and look to be in place to continue increasing capacity more than the others. On the verge of breaking through are: Russia, Mexico and Indonesia. Spain, recently replaced by India, doesn't seem likely to get back into the top 10. France and the UK have the slowest growth rates for 1980-2010 and 1995-2010 (other than Japan from 1995-2010).
Several years ago you started to see stories about manufacturing moving from China to Vietnam or Thailand or some other countries for cheaper labor. I wondered about this so I looked at these countries and the total manufacturing output was lower than the amount China was increasing production by each year. Guess what, that is still true. In 2010 China increased output by $311 billion. Granted that was an enormous increase. So lets look at the average increase over the last 5 years, which is $196 billion.
A country with a total output of $196 billion would be in 12th place (Russia is at $209 billion – then you have $170-180 billion range, including Mexico, Indonesia and Spain). Total manufacturing production by several other countries: Thailand $113 billion, Malaysia $52 billion, Philippines $42 billion, Vietnam $20 billion (yes, barely over 10% of China's yearly increase).
Can China increase output by $196 billion each year over the next 10 years, I very much doubt it. I would expect it to grow output, however. I also expect the USA to grow manufacturing output over the next 10 years. If I had to pick the top 10 manufacturing countries for 2020: China, USA, Japan, Germany, India, Brazil, Korea, Indonesia, Mexico, France. We will see how things turn out.
I will be adding a post tomorrow, looking more closely at the most recent period for the top manufacturing countries. And I will be posting more frequently on manufacturing data, and also economic data in general, in 2012.
Related: Countries with the Most Manufacturing Production from 1980 to 2009 – Manufacturing Output as a Percent of GDP by Country 1980 to 2008 – Manufacturing Data, Accuracy Questions – Manufacturing Jobs Data: USA and China (1990-2005)
Comments