Asia
banking
bonds
capitalism
chart
China
commentary
consumer debt
Credit Cards
credit crisis
curiouscat
debt
economic data
Economics
economy
employment
energy
entrepreneur
Europe
Financial Literacy
government
health care
housing
interest rates
Investing
Japan
John Hunter
manufacturing
markets
micro-finance
mortgage
Personal finance
Popular
quote
Real Estate
regulation
Retirement
save money
Saving
spending money
Stocks
Taxes
Tips
USA
Warren Buffett
Nominal health spending in the United States grew 4.4% in 2008, to $2.3 trillion or $7,681 per person. This was the slowest rate of growth since the Centers for Medicare & Medicaid Services started officially tracking expenditures in 1960, yet once again outpaced nominal GDP growth (2.6% in 2008). This brings health care spending to 16.2% of GDP. In 2003 the total health care spending was 15.3% of GDP.
The huge amount being spent continues to grow to an even larger percentage of GDP every year. The damage to the economy of the dysfunctional health care system in the USA is huge. For comparison the total GDP per person in China is $5,970 (the closest total country per capita GDP, to the health care spending per capita in the USA, is Thailand at $7,703 – World Bank data). The average spending by OECD countries (Europe/USA/Japan…) was $2,966 per person in 2007 (the USA was at $7,290). In 2007 Canada spent $3,895; France $3,601; UK $2,992; Japan $2,581.
Hospital spending in 2008 grew 4.5% to $718 billion, compared to 5.9% in 2007, the slowest rate of increase since 1998.
Physician and clinical services' spending increased 5.0% in 2008 to $496 billion, a deceleration from 5.8% in 2007.
Retail prescription drug spending growth also decelerated to 3.2% in 2008 as per capita use of prescription medications declined slightly, mainly due to impacts of the recession, a low number of new product introductions, and safety and efficacy concerns. Drug prices increased 2.5% in 2008.
Spending growth for both nursing home and home health services decelerated in 2008. For nursing homes, spending grew 4.6% in 2008 compared to 5.8% in 2007.
Total health care spending by public programs, such as Medicare and Medicaid, grew 6.5% in 2008, the same rate as in 2007.
Health care spending by private sources of funds grew only 2.6% in 2008 compared to 5.6 percent in 2007.
Private health insurance premiums grew 3.1% in 2008, a deceleration from 4.4% in 2007. Remember many people lost their jobs and did without insurance. Doing so results in reduced spending on health insurance but is far from a good sign.
Home health care spending growth decelerated from 11.8% in 2007 to 9.0% in 2008. Expenditures reached $64.7 billion in 2008. You can understand why investors (and companies) are looking to invest in home health care.
At the aggregate level, the shares of financing for health services and supplies by businesses (23%), households (31%), other private sponsors (3%), and governments (42%) have remained relatively steady over time. Between 2007 and 2008; however, the federal government share increased significantly (from 23 to 25%), while the state and local government share declined (from 18 to 17%).
Decades ago Dr. Deming included excessive health care costs as one of the seven deadly diseases of western management. We have only seen the problem get worse. Finally it seems that a significant number of people are in agreement that the system is broken.
Read more
This graphic from the National Geographic shows the amazingly high cost of health care in the USA and the poor performance. Granted just life expectancy is not a good overall measure of success. But this just mirrors the general mediocre at best performance of the USA health care system.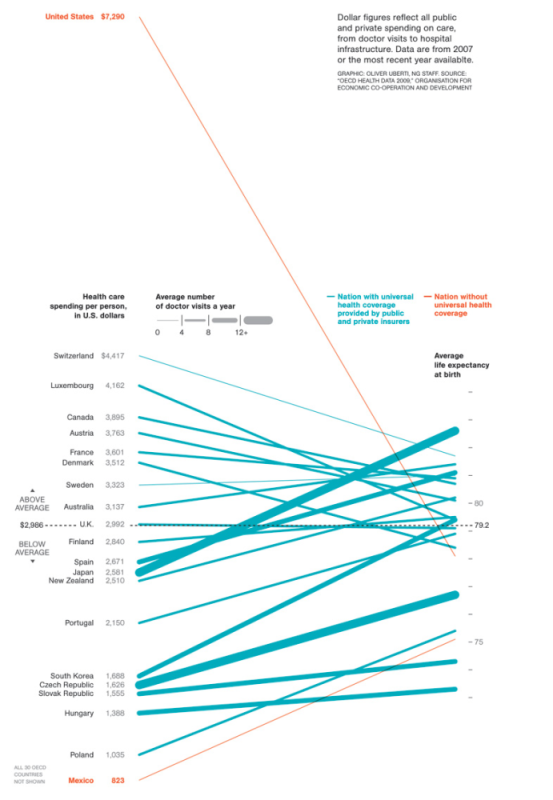 The USA spends $7,290 per person (based on 2007 OECD data) the next highest spending country is Switzerland at $4,417. Canada spends the 4th most: $3,895. Only 5 countries have a lower life expectancy. The most any of those countries spend is $1,626. How people continue to accept arguments by the apologists for the special interests trying to defend the current system is beyond me.
The Cost of Care by Michelle Andrews
The United States spends more on medical care per person than any country, yet life expectancy is shorter than in most other developed nations and many developing ones. Lack of health insurance is a factor in life span and contributes to an estimated 45,000 deaths a year. Why the high cost? The U.S. has a fee-for-service system – paying medical providers piecemeal for appointments, surgery, and the like. That can lead to unneeded treatment that doesn't reliably improve a patient's health. Says Gerard Anderson, a professor at Johns Hopkins Bloomberg School of Public Health who studies health insurance worldwide, "More care does not necessarily mean better care."
Related: USA Spent $2.2 Trillion, 16.2% of GDP, on Health Care in 2007 – Employees Face Soaring Health Insurance Costs – International Health Care System Performance – USA Heath Care System Needs Reform
In the webcast interview above Warren Buffett and Bill Gates discuss business, health care, economics, wall street, the Fed and more. Both agree the health care system is far too expensive and needs to be fixed. And both agree the current reforms are far too small and seem to do little to address the core problems with incentives and entrenched interests maintaining system in need of reform.
Both also agree the future is bright for the USA and the world economically. The innovation possible will may well come from more locations in the next century but those innovations will also come from the USA.
Warren Buffett also defends the independent Federal Reserve board system.
Related: Warren Buffet Webcast to MBAs – Advice from Warren Buffett UT at Austin business school – Bill Gates: Capitalism in the 21st Century
Diabetics in U.S. May Double in 25 Years, Tripling Health Costs
The number of Americans with diabetes may almost double in 25 years, and the annual cost of treating them may triple to $336 billion, according to a study published today in the journal Diabetes Care.
Without new programs to assure that people get health care to manage their condition, 44.1 million people in the U.S. will have diabetes by 2034, from 23.7 million today, the report said. The number of diabetics on Medicare, the government plan for the elderly, will reach 14.1 million from 6.5 million today.
…
The analysis by O'Grady and his colleagues included the impact of aging and obesity rates
The broken health care system needs to be fixed. We continue to spend huge amounts of money and yet fail to take sensible steps to improve outcomes (see our recent post for another example of failing to focus on outcome measures).
Related: USA Heath Care System Needs Reform – Deficit Threat from Health Care Costs – articles on improving the medical care system – USA Spent $2.2 Trillion, 16.2% of GDP, on Health Care in 2007 – Study Finds Obesity as Teen as Deadly as Smoking
Hans Rosling uses his fascinating data-bubble software to burst myths about the developing world. Look for new analysis on China and the post-bailout world, mixed with classic data shows.
"The worldview students have corresponds to reality the year their teachers were born"
The software he uses, the very cool Gapminder world, developed by his son and bought by Google is available online.
He also correctly congratulates the USA for providing free data it has collected worldwide, for decades, on world health. And correctly criticizes the World Bank for selling the data they compile using taxpayer funds.
Related: Data Visualization Health Care Example – Economic Measurement Issues Arising from Globalization – Millennium Development Goals – Government Debt Compared to GDP 1990-2007
There are several factors that need to be addressed relating to the broken health care system in the USA.
1) It is bankrupting the government
2) It is severely handicapping business that must pay for the expensive and poorly performing system
3) It is bankrupting individuals (Employees Face Soaring Health Insurance Costs)
4) It is hampering economic freedom due to the model that ties health care to employment. If I want to go start my own small business, I not only have to worry about all the risks of running a business I have to risk my heath coverage (coverage is expensive and if you get sick you can be dropped, or rates increased so dramatically that they are not affordable – hardly insurance when you are dropped when you need it).
5) social inequity – no other rich country denies basic health care to everyone
6) the results are poor to mediocre (at by far the highest cost of any country)
The idea that a system that is far more expensive than any in the world and performs, at best, in the middle of the pack of rich countries while creating huge economic and human hardships should not be reformed is crazy. Unless you believe the USA is just incapable of performing even at a mediocre level in health care, for some reason, you have to believe they current performance needs to be dramatically improved.
Now there may well be disagreement about which failures are most important. Some may not care about the huge competitive disadvantage companies are put in by the current broken system. Others may not care that millions don't have basic coverage. Others may not care that sick people go bankrupt. Others may not care that the heath results are mediocre at best – that tens of millions have much less healthy lives than they would. Others may like that they make a great deal of money from the current system. Others may like that they personally get good health care. So in what ways the broken system in place now needs to be fixed is open for debate.
The long term result is very simple to see. The current system is very broken and will not work. Different people suffer differently depending on what solution is adopted. My desire would be to reduce spending on hugely expensive miracle cures (especially for terminal ill patients) and increase spending dramatically on preventative and healthy living (versus spending on managing sickness) but I can see that such a solution is not at all popular. So we are not going to adopt that part of what I would like to see.
But I have no doubt the system will be dramatically reformed. Because if not the economic costs will destroy the economic future of the country. I don't believe tens of millions without health care will drive action – we have seen that we are perfectly willing to allow that to continue. If the economic costs (say reducing the economic benefit to every person in the USA by $5,000 a year) just stayed at that level, it seems those that are benefiting from the current system are able to hold off improvement. But that figure is increasing each and every year. Eventually the costs grow too large and too many people will demand the broken system be improved.
Health Care: Lessons for America
But unlike Clinton-era America, Switzerland got its medical act together.
It switched to a system that separates insurance from employment. Each individual or family is required to buy coverage, and insurers must offer a basic package of benefits to all applicants. They can't profit from selling basic coverage, but they can from supplemental plans. Premiums are deducted from paychecks; the unemployed and poor are subsidized.
Despite opposition from insurers, drugmakers, and business, the plan passed by a bare majority and went into effect in 1996. Switzerland now spends 11% of its gross domestic product on health care, just as it did before. But everyone is covered, insurers are more profitable than ever, and its high-quality health care has been maintained.
The lesson, as laid out in The Healing of America: A Global Quest for Better, Cheaper, and Fairer Health Care, by T.R. Reid, is that "health-care systems can be changed, even in the face of powerful…interests."
…
Many Americans boast about having the best health care in the world, even though the U.N. ranks the U.S. system 37th, based on a broad range of measurements
…
At the same time, he learned that almost all countries use one of four health-care models: Germany's Bismarck system, in which hospitals and insurers are private entities and financing comes from payroll deductions; Britain's Beveridge Model, with the government providing health care financed by taxes; the Canadian plan, where private doctors and hospitals are paid by the government through taxes; and the out-of-pocket care found in most poor nations, where those who can afford care get it, while the rest suffer or die. Unlike any other country, the U.S. combines all four models
Related: posts on the economics of health care – Broken Health Care System: Self-Employed Insurance – Many Experts Say USA Health-Care System Inefficient, Wasteful – USA Spent $2.2 Trillion, 16.2% of GDP, on Health Care in 2007 – International Health Care System Performance
The decisions over the past 30 years to pass huge huge tax bills to those in the future is unsustainable. Saying you cut taxes when all you actually do is postpone them is dishonest. However, many people go along with such false statements so politicians have learned to buy votes today by raising taxes on the future. Since the public keeps voting for such people when the facts are clear the only explanation is they support raising taxes, not today, but in the future (or, I suppose, they are not able to understand the clear implications of what they vote for). The Long-Term Budget Outlook
Under current law, the federal budget is on an unsustainable path, because federal debt will continue to grow much faster than the economy over the long run. Although great uncertainty surrounds long-term fiscal projections, rising costs for health care and the aging of the population will cause federal spending to increase rapidly under any plausible scenario for current law.
…
For decades, spending on Medicare and Medicaid has been growing faster than the economy. CBO projects that if current laws do not change, federal spending on Medicare and Medicaid combined will grow from roughly 5 percent of GDP today to almost 10 percent by 2035. By 2080, the government would be spending almost as much, as a share of the economy, on just its two major health care programs as it has spent on all of its programs and services in recent years.
…
CBO projects that Social Security spending will increase from less than 5 percent of GDP today to about 6 percent in 2035 and then roughly stabilize at that level.
…
Federal interest payments already amount to more than 1 percent of GDP; unless current law changes, that share would rise to 2.5 percent by 2020.
The cost of paying for a dysfunctional medical system has been a huge drain on the USA economy for decades. But that is nothing compared to what the future holds if we don't adopted sensible strategies that reduce the huge extra costs we pay and the worse performance we receive for that cost.
Social security is not the huge problem many think it is. Still I would support reducing the payout to wealthy individuals and bringing the age limits more in line with the changes in life expectancy. 12.4% of pay for low and middle wage workers (high income earners stop paying social security taxes so in effect marginal tax rates decrease by 12% for any income above $106,800). Medicare taxes add 2.9% bringing the total social security and Medicare taxes to 15.1% (including both the amount paid directly by the employee and the amount paid for the employee by the employer).
Related: True Level of USA Federal Deficit – USA Federal Debt Now $516,348 Per Household – quotations about economics – articles on improving the health care system – USA Spent $2.2 Trillion, 16.2% of GDP, on Health Care in 2007
Economist blog post on Health care:
Peter Orszag reminds us that the real deficit threat comes not from bail-outs, wars, or Social Security, but from health care. Medicare is set to become a drain on federal finances by 2017. If health-care costs continue to grow at the same rate, the cost of Medicare and Medicaid will be 20% of GDP by 2050. American health care is a model of inefficiency; there appears to be little correlation between spending and outcomes.
…
In hindsight there seems something rather perverse about only providing the best care to retired workers. In theory, the government should make private insurance cheaper for everyone else because then the young won't have to subsidise (at least through their health-care premiums) the old. The main problem, which European countries have learned, is that sustainable, government-provided care and timely access to the most innovative treatments tends to be mutually exclusive.
Related: Many Experts Say Health-Care System Inefficient, Wasteful – Improving the Health Care System – USA Spent $2.2 Trillion, 16.2% of GDP, on Health Care in 2007
The health care system in the USA is broken, and has been for decades. The economic consequences of failing to implement effectively solutions has been immense. Finally, the momentum demanding change is growing. I still think the entrenched interests are going to delay needed reform, but hopefully I am wrong. An interesting proposal for ending medical status pricing is in the news – Health Insurers Propose End to Medical-Status Pricing
Health insurers proposed ending the industry's practice of charging people premiums based on their medical conditions, an offer that may stall an effort to create a new government-sponsored competitor.
…
Health insurers oppose a Democratic push to create a government-run health plan to compete with private insurers for customers. Supporters of a public plan, including President Barack Obama, say it would guarantee affordable coverage, especially among those denied insurance or charged higher rates because of pre-existing medical conditions.
…
Insurers still would adjust variations in the price of premiums to an applicant's age, family size and place of residence, according to Zirkelbach's group. The organization speaks for 1,300 companies that provide public or privately funded benefits, led by UnitedHealth Group Inc. of Minnetonka, Minnesota, and Indianapolis-based WellPoint Inc.
This federal employees health benefit plan provides any federal employee the option to buy the insurance with no cost difference depending on health status. Some option, building off that is one that seems to have some possibility of success. I think some such system would be an improvement. However, it is far from the solution. Many problems are not solved by that at all. The huge amount of waste generated by insures and all the forms, needless bureaucracy… they generate is hard to justify. What value to they provide for the enormous costs?
Related: Broken Health Care System: Self-Employed Insurance – Traveling for Health Care – Employees Face Soaring Health Insurance Costs – Personal Finance Basics: Health Insurance – USA Spent $2.2 Trillion, 16.2% of GDP, on Health Care in 2007
Comments