Asia
banking
bonds
capitalism
chart
China
commentary
consumer debt
Credit Cards
credit crisis
curiouscat
debt
economic data
Economics
economy
employment
energy
entrepreneur
Europe
Financial Literacy
government
health care
housing
interest rates
Investing
Japan
John Hunter
manufacturing
markets
micro-finance
mortgage
Personal finance
Popular
quote
Real Estate
regulation
Retirement
save money
Saving
spending money
Stocks
Taxes
Tips
USA
Warren Buffett
Even if some lobbyists and their friends in Washington DC try to distract from the long term failure of the USA health care system the data continues to pour in about how bad it is.
U.S. Health-Care System Ranks as One of the Least-Efficient
America was 50th out of 55 countries in 2014, according to a Bloomberg index that assesses life expectancy, health-care spending per capita and relative spending as a share of gross domestic product. Expenditures averaged $9,403 per person, about 17.1 percent of GDP, that year — the most recent for which data are available — and life expectancy was 78.9. Only Jordan, Colombia, Azerbaijan, Brazil and Russia ranked lower.
None of these rankings are perfect and neither is this one. But it is clear beyond any doubt that the USA healthcare system is extremely costly for no better health results than other rich countries (and even more expensive with again no better results than most poor countries). It is a huge drain on the economy that we continue to allow lobbyists and special interests to take advantage of the rest of us via the Democrats and Republican parties actions over the last few decades.
We have to improve. The costs imposed on everyone to support those benefiting from this decades old transfer of economic wealth to health care special interests should no longer be accepted.
The top 5 countries are: Hong Kong, Singapore, Spain, South Korea and Japan. The first four have costs about 25% of the USA. Japan costs about 40% of the USA per person cost.
Mylan's despicable actions with Epi-pen and the direct participation of both political parties in increasing the costs foisted on the health care system by Mylan is just one in hundreds of the individual actions that continue to saddle the rest of USA economy with huge costs.
Related: Out of Pocket "Maximum", Understanding USA Health Care Costs – Decades Later The USA Health Care System is Still a Deadly Disease for Our Economy – 2015 Health Care Price Report, Costs in the USA and Elsewhere – USA Health Care Spending 2013: $2.9 trillion $9,255 per person and 17.4% of GDP – USA Spends $7,960 Compared to Around $3,800 for Other Rich Countries on Health Care with No Better Health Results (2009 data)
The report, The Dwindling Taxable Share Of U.S. Corporate Stock, from the Brookings Institution Tax Policy Center includes some amazing data.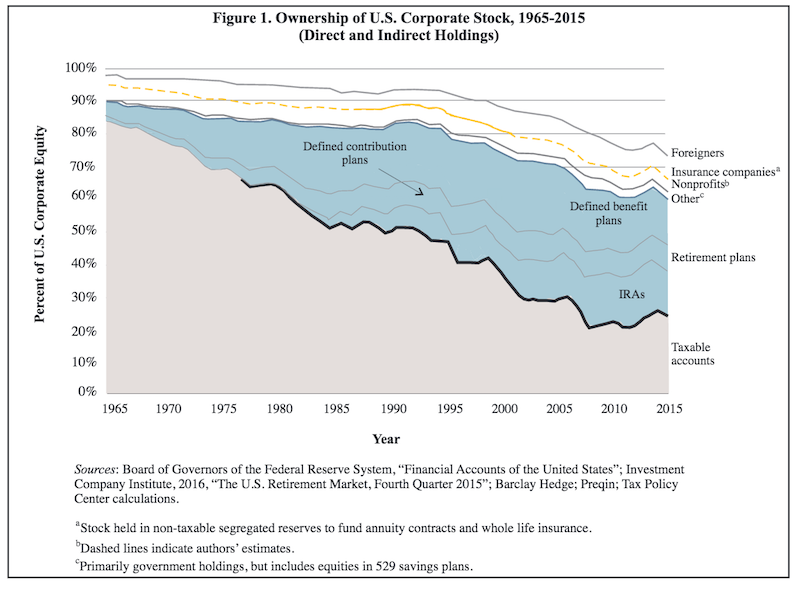 In 1965 foreign ownership of USA stocks totaled about 2%, in 1990 it had risen to 10% and by 2015 to 26%. That the foreign ownership is so high surprised me. Holdings in retirement accounts (defined benefit accounts, IRAs etc.) was under 10% in 1965, rose to over 30% in 1990 and to about 40% in 2015. The holdings in retirement accounts doesn't really surprise me.
The combination of these factors (and a few others) has decreased the holding of USA stocks that are taxable in the USA from 84% in 1965 to 24% in 2015. From the report
We treated foreigners as nontaxable as their income from stock generally is not subject to U.S.tax — or subject to just a little tax. Their stock gains almost always are exempt from taxation.Their dividends are subject to a 30 percent U.S.withholding tax for portfolio investments, which is typically reduced, by treaty, to 15 percent…
As with much economic data it isn't an easy matter to determine what values to use in order to get figures such as "foreign ownership." Still this is very interesting data, and as the report suggests further research in this area would be useful.
Related: There is No Such Thing as "True Unemployment Rate" – The 20 Most Valuable Companies in the World – February 2016 (top 10 all based in the USA) – Why China's Economic Data is Questionable – Data provides an imperfect proxy for reality (we often forget the proxy nature of data)
We have tax plans from the major USA Presidential candidates. I don't like any of them, though I actually like Ted Cruz's plan more than the others, but it has a huge problem. His plan doesn't fund the government he wants, not even just as poorly as we have been doing. He would increase the debt substantially.
My plan would have 3 parts. I like a flat tax, I doubt it will ever happen, but if we could get one I would be happy. Cruz proposes that (at 10%). I am fine with his proposal to eliminate all deductions but mortgage interest and charity. I would definitely tweak that some – no more than $50,000 in mortgage interest deduction a year and the same for charity. Basically subsidizing it a bit for the non-rich is fine. Subsidizing these for the rich seems silly so I would cap the deductions in some way. I also wouldn't mind an almost flat tax, say 12% up to $200,000 and 15% after that (or some such rates).
Cruz's rate is far too low given the government he wants. The government budget is largely: Social Security, Medicare and Military. Then you also have debt payment which have to be paid. Those 4 things are over 80% of the spending. All the other things are just in the last 20%, you can cut some of that but realistically you can't cut much (in percentage terms – you can cut hundreds of billions theoretically but it is unlikely and even if you did it isn't a huge change).
We are piling on more debt than we should. Therefore we should increase revenue, not reduce it. But if we can't increase it (for political reasons) we definitely should not reduce it until we have shown that we have cut spending below revenue for 2 full years. After that, great, then decrease rates.
The VAT tax on businesses replacing the corporate tax system is in Cruz's plan and this is the best option for corporate taxes in my opinion. Another decent option is just to pass through all the earnings to the owners (I first heard this proposal from my Economics professor in College) and tax them on the earnings.
Increasing the giveaways to trust-fund baby as Cruz and Trump propose is the single worst tax policy change that can be made. I have explained previously how bad an idea this is: The estate tax is the most capitalist tax that exists. The trust-fund-baby favors should be reduced not increased. I would roll back to the Reagan Administration policy on estate tax rates.
This chart shows that the percentage of millionaire families by highest education level is dramatically different by education level. The data is looking at USA family income for household headed by a person over 40. For high school dropouts, fewer than 1% are millionaires; all families it is about 5%; high school graduates about 6%; 4 year college degree about 22% and graduate or professional degree about 38%.
While the costs of higher education in the USA have become crazy the evidence still suggests education is highly correlated to income. Numerous studies still show that the investment in education pays a high return. Of course, simple correlation isn't sufficient to make that judgement but in other studies they have attempted to use more accurate measures of the value of education to life long earnings.
Related: The Time to Payback the Investment in a College Education in the USA Today is Nearly as Low as Ever, Surprisingly – Looking at the Value of Different College Degrees – Engineering Graduates Earned a Return on Their Investment In Education of 21%
The blog post with the chart, Why Wealth Inequality Is Way More Complicated Than Just Rich and Poor has other very interesting data. Go read the full post.
Average isn't a very good measure for economic wealth data, is is skewed horribly by the extremely wealthy, median isn't a perfect measure but it is much better. The post includes a chart of average wealth by age which is interesting though I think the $ amounts are largely worthless (due to average being so pointless). The interesting point is there is a pretty straight line climb to a maximum at 62 and then a decline that is about as rapid as the climb in wealth.
That decline is slow for a bit, dropping, but slowly until about 70 when it drops fairly quickly. It isn't an amazing result but still interesting. It would be nice to see this with median levels and then averaged over a 20 year period. The chart they show tells the results for some point in time (it isn't indicated) but doesn't give you an idea if this is a consistent result over time or something special about the measurement at the time.
They also do have a chart showing absolute wealth data as median and average to show how distorted an average is. For example, median wealth for whites 55-64 and above 65 is about $280,000 and the average for both is about $1,000,000.
Related: Highest Paying Fields at Mid Career in USA: Engineering, Science and Math – Wealthiest 1% Continue Dramatic Gains Compared to Everyone Else – Correlation is Not Causation: "Fat is Catching" Theory Exposed
European government debt has been sold at negative interest rates recently. The United States Treasury has now come as close to that as possible with 0% 3 month T-bills in the latest auction.
The incredible policies that have created such loose credit has the world so flooded with money searching for somewhere to go that 0% is seen as attractive. This excess cash is dangerous. It is a condition that makes bubbles inflate.
Low interest rates are good for businesses seeking capital to invest. These super low rates for so long are almost certainly creating much more debt for no good purpose. And likely even very bad purposes since cash is so cheap.
One thing I didn't realize until last month was that while the USA Federal Reserve stopped pouring additional capital into the markets by buying billions of dollars in government every month they are not taking the interest and maturing securities and reducing the massive balance sheet they have. They are actually reinvesting the interest (so in fact increasing the debt load they carry) and buying more debt anytime debt instruments they hold come due.
The Fed should stop buying even more debt than they already hold. They should not reinvest income they receive. They should reduce their balance sheet by at least $1,500,000,000,000 before they consider buying new debt.
Unless the failure to address too-big-to-fail actions (and systems that allow such action) results in another great depression threat. And if that happens again they should not take action until people responsible are sitting in jail without the possibly of bail. The last bailout just resulted in transferring billions of dollars from retires and other savers to the pockets of those creating the crisis. Doing that again when we knew that was fairly likely without changing the practices of the too-big-to-fail banks. But I would guess we will just bail them out while they sit in one of the many castles their actions at the too-big-to-fail banks bought them and big showered with more cash in the bailout from the next crisis.
How to invest in these difficult times is not an easy question to answer. I would put more money in stocks for yield (real estate investment trusts, drug companies, dividend aristocrats), I would also keep cash even if it yields 0% and actually a new category for me – peer to peer lending (which I will write about soon). Recently many dividend stocks have been sold off quite a bit (and then on top of that drug stocks sold off) so they are a much better buy today than 4 months ago. Still nothing is easy in what I see as a market with much more risk than normal.
I am almost never a fan of long term debt. I would avoid it nearly completely today (if not completely). For people that are retired and living off their dividends and interest I may have some long term debt but I would have much more in cash and short term assets (even with the very low yields). Peer to peer lending has risks but given what the fed has done to savers I would take that risk to get the larger yields. The main risk I worry about is the underwriting risk – the economic risks are fairly well known, but it is very hard to tell if the lender starts doing a poor job of underwriting.
Related: The Fed Should Raise the Fed Funds Rate – Too-Big-to-Fail Bank Created Great Recession Cost Average USA Households $50,000 to $120,000 – Buffett Calls on Bank CEOs and Boards to be Held Responsible – Historical Stock Returns
For job growth, 33,000 — not 150,000 — is the new normal
The amount of time I spend focusing on economic data is fairly limited (compared to people doing so for a living or as a large part of their job). I stick with general rules of thumb that I can tweak a bit to let me keep up with economic conditions without a huge amount of time devoted to such efforts.
Due to my temperament; to my belief that markets often overreact in the short term; and partially to my less detailed understanding of economic data (that professionals focused on it all day) leads me to get less excited about individual data points. This is helpful for my overall investing performance, I believe.
Occasionally changing conditions require changing those rules of thumb. The 150,000 figure is one I have used for a long time; though I also adjust that for major medium term influences (such as the great recession dumped so many people out of jobs that I bumped up my "we need to add" monthly job figure to 175,000 to 200,000 to bring those people on board.
My 175,000 to 200,000 included a slight adjustment down from the 150,000 that I had made. In addition to using simple ideas like 150,000 monthly job baseline I incorporate the idea of not overreacting to variation in short term data as well as tweaking those numbers for medium term economic conditions (things like recovering from the great recession – though that is about the largest "tweaking" factor that I remember).
This article made me realize how much I should adjust my expectations for a neutral job growth reading in the USA going forward. I also gather data and opinions as I think about making major adjustments to my thinking. I'll adjust from what I had been using of a base of 125,000 plus 50,000+ for great recession recovery to 75,000 + 50,000 for great recession recovery now (and adjust more later if other sources indicate it makes sense). The great recession recovery factor will likely go down to 25,000 for me by the end of this year.
Related: There is No Such Thing as "True Unemployment Rate" – Long Term View of Manufacturing Employment in the USA (2012) – USA Individual Earnings Levels for 2011: Top 1% $343,000, 5% $154,000, 10% $112,000, 25% $66,000 – GDP Growth Per Capita for Selected Countries from 1970 to 2010 (Korea, China, Singapore, Indonesia, Brazil
When you sell your primary residence in the USA you are able to exclude $250,000 in capital gains (or $500,000 if you file jointly). The primary test of whether it is your primary residence is if you lived there 2 of the last 5 years (see more details from the IRS). You can't repeat this exemption for 2 years (I believe).
It doesn't matter if you buy another house or not, that exclusion of up to $250,000 is all that can be excluded (you must pay tax on anything above that amount – taxed at capital gains rates for long term gains).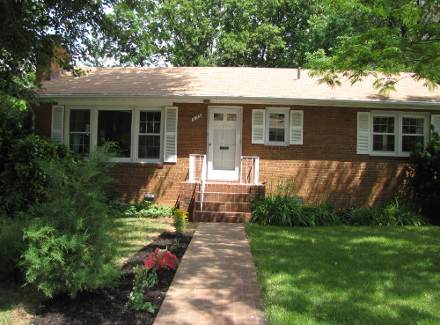 For investment property you can do 1031 exchanges which defers capital gains taxes. Otherwise capital gains will be taxed as you would expect (as capital gains).
When you inherit a house the tax basis will be "stepped up" to the current market rate. So if you then sell your basis isn't what the owner paid for it, but what it was worth when it was given to you.
Related: Looking for Yields in Stocks and Real Estate – Your Home as an Investment – Home Values and Rental Rates
The 10 publicly traded companies with the largest market capitalizations. Since October of last year the top 20 list has seen quite a bit of profit for stockholders (mainly in Apple and Chinese companies).
| | Company | Country | Market Capitalization |
| --- | --- | --- | --- |
| 1 | Apple | USA | $741 billion |
| 2 | Microsoft | USA | $374 billion |
| 3 | Google | USA | $370 billion |
| 4 | Exxon Mobil | USA | $352 billion |
| 5 | Berkshire Hathaway | USA | $346 billion |
| 6 | China Mobile | China | $340 billion* |
| 7 | Industrial & Commercial Bank of China | China | $306 billion** |
| 8 | Wells Fargo | USA | $292 billion |
| 9 | GE | USA | $275 billion |
| 10 | Johnson & Johnson | USA | $273 billion |
Apple's market cap is up $115 billion since the last list was created in October of 2014. That increase is more than 50% of the value of the 14th most valuable company in the world (in October 2014).
China Mobile increased $100 billion and moved into 6th place. Industrial and Commercial Bank of China (ICBC) increased $78 billion to move into 7th place.
Exxon Mobil lost over $50 billion (oil prices collapsed as OPEC decided to stop attempting to hold back supply in order to maximize the price of oil). Alibaba (the only non-USA company in the last list) and Walmart dropped out of the top 10.
The total value of the top 20 increased from $5.722 trillion to $6.046 trillion, an increase of $324 billion. Several companies have been replaced in the new top 20 list.
The next ten most valuable companies:
| | Company | Country | Market Capitalization |
| --- | --- | --- | --- |
| 11 | JPMorgan Chase | USA | $250 billion |
| 12 | China Construction Bank | China | $250 billion** |
| 13 | Novartis (NVS) | Switzerland | $246 billion |
| 14 | Petro China | China | $237 billion |
| 15 | Wal-Mart | USA | $236 billion |
| 16 | Tencent | China | $235 billion** |
| 17 | Nestle | Switzerland | $235 billion*** |
| 18 | Facebook | USA | $231 billion |
| 19 | Hoffmann-La Roche (ROG.VX) | Switzerland | $231 billion |
| 20 | Alibaba | China | $226 billion |
Market capitalization shown are of the close of business last Friday, as shown on Yahoo Finance.
The current top 10 includes 8 USA companies and 2 Chinese companies. The 11th to 20th most valuable companies includes 4 Chinese companies, 3 Swiss companies and 3 USA companies. Facebook (after increasing $21 billion), China Construction Bank (increasing $68 billion – it is hard for me to be sure what the value is, I am not sure I am reading the statements correctly but this is my best guess) and Tencent moved into the top 20; which dropped Procter & Gamble, Royal Dutch Shell and Chevron from the top 20.
Related: Historical Stock Returns – Global Stock Market Capitalization from 2000 to 2012 – Stock Market Capitalization by Country from 1990 to 2010 – Solar Energy Capacity by Country (2009-2013)
A few other companies of interest (based on their market capitalization):
A new study, Secure Retirement, New Expectations, New Rewards: Work in Retirement for Middle Income Boomers, explores how Boomers are blurring the lines between working for pay and retirement (as I have discussed in posts previously, phased retirement).
From their report:
Middle-income Boomers working in retirement describe an experience different than their work experience before retirement. Most Boomers look for more flexible work arrangements and scheduling, and many try new career paths in different industries. In addition, middle-income Boomers working in retirement find that they are highly satisfied with their work, even more so than they were with their work before officially "retiring." In exchange for this flexibility and satisfaction, retired Boomers are willing to work for less money than they were making before retiring.
The define middle income as income between $25,000 and $100,000 with less than $1 million in investable assets and boomers as those born between 1946 and 1964.
Nearly 70% of retirees retired earlier than they planned to. Many did so due to health issues. Only 3% retired so they could travel more.
48% of middle income boomer retirees wish they could work. For those wishing to, but unable to work: 73% cannot due to health, 17% can't find a job and 10% must care for a loved one.
Only two in ten (21%) nonretired Boomers would be willing to take a pay cut for their work in retirement, while more than half (53%) of currently employed retirees report making much less per hour in retirement.
Nearly all (94%) nonretirees who plan to work in retirement would like some kind of special work arrangement, such as flex-time or telecommuting, but only about one third (37%) of currently employed retirees have such an arrangement.
It seems to me, both employees and employers need to be more willing to adapt. Workers seem to be more willing, even though they claim they are not: this is mainly a revealed versus stated preference, they claim they won't accept lower pay but as all those that do show, they really are willing to do so, they just prefer not to. This report is based on survey data which always has issue; nevertheless there are interesting results to consider.
61% of middle income boomers who ware working say they do so because they want to work, not because they have to work.
Of middle-income retirees who are currently working, nearly two-thirds (63%) took six months or less off between the start of their retirement and the start of their employment in retirement. In fact, more than one-third (35%) continued working immediately after they retired.
Only 12% of working middle income boomer retirees work full time all year. 60% work part-time. 7% are seasonal while 16% are freelance and 4% are other. Of those identifying as non-retired 75% work full time while 17% are part-time.
49% plan to work into their 70's or until their health fails.
51% are more satisfied with their post-retirement work than their pre-retirement work. 27% are equally satisfied with their jobs.
As I have stated in previous posts I think a phased approach to retirement is the most sensible thing for society and for us as individuals. Employers need to provide workable options with part time work. The continued health care mess in the USA makes this more of a challenge than it should be. With USA health care being closely tied to employment and it costing twice as much as other rich countries (for no better results) it complicates finding workable solutions to employment. The tiny steps taken in the Affordable Care Act are not even 10% of magnitude of changes needed for the USA health care system.
Related: Providing ways for those in their 60's and 70's (part time schedules etc.) – Companies Keeping Older Workers as Economy Slows (2009) – Keeping Older Workers Employed (2007) – Retirement, Working Longer to Make Ends Meet
USA health care spending increased at a faster rate than inflation in 2013, yet again; increasing 3.5%. Total health expenditures reached $2.9 trillion, 17.4% of the nation's Gross Domestic Product (GDP) or $9,255 per person.
While this remains bad news the rate at which heath care is increasingly costing those in the USA has been slower the last 5 years than it has been in past years. Basically the system is getting worse at a slower rate than we used to be, so while that isn't great, it beats getting worse as quickly as we used to be. For the last 5 years the rate of increase has been between 3.6% and 4.1%.
GDP has increased more than inflation. As the GDP grows the economy has more production for society to split. The split between the extremely wealthy and the rest of society has become much more weighted to the extremely wealthy (they have taken most of the gains to the overall economy in the last 20 years). Health care has a similar track record of devouring the gains made by the economy. This has resulted in health care spending soaring over the decades in an absolute basis and as a percentage of GDP.
The slow down in how badly the health care system has performed in the USA has resulted in the share of GDP taken by the health care system finally stabilizing. Health care spending has remained near 17.4% since 2009. While hardly great news, this is much better news than we have had in the last 30 years from the USA health care system. The percentage of GDP taken by the USA health care system is double what other rich countries spend with no better health results.
It is similar to if a team started as a championship team and then got worse every year and now they have finally stopped getting even worse. Granted they have become the worst team in the league but if, say, their record has now been 5-55 for 3 years in a row, they at least are not winning fewer game in each subsequent year anymore. But you can hardly think you are doing a great job when you are clearly the worst team each and every year.
Obviously there is a need for much much more improvement in the USA health care system. Still stopping the growth in spending, as a percent of GDP, is a positive step toward drastically decreasing it to reach a level more in live with all other rich countries. Even this goal is only to have the USA reach a level of mediocrity. If you actually believe the USA can to better than mediocre that would imply a combination of drastic declines in spending (close to 50%) and drastic gains in outcomes. Decreasing spending by 50% would put the USA at essentially the definition of mediocre – middling result with average spending.
Health Spending by Type of Service or Product
Hospital Care: Hospital spending increased 4.3% to $936.9 billion in 2013 compared to 5.7% growth in 2012. The lower growth in 2013 was influenced by growth in both prices and non-price factors (which include the use and intensity of services).
Physician and Clinical Services: Spending on physician and clinical services increased 3.8% in 2013 to $586.7 billion, from 4.5% growth in 2012. Slower price growth in 2013 was the main cause of the slowdown, as prices grew less than 0.1%, due in part to the sequester and a zero-percent payment update.
Comments