Asia
banking
bonds
capitalism
chart
China
commentary
consumer debt
Credit Cards
credit crisis
curiouscat
debt
economic data
Economics
economy
employment
energy
entrepreneur
Europe
Financial Literacy
government
health care
housing
interest rates
Investing
Japan
John Hunter
manufacturing
markets
micro-finance
mortgage
Personal finance
Popular
quote
Real Estate
regulation
Retirement
save money
Saving
spending money
Stocks
Taxes
Tips
USA
Warren Buffett
My response to a comment by John Green on Reddit
I really really like your work and webcasts (example included below).
It seems to me extremely paternalistic for people in rich countries to claim to know what is best for people in poor countries
This seems to me to make it really difficult on people trying to use judgement. Calling people's actions "extremely paternalistic" if they are not definitely so, I think impedes debate. And I think debate should be encouraged.
When making Kiva loans I do steer away from loans with rates above 40% (I also prefer loans that are geared toward a capital investment that will increase earning power going forward though this is hard – lots of loans are essentially for inventory that will be sold at a profit so a fine use of loans but not as powerful [in my opinion] and new capital investments – say a new tool, solar power that will be resold to users…).
Just like people anywhere, people taking Kiva loans are capable of getting themselves into trouble. Choosing to allocate my lender toward certain loans does not mean I am being paternalistic.
I am not being paternalistic if I chose not to invest in the stock of some company that vastly overpays executives and uses high leverage to do very well (in good times).
I do like the idea of direct cash to people in need. I give cash that way (and in fact did it a long time ago, 20 years, for several years – before any of this new hipster cachet :-). And I still do like it.
While people question the value of a college degree a recent study by the New York Federal Reserve shows a degree is close to as valuable today as it has ever been. The costs to get that value have risen but even with the increased cost students earn on average a 15% annual rate of return on their investment.
Of course, not every student will earn that, some will earn more and some less.
We estimate that the value of a college degree fell from about $120,000 in the early 1970s to about $80,000 in the early 1980s, before more than tripling to nearly $300,000 by the late 1990s, where it has remained, more or less, ever since. Despite drifting down somewhat in the aftermath of the Great Recession, the value of a bachelor's degree has remained near its all-time high.
…
The time required to recoup the costs of a bachelor's degree has fallen substantially over time, from more than twenty years in the late 1970s and early 1980s to about ten years in 2013. So despite the challenges facing today's college graduates, the value of a college degree has remained near its all-time high, while the time required to recoup the costs of the degree has remained near its all-time low.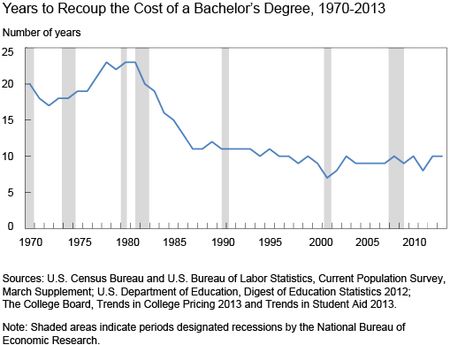 So a college education is a great investment for most people. This can create a problem however, when people then assume that all they need to do is go to college and they will do well no matter what. The same thing happens in other markets. Real estate has proven to be a great investment. that doesn't mean every real estate investment is good. It doesn't mean you can ignore the costs and risks of a particular investment. The same goes for stocks.
One of the things that annoy me as an investor is how happy the executives are to grant themselves huge amount of pay in general and stock in particular. The love to giveaway huge amounts of stock to themselves and their buddies and then pretend that isn't a cost.
Thankfully the GAAP rules changed a few years ago to require making the costs of stock giveaways show up on official earnings statements. Now, the companies love to trumpet non-GAAP earnings that exclude stock based compensation to employees.
The stock based costs are huge.
SG Securities estimates that corporates bought back $480 billion in stock last year, and then reissued about $180 billion.
The theme of the article is that stock buybacks have declined drastically very recently. There has been a huge bubble recently fueled by the too-big-too-fail bailout (quantitative easing). But don't expect the executives giving themselves tons of stock to decline.
Accounting isn't as straight forward as people who have never looked at it would like to think. While giving away stock is definately a cost, it isn't a cash cost. The cash flow statement is best for looking at cash anyway. And the better your company does the more the free spirited giveaway of stock costs (both in your reduced share of the well performing company and the higher cost to buy back the shares they gave away).
They have excuses that they hire people who are not motivated enough to do their job for their pay so they need to offer stock options as a extra payment. But the main reason they like it is they can pretend that the pay to employees isn't costing as much as it is because we gave them stock options not cash. As if paying $1 billion in cash is somehow more costly than giving away options and then spending $1 billion on buybacks of the stock they gave away.
Options make a lot of sense for small private companies. In a very limited way they can make sense as companies grow. But the practices of executives in huge bureaucracies giving away large amounts of your equity, on top of huge paychecks, is very harmful.
Related: Apple's Outstanding Shares Increased from 848 to 939 million shares from 2006 to 2013 (while I think Apple's large buyback is good, the huge share giveaways continue and are bad policy) – Google is Diluting Shareholder Equity by 1% a year (2009-2013) – Executives Again Treating Corporate Treasuries as Their Money
Hedge funds seek to pay the managers extremely well and claim to justify enormous paydays with claims of superior returns. Markets provide lots of volatility from which lots of different performances will result. Claiming the random variation that resulted in the superior performance of there portfolio as evidence the deserve to take huge payments for themselves from the current returns is not sensible. But plenty of rich people fall for it.
As I have written before: Avoiding Hedge Fund Investments is One of the Benefits of Being in the 99%.
This is pretty well understood by most knowledgeable investors, financial planners and investing experts. But funds that charge huge fees continue to get away with it. If you are smart you will avoid them. A few simple investing rules get you well into the top 10% of investors
From a personal finance perspective, saving money is a key. Most people fail at being decent investors before they even get a chance to invest by spending more than they can afford and failing to save, and even worse going into debt (other than to some extent for college education and house). Consistently putting aside 10-20% of your income and investing wisely will put you in good shape over the long term.
Dylan Grice suggests the Cockroach Portfolio: 25% cash; 25% government bonds; 25% equities; and 25% gold. What we can learn from the cockroach
Each of those asset buckets protects against a different type of risk. And that is a very sensible approach to investing in the year ahead. Cash will protect you against a market collapse in anything (provided it's cash held with a solid institution).
Government bonds protect against deflation (provided your money's invested in solid government bonds and not trash). Equities offer capital growth and income. And gold, as we know, protects against currency depreciation, inflation, and financial collapse. It's vitally important to maintain holdings in each, in my opinion.
The beauty of a 'static' allocation across these four asset classes is that it removes emotion from the investment process.
I don't really agree with this but I think it is an interesting read. And I do agree the standard stock/bond/cash portfolio model is not good enough.
I would rather own real estate than gold. I doubt I would ever have more than 5% gold and only would suggest that if someone was really rich (so had money to put everywhere). Even then I imagine I would balance it with investments in other commodities.
One of the many problems with "stock" allocations is that doesn't tell you enough. I think global exposure is wise (to some extent S&P 500 does this as many of those companies have huge international exposure – still I would go beyond that). Also I would be willing to take some stock in commodities type companies (oil and gas, mining, real estate, forests…) as a different bucket than "stocks" even though they are stocks.
And given the super low interest rates I see dividend paying stocks as an alternative to bonds.
The Cockroach Portfolio does suggest only government bonds (and is meant for the USA where those bonds are fairly sensible I think) but in the age of the internet many of my readers are global. It may well not make sense to have a huge portion of your portfolio in many countries bonds. And outside the USA I wouldn't have such a large portion in USA bonds. And they don't address the average maturity (at least in this article) – I would avoid longer maturities given the super low rates now. If rates were higher I would get some long term bonds.
These adjustments mean I don't have as simple a suggestion as the cockroach portfolio. But I think that is sensible. There is no one portfolio that makes sense. What portfolio is wise depends on many things.
Many companies that have have plenty of cash chose to dilute stockholder equity instead of paying market rate salaries. They also do this to pay more than they would be willing to if they had to pay cash and take a direct earnings hit officially and unofficially. And they may do it to allow employees to delay paying taxes (I am not sure if this plays a part or not) – and maybe even avoid taxes using some financial games. Companies chose to give away stockholder equity under the pretense that those losses to shareholders can be hidden on financial statements (and they often are).
Thankfully SEC rules forced disclosure of such financial games in the last few years. Still "Wall Street" often promotes the earnings which pretend though employee costs that are paid with stock instead of cash are not costs to the business.
Google is cash flow positive by billions every quarter. Yet they have issued over 1% more stock each year.
Outstanding share balances in millions of shares
| | | | | |
| --- | --- | --- | --- | --- |
| Sep 30 2013 | Dec 31 2012 | Dec 31 2011 | Dec 31 2010 | Dec 31 2009 |
| 334.2 | 330 | 324.9 | 321.3 | 317.8 |
This means Google has given away over 5.2% of a shareholder's ownership from January 1, 2010 to September 30, 2013. If you owned 100 shares at the end of 2010 you owned .000315% of the company. At the end of the period your ownership had been diluted to .000300% of the company.
When the stock value is rising rapidly (as Google's has) it proves to be much more costly than if the company had just paid cash in the first place. In Google's case you would own 5% more of the company and the cash stockpile Google had would be a bit lower (Google had $56,523,000,000 in cash at the end of Sep 2013).
For companies that don't have cash (startups) paying employees with stock options makes sense. When companies have the cash it is mainly a way to hide how much the company is giving away to executives and to provide fake earnings where only a portion of employee pay is treated as an expense and the rest is magically ignored making earnings seem higher.
Related: Apple's Outstanding Shares Increased a Great Deal the Last Few Years, Diluting Shareholder Equity – Global Stock Market Capitalization from 2000 to 2012 – Investment Options Are Much More Confusing to Chose From Now – Google up 13% on Great Earnings Announcement (2011)
There are many asset allocation strategies; which often are pretty similar. In general they oversimplify the situation (so an investor needs to study and adjust them to their situation – though most don't do this, which is a problem). In general, I think asset allocation suggestions are too heavily weighted on bonds, and that is even more true today in the current environment – of could that is just my opinion.
I ran across this suggested allocation in Eyewitness to a Wall Street mugging which I think has several good values.
It focuses on low fee, market index funds. Fees are incredibly important in determining long term investment success
It has lower bond allocation than normal
It has more international exposure than many – which I think is wise (this suggested portfolio is for those in the USA, USA portion should be lowered for others)
It includes real estate (some suggested allocations miss this entirely)
In my opinion this allocation should be adjusted as you get closer to retirement (put a bit more into more stable, income producing investments).
My personal preference is to use high quality dividend stocks in the current interest rate environment. I would buy them myself which does require a bit more work than once a year rebalancing that the lazy golfer portfolio allows.
I would also include 10% for Vanguard emerging markets fund (VWO) (for sake of a rule of thumb reduce Inflation Protected Securities Fund to 10% if you are more than 10 years from retirement, when between 10 and 1 year from retirement put Inflation Protected Securities Fund at 15% and Total Stock Market Index Fund at 35%, when 1 year from retirement or retired lower emerging market to 5% and put 5% in money market.
Depending on your other assets this portfolio should be adjusted (large real estate holdings [large net value on personal home, investment real estate…] can mean less real estate in this portfolio, 401k holdings may mean you want to tweak this [TIAA CREF has a very good real estate fund, if you have access to it you might make real estate a high value in your 401k and then adjust your lazy portfolio], large pension means you can lower income producing assets, how close you are to retirement, etc.).
The Lazy Golfer Portfolio (Annually rebalance the fund on your birthday and ignore Wall Street for the remaining 364 days of the year) contains 5 Vanguard index funds
40% Total Stock Market Index Fund (VTSMX)
20% Total International Stock Index Fund (VGTSX)
20% Inflation Protected Securities Fund (VIPSX)
10% Total Bond Market Index Fund (VBMFX)
10% REIT Index Fund (VGSIX)
Related: Retirement Planning, Looking at Asset Allocation – Lazy Portfolio Results – Investment Risk Matters Most as Part of a Portfolio, Rather than in Isolation – Starting Retirement Account Allocations for Someone Under 40 – Taking a Look at Some Dividend Aristocrats
A report by the Dallas Federal Reserve Bank, Assessing the Costs and Consequences of the 2007–09 Financial Crisis and Its Aftermath, puts the costs to the average household of the great recession at $50,000 to $120,000.
A confluence of factors
produced the December 2007–June 2009 Great Recession
—bad bank loans, improper credit ratings, lax regulatory policies and misguided government incentives that encouraged reckless borrowing and lending.
The worst downturn in the United States since the 1930s was distinctive. Easy credit standards and abundant financing fueled a boom-period expansion that was followed by an epic bust with enormous negative economic spillover.
…
Our bottom-line estimate of the cost of the crisis, assuming output eventually returns to its pre-crisis trend path, is an output loss of $6 trillion to $14 trillion. This amounts to $50,000 to $120,000 for every U.S. household, or the equivalent of 40 to 90 percent of one year's economic output.
They say "misguided government incentives" much of which are due to payments to politicians by too-big-to-fail institution to get exactly the government incentives they wanted. There is a small bit of the entire problem that is likely due to the desire to have homeownership levels above that which was realistic (beyond that driven by too-big-to-fail lobbyists).
"Were safer" says a recent economist. Which I guess is true in that it isn't quite as risky as when the too-big-to-fail-banks nearly brought down the entire globally economy and required mass government bailouts that were of a different quality than all other bailouts of failed organizations in the past (not just a different quantity). The changes have been minor. The CEOs and executives that took tens and hundreds of millions out of bank treasures into their own pockets then testified they didn't understand the organization they paid themselves tens and hundreds of a millions to "run."
We left those organizations intact. We bailed out their executives. We allowed them to pay our politicians in order to get the politicians to allow the continued too-big-to-fail ponzie scheme to continue. The too-big-to-fail executives take the handouts from those they pay to give them the handouts and we vote in those that continue to let the too-big-to-fail executives to take millions from their companies treasuries and continue spin financial schemes that will either work out in which case they will take tens and hundreds of millions into their person bank accounts. Or they won't in which case they will take tens of millions into their personal bank accounts while the citizens again bail out those that pay our representatives to allow this ludicrous system to continue.
I think the current investing climate worldwide continues to be very uncertain. Historically I believe in the long term success of investing in successful businesses and real estate in economically vibrant areas. I think you can do fairly well investing in various sold long term businesses or mutual funds looking at things like dividend aristocrates or even the S&P 500. And investing in real estate in most areas, over the long term, is usually fine.
When markets hit extremes it is better to get out, but it is very hard to know in advance when that is. So just staying pretty much fully invested (which to me includes a safety margin of cash and very safe investments as part of a portfolio).
I really don't know of a time more disconcerting than the last 5 years (other than during the great depression, World War II and right after World War II). Looking back it is easy to take the long term view and say post World War II was a great time for long term investors. I doubt it was so easy then (especially outside the USA).
Even at times like the oil crisis (1973-74…, stagflation…, 1986 stock market crash) I can see being confident just investing in good businesses and good real estate would work out in the long term. I am much less certain now.
I really don't see a decent option to investing in good companies and real estate (I never really like bonds, though I understand they can have a role in a portfolio, and certainly don't know). Normally I am perfectly comfortable with the long term soundness of such a plan and realizing there would be plenty of volatility along the way. The last few years I am much less comfortable and much more nervous (but I don't see many decent options that don't make me nervous).
One of the many huge worries today is the extreme financial instruments; complex securities; complex and highly leveraged financial institution (that are also too big to fail); high leverage by companies (though many many companies are one of the more sound parts of the economy – Apple, Google, Toyota, Intel…), high debt for governments, high debt for consumers, inability for regulators to understand the risks they allow too big to fail institutions to take, the disregard for risking economic calamity by those in too big to fail institutions, climate change (huge insurance risks and many other problems), decades of health care crisis in the USA…
A recent Bloomberg article examines differing analyst opinions on the Chinese banking system. It is just one of many things I find worrying. I am not certain the current state of Chinese banking is extremely dangerous to global economic investments but I am worried it may well be.
China Credit-Bubble Call Pits Fitch's Chu Against S&P
Across the globe, saving for retirement is a challenge. Longer lives and expensive health care create challenge to our natures (saving for far away needs is not easy for most of us to do – we are like the grasshopper not the ants, we play in the summer instead of saving). This varies across the globe, in Japan and China they save far more than in the USA for example.
The United States of America ranks 19th worldwide in the retirement security of its citizens, according to a new Natixis Global Retirement Index. The findings suggest that Americans will need to pick up a bigger share of their retirement costs – especially as the number of retirees grows and the government's ability to
support them fades. The gauges how well retired citizens live in 150 nations, based on measures of health, material well-being, finances and other factors.
Top Countries for Retirees
1 – Norway
2 – Switzerland
3 – Luxembourg
6 – Finland
9 – Germany
10 – France
11 – Australia
13 – Canada
15 – Japan
19 – USA
20 – United Kingdom
Western European nations – backed by robust health care and retiree social programs – dominate the top of the rankings, taking the first 10 spots, including Sweden, Austria, Netherlands and Denmark. The USA finished ahead of the United Kingdom, but trailed the Czech Republic and Slovakia.
Globally, the number of people aged 65 or older is on track to triple by 2050. By that time, the ratio of the working-age population to those over 65 in the USA is expected to drop from 5-to-1 to 2.8-to-1. The USA actually does much better demographically (not aging as quickly) as other rich countries mainly due to immigration. Slowing immigration going forward would make this problem worse (and does now for countries like Japan that have very restrictive immigration policies).
The economic downturn has taken a major toll on retirement savings. According to a recent report by the U.S. Senate Committee on Health, Education, Labor and Pensions, the country is facing a retirement savings deficit of $6.6 trillion, or nearly $57,000 per household. As a result, 53% of American workers 30 and older are on a path that will leave them unprepared for retirement, up significantly from 38% in 2011.
On another blog I recently wrote about another study looking at the Best Countries to Retirement Too: Ecuador, Panama, Malaysia. The study in the case was looking not at the overall state of retirees that worked in the country (as the study discussed in this post did) but instead where expat retirees find good options (which stretch limited retirement savings along with other benefits to retirees).
See the full press release.
Related: Top Stock Market Capitalization by Country from 1990 to 2010 – Easiest Countries in Which to Operate a Businesses: Singapore, Hong Kong, New Zealand, USA – Largest Nuclear Power Generation Countries from 1985-2010 – Leading countries for Economic Freedom: Hong Kong, Singapore, New Zealand, Switzerland – Countries with the Top Manufacturing Production
Comments