Asia
banking
bonds
capitalism
chart
China
commentary
consumer debt
Credit Cards
credit crisis
curiouscat
debt
economic data
Economics
economy
employment
energy
entrepreneur
Europe
Financial Literacy
government
health care
housing
interest rates
Investing
Japan
John Hunter
manufacturing
markets
micro-finance
mortgage
Personal finance
Popular
quote
Real Estate
regulation
Retirement
save money
Saving
spending money
Stocks
Taxes
Tips
USA
Warren Buffett
Determining exactly what needs to be saved for retirement is tricky. Basically it is something that needs to be adjusted based on how things go (savings accumulated, saving rate, planned retirement date, investing returns, predicted investing returns, government policy, tax rates, etc.). The simple idea is start by saving 15% of salary by the time you are 30. Then adjust over time. If you start earlier maybe you can get by with 12%…
How Much to Save for Retirement is a very good report by the Boston College center for retirement research. They look at the percent of income replacement social security (for those in the USA) provides. This amount varies greatly depending on your income and retirement (date you start drawing social security payments).
Low earners ($20,000) that retire at 65 have 49% of income replaced by social security. Waiting only 2 years, to 67, the replacement amount increases to 55%. For medium earners ($50,000) 36% and 41% of income is replaced. And for high earners ($90,000) 30% an 34%.
Starting savings early make a huge difference. Starting retirement savings at age 25 requires about 1/3 the percentage of income be saved as starting at 45. So you can save for example 7% from age 25 to 70 or 18% from age 45 to 70. Retiring at 62 versus 70 also carries a cost of about 3 times as great savings required each year. So retiring at 62 would require an impossible 65% if you didn't start saving until 45. But these numbers are affected by many things (the higher your income the less social security helps so the higher percentages you need to save and many other factors play a role).
Starting to save early is a huge key. Delaying retirement makes a big difference but it is not nearly as much in your control. You can plan on doing that but need to understand that you cannot assume you will get to set the date (either because finding a job you can do and pays what you wish is not easy or you are not healthy enough to work full time).
If you don't have social security (those outside the USA – some countries have their versions but some don't offer anything) you need to save more. A good strategy is to start saving for retirement in your twenties. As you get raises increase your percentage. So if you started at 6% (maybe 4% from you and a 2% match, but in any event 6% total) each time you get a raise increase your percentage 100 basis points (1 percentage point).
If you started at 27 at 6% and got a raise each year for 9 years you would then be at 15% by age 36. Then you could start looking at how you were going and make some guesstimates about the future. Maybe you could stabilize at 15% or maybe you could keep increasing the amount. If you can save more early (start at 8% or increase by 150 or 200% basis points a year) that is even better. Building up savings early provides a cushion for coping with negative shocks (being unemployed for a year, losing your job and having to take a new job earning 25% less, very bad decade of investing returns, etc.).
Investing wisely makes a big difference also. The key for retirement savings is safety first, especially as you move closer to retirement. But you need to think of investment safety as an overall portfolio. The safest portfolio is well balanced not a portfolio consisting of just an investment people think of as safe by itself.
Related: Retirement Planning, Investing Asset Considerations – Saving for Retirement Must Be a Personal Finance Priority – Investment Risk Matters Most as Part of a Portfolio, Rather than in Isolation
Pitfalls in Retirement (pdf) is quite a good white paper from Meril Lynch, I strongly recommend it.
A survey asked investors at least 41 years of age how much of their retirement savings they can safely spend each year without running the risk of exhausting their assets. Forty percent had no idea; an additional 29% said they
could safely spend 10% or more of their savings each year.
But, as explained below, the respondents most on target were the one in 10 who estimated sustainable spending rates to be 5% or less. This is significantly impacted by life expectancy; if you have a much lower life expectancy due to retiring later or significant health issues perhaps you can spend more. But counting on this is very risky.
This is likely one of the top 5 most important things to know about saving for retirement (and just 10% of the population got the answer right). You need to know that you can safely spend 5%, or likely less, of your investment assets safely in retirement (without dramatically eating into your principle.
The chart is actually quite good, the paper also includes another good example (which is helpful in showing how much things can be affected by somewhat small changes*). One piece of good news is they assume much larger expense rates than you need to experience if you choose well. They assume 1.3% in fees. You can reduce that by 100 basis points using Vanguard. They also have the portfolio split 50% in stocks (S&P 500) and 50% in bonds.
Several interesting points can be drawn from this data. One the real investment returns matter a great deal. A 4% withdrawal rate worked until the global credit crisis killed investment returns at which time the sustainability of that rate disappeared. A 5% withdrawal rate lasted nearly 30 years (but you can't count on that at all, it depends on what happens with you investment returns).
Related: What Investing Return Projections to Use In Planning for Retirement – How Much Will I Need to Save for Retirement? – Saving for Retirement
2012 Retirement Confidence Survey
(60 percent) report they and/or their spouses have less than $25,000 in total savings and investments (excluding their home and defined benefit plans), including 30 percent who have less than $1,000
The data would be better if some value were placed on defined benefit plans; currently it is a bit confusing how much they may help. But the $25,000 threshold is so low that no matter what being under that value is extremely bad news for anyone over 40. And failing to have saved over just $25,000 toward retirement is bad news for anyone over 30 without a defined benefit plan.
The large majority of workers who have not saved for retirement have little in savings. Almost two-thirds (63 percent) report they have less than $1,000 in savings and investments, and another quarter (25 percent) have $1,000–$9,999.
Thirty-four percent of workers report they had to dip into savings to pay for basic expenses in the past 12 months.
…
Thirty-five percent of all workers think they need to accumulate at least $500,000 by the time they retire to live comfortably in retirement. Eighteen percent feel they need between $250,000 and $499,999, while 34 percent think they need to save less than $250,000 for a comfortable retirement.
Workers who have performed a retirement needs calculation are more than twice as likely as those who have not (23 percent vs. 10 percent) to expect they will need to accumulate at least $1 million before retiring.
66% of workers say their family has retirement savings and 58% say they are currently saving for retirement. These results are fairly consistent over the last few decades (the current values are in the lower ranges of results).
Nearly everyone wishes they had more money. One way to act as though you have more than you do is to borrow and spend (which is normally unwise – it can make sense for a house and in limited amounts when you are first going out on your own). Another is to ignore long term needs and just live it up today. That is a very bad personal finance strategy but one many people follow. Saving for retirement is a personal finance requirement. If you can't save for retirement given your current income and lifestyle you need to reduce your current spending to save or increase your income and then save for retirement.
A year or two of failing to do so is acceptable. Longer stretches add more and more risk to your personal financial situation. It may not be fun to accept the responsibilities of adulthood and plan for the long term. But failing to do so is a big mistake. Determining the perfect amount to save for retirement is complicated. A reasonable retirement saving plan is not.
Saving 10% of your gross income from the time you are 25 until 65 gives you a decent ballpark estimate. Then you can adjust even 5 or 10 years as you can look at your situation. It will likely take over 10% to put you in a lifestyle similar to the one you enjoy while working. But many factors are at play. To be safer saving at 12% could be wise. If you know you want to work less than 40 years saving more could be wise. If you have a defined benefit plan (rare now, but, for example police or fire personnel often still do you can save less but you must work until you gain those benefits or you will be in extremely bad shape.
IRAs, 401(k) and 403(b) plans are a great way to save for retirement (giving you tax deferral and Roth versions of those plans are even better – assuming tax rates rise).
Related: In the USA 43% Have Less Than $10,000 in Retirement Savings – Saving for Retirement
I believe long term disability insurance is a must for a safe personal financial plan. The risk of not being covered isn't worth it. An office worker should have a very low risk of something happening that qualifies you for receiving benefits (even with fairly serious injuries for a hunter-gatherer or farmer they can earn a living).
That is actually the perfect situation for insurance. Insurance should be cheap when the risk is small. You want insurance for unlikely but very costly events. You don't want insurance for likely and inexpensive events (paying the middle man just adds to the cost).
I believe, other than health insurance it is the most important insurance. For someone with dependents life insurance can be important too. And auto and homeowners insurance are also important. Insurance if an important part of a smart personal finance. It is wise to chose high deductibles (to reduce cost).
In many things I believe you can chose what you want to do and just deal with the results. Forgoing health or disability insurance I think don't fall into that category. Just always have those coverages. I think doing without is just a bad idea.
When I would have had gaps in coverage from work, I have purchased disability insurance myself.
I am all in favor of saving money. About the only 2 things I don't believe in saving money being very important are health and disability insurance. Get high deductible insurance in general (you should insure against small loses). And with disability insurance you can reduce the cost by having the insurance only start after 6 or 12 months (I chose 12). As you get close to retirement (say 5 years) the risk is much less, you only have so many earning years left. If you wanted to save some money at that point it might be ok if you have saved well for retirement and have a cushion (in case you have to retire 3 year early). Long term care insurance may well be wise to get (if you didn't when it was cheaper and you were younger. Long term care insurance is really tricky and very tied to whatever our politicians decide not to do (or do) about the broken health care system we have in the USA. The cost also becomes higher as it is moving toward a likely event, instead of a unlikely event (as you age you are more frail).
Related: How to Protect Your Financial Health – Personal Finance Basics: Avoid Debt
In my opinion is has never been more difficult to plan for retirement. It is extremely difficult to guess what rates of return should be expected in the next 10-30 years. It might have actually been as difficult 10 years ago, but it seemed that it wasn't. Estimating a 7-8% return for your portfolio seemed a pretty reasonable thing to do, and evening considering 10% wasn't unthinkable, if you wanted to be optimistic and took more risk.
Today it is very hard to guess, going forward, what is reasonable. It is also hard to find any very safe decent yields. Is 4% a good estimate for your portfolio? 6%? 8%? What about inflation? I know inflation isn't a huge concern of people right now, but I still think it is a very real risk. I think trying to project is helpful (even with all the uncertainty). But it is more important than ever to look at various scenarios and consider the risks if things don't go as well as you hope. The best way to deal with that is to save more.
In the USA save at least 10% of your income for retirement in your own savings (in addition to social security) and it would be better to save 12% and you might even need to be saving 15%. And if you waited beyond 30 to start doing this you have to save substantially more, to have a comfortable retirement plan (obviously if you are willing to live at a much lower standard of living in retirement than before, you can save less).
Other factors matter too. If you don't own your house with no more mortgage payments you will need to save more. Ideally you will have not debts at retirement, if you do, again you need to save more.
That Retirement Calculator May Be Lying to You
According to Ibbotson data, the long-term annualized gain for the Standard & Poor's 500-stock index dating back to 1926 is 9.9 percent. For bonds, it's 5.4 percent. (From 1970 to 2010, the Barclays Capital Aggregate Bond index average was 8.3 percent.) Plug those numbers into a portfolio of 60 percent stocks and 40 percent bonds and the return is about 8 percent, which is precisely the number most financial planners — and retirement calculators — were using up until recently.
…
Vanguard founder Jack Bogle has a slightly more upbeat assessment. He expects stock returns of 7 percent to 7.5 percent over the next decade. He assumes no expansion in the market's price-earnings ratio, dividend yields of 2.2 percent, and earnings growth of at least 5 percent. Bogle expects bond returns to be about 3 percent. For a balanced portfolio, that produces a net nominal return of slightly more than 6 percent. A higher forecast is T. Rowe Price's estimate of 7 percent; until this year it had used 8 percent.
I also suggest using high quality high yield dividend stocks for more of the bond portfolio. I wouldn't hold bonds with maturities over 5 years at these yields (or if I did, they would be an extremely small portion of the portfolio). I would also have a fair amount of the bond portfolio in inflation protected bonds.
I also invest in emerging economies like China, Brazil, India, Malaysia, Indonesia, Thailand, the continent of Africa… To some extent you get that with large companies like Google, Intel, Tesco, Toyota, Apple… that are making lots of money in emerging economies and continuing to invest more in emerging markets. VWO (.22% expense ratio) is a good exchange traded fund (ETF) for emerging markets. I also believe investing in real estate is wise as part of a retirement portfolio.
Related: 401(k) Options, Select Low Expenses – How Much Will I Need to Save for Retirement? – Investment Risk Matters Most as Part of a Portfolio, Rather than in Isolation
For 2010 and 2011, the most that an individual can contribute to a traditional IRA or Roth IRA generally is the smaller of: $5,000 ($6,000 if the individual is age 50 or older), or the individual's taxable compensation for the year. You have until your taxes are due (April 15th, 2011) to add to your IRA for 2010.
This is the most that can be contributed regardless of whether the contributions are to one or more traditional or Roth IRAs or whether all or part of the contributions are nondeductible. However, other factors may limit or eliminate the ability to contribute to an IRA as follows:
An individual who is age 70½ or older cannot make regular contributions to a traditional IRA (just to make things complicated you can add to a Roth IRA) for the year.

Contributions to a Roth IRA are limited based on income. The limits are based on modified adjusted gross income (which is before deductions are taken). The Roth IRA earnings limits for 2010 are:
Single filers: Up to $105,000; from $105,000 – $120,000 (a partial contribution is allowed)
Joint filers: Up to $167,000; from $167,000 – $177,000 (a partial contribution)
For 2011 the earning limits increase to
Single filers: Up to $105,000; from $107,000 – $122,000 (a partial contribution is allowed)
Joint filers: Up to $167,000; from $169,000 – $179,000 (a partial contribution)
More details from the IRS website and earning limits details.
The income limits do not cap what you can add using a 401(k). So if you were planning on adding to a Roth IRA but cannot due to the income limits you may want to look into increasing your 401(k) contributions.
Related: Add to Your Roth IRA – Add to Your 401(k) and IRA – 401(k)s are a Great Way to Save for Retirement
The biggest investing failing is not saving any money – so failing to invest. But once people actually save the next biggest issue I see is people confusing the investment risk of one investment in isolation from the investment risk of that investment within their portfolio.
It is not less risky to have your entire retirement in treasury bills than to have a portfolio of stocks, bonds, international stocks, treasury bills, REITs… This is because their are not just risk of an investment declining in value. There are inflation risks, taxation risks… In addition, right now markets are extremely distorted due to the years of bailouts to large banks by the central banks (where they are artificially keeping short term rates extremely low passing benefits to investment bankers and penalizing individual investors in treasury bills and other short term debt instruments). There is also safety (for long term investments – 10, 20, 30… years) in achieving higher returns to gain additional assets – increased savings provide additional safety.
Yes, developing markets are volatile and will go up and down a lot. No, it is not risky to put 5% of your retirement account in such investments if you have 0% now. I think it is much riskier to not have any real developing market exposure (granted even just having an S&P 500 index fund you have some – because lots of those companies are going to make a great deal in developing markets over the next 20 years).
I believe treating very long term investments (20, 30, 40… years) as though the month to month or even year to year volatility were of much interest leads people to invest far too conservatively and exacerbates the problem of not saving enough.
Now as the investment horizon shrinks it is increasing import to look at moving some of the portfolio into assets that are very stable (treasury bills, bank savings account…). Having 5 years of spending in such assets makes great sense to me. And the whole portfolio should be shifted to have a higher emphasis on preservation of capital and income (I like dividends stocks that have historically increased dividends yearly and are likely to continue). And the same time, even when you are retired, if you saved properly, a big part of your portfolio should still include assets that will be volatile and have good prospects for long term appreciation.
Related: books on investing – Where to Invest for Yield Today – Lazy Portfolios Seven-year Winning Streak (2009) – Fed Continues Wall Street Welfare (2008), now bankers pay themselves huge bonuses because the Fed transferred investment returns to too-big-to-fail-banks from retirees, and others, investing in t-bills.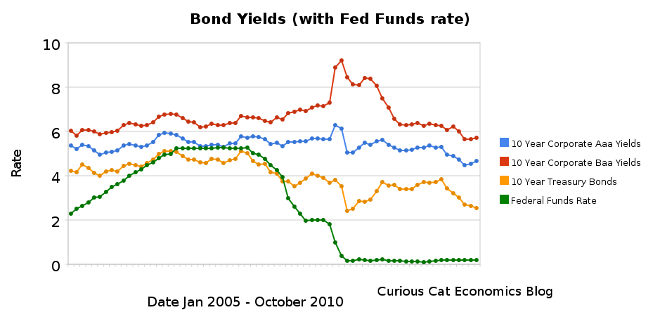 Chart showing corporate and government bond yields from 2005-2010 by Curious Cat Investing Economics Blog,
Creative Commons Attribution
, data from the
Federal Reserve
.
Bond yields have dropped even lower over the last 6 months, dramatically so for treasury bonds. 10 year Aaa corporate bonds yields have decreased 61 basis points to 4.68%. 10 year Baa yields have decreased 53 basis points to 5.72%. 10 year USA treasury bonds have decreased an amazing 169 basis points to a incredibly low yield of %2.54. The federal funds rate remains under .25%.
The Fed continues to try and discourage saving and encourage spending by punishing savers with policies to drive interest rates far below what the market alone would set. Partially this is a continuation of their subsidy to the large banks that caused the credit crisis. And partially it is an attempt to find a way to encourage spending to try and build job creation in the economy. The Fed announced they are taking huge steps to purchase $600 billion more bonds in an attempt to lower rates even further (much of the impact has been priced into the market as they have been saying they will take this action – but the size is larger than the consensus expectation). I do not think this is a sensible move.
Savers do not have many good options for safely investing retirement assets for a reasonable income. The best options are probably to hold short term bonds and money markets and hope that the Fed finally stops making things so difficult for them. But that will take awhile. I think investing in medium or long term bonds (over 4 years) is crazy at these rates (especially government bonds – unless you are a large bank that can get essentially free money from the Fed to then loan the government and make a profit). Dividends stocks may be a good alternative for some more yield (but this needs to be done carefully to not take unwise risks). And I think you to look at investing overseas because these fiscal policies are just too damaging to savers to continue to just wait for a decent rate of return in bonds in the USA. But there are not many good options. TIPS, inflation protected bonds, are another option to consider (mainly as a less bad, of bad choices).
It is a great time to take on debt however (as often is the case, there are benefits and costs to economic conditions). If you have a mortgage, and can qualify, or are looking to buy a home, mortgage rates are amazingly low.
Related: Bond Rates Remain Low, Little Change in Last 6 Months (April 2010) – Bond Yields Change Little Over Previous Months (December 2009) – Chart Shows Wild Swings in Bond Yields in Late 2008 – Government Debt as Percentage of GDP 1990-2009 in USA, Japan, Germany, China…
Dividends Beating Bond Yields by Most in 15 Years
More U.S. stocks are paying dividends that exceed bond yields than any time in at least 15 years as profits rise at the fastest pace in two decades.
Kraft Foods Inc. and DuPont Co. are among 68 companies in the Standard & Poor's 500 Index with payouts that top the 3.78 percent average rate in credit markets, based on data since 1995 compiled by Bloomberg and Bank of America Corp. While Johnson & Johnson sold 10-year debt at a record low interest rate of 2.95 percent last month, shares of the world's largest health products maker pay 3.66 percent.
The combination of record-low interest rates, potential profit growth of 36 percent this year and a slowing economy has forced investors into the relative value reversal. For John Carey of Pioneer Investment Management and Federated Investors Inc.'s Linda Duessel, whose firms oversee $566 billion, it means stocks are cheap after companies raised payouts by 6.8 percent in the second quarter
…
S&P 500 companies' cash probably has grown to a record for a seventh straight quarter, according to S&P. For companies that reported so far, balances increased to $824.8 billion in the period ended June 30 from the first three months of the year, based on data from the New York-based firm.
Cash represents 10.2 percent of total assets at S&P 500 companies, excluding banks and financial firms, according to data compiled by Bloomberg. That's higher than the 9.5 percent at the end of the second quarter last year, 8.4 percent in 2008 and 7.95 percent in 2007.
"The economy is slowing down, but productivity has been so great in this country and companies have been able to make good profits,"
10-year Treasury note yields were as low as 2.42% last month. The combination of continued extraordinarily low interest rates and good earnings increase this odd situation where dividends increase and interest yields fall. Extremely low yields aimed at by the Fed continue to aid banks and those that caused the credit crisis a huge deal and harm investors.
Money markets and bonds are not attractive places to invest now. Putting money in those places is still necessary for diversification (and as a safety net – especially in cases like 401-k plans where options are often very limited). Seeking out solid companies with strong long term prospects that pay reasonable dividends is a very sensible strategy today.
Related: Where to Invest for Yield Today – S&P 500 Dividend Yield Tops Bond Yield: First Time Since 1958 – 10 Stocks for Income Investors – Bond Yields Show Dramatic Increase in Investor Confidence (Aug 2009)
401(k), IRAs and 403(b) retirement accounts are a very smart way to invest in your future. The tax deferral is a huge benefit. And with Roth IRAs and Roth 401(k)s you can even get tax exempt distributions when you retire – which is a huge benefit. Especially if you don't retire before the bill for all the delayed taxes of the last 20 years starts to be paid. The supposed "tax cuts" that merely shifted taxes from those spending money the last 10 years to those that have to pay for all the stuff the government spent on them has to be paid for. And that will likely happen with higher tax rates courtesy of the last 10 years of not paying the taxes to pay for what the government was spending.
When looking at your 401(k) and 403(b) investment options be sure to pay close attention to expenses for the funds. Some fund families try to get people to investing in high expense funds, that are nearly identical to low expense funds. The investor losses big and the fund companies take big profits. Those people serving on the boards of those funds should be fired. They obviously are not managing with the investors interests at heart (as they are obligated to do – they are suppose to represent the investors in the funds not the friends they have making money off the investors).
Here is an example (that I ran across last week) expense differences for funds that have essentially identical investment objectives and plans in the same retirement plan options: .39% (a respectable rate, though more than it really should be) for [seeks a favorable long-term rate of return from a diversified portfolio selected to track the overall market for common stocks publicly traded in the U.S., as represented by a broad stock market index.], .86% [for "The account seeks a favorable long-term total return, mainly from capital appreciation, by investing primarily in a portfolio of equity securities selected to track the overall U.S. equity markets based on a market index."]. Do not rely on your fund provider to have your interests at heart (and unfortunately many companies don't seek the best investment options for their employees either).
The .47% added expense isn't much to miss for 1 year. However, over the life of your retirement account, this is tens of thousands of dollars you will lose just with this one mistake. Personal financial literacy is an easy way to make yourself large amounts of money over the long term. It isn't very sexy to get .47% extra every year but it is extremely rewarding.
$200,000 at 6% for 25 years grows to $858,000
$200,000 at 6.47% for 25 years grows to $958,000
So in this case, $100,000 for you, instead of just paying the fund company a bit extra every year to let them add to their McMansions. In reality it will be much more than a $100,000 mistake for you if you save enough for retirement. But if you save far too little (as most people do) one advantage is the mistake will be less costly because your low retirement account value reduces the loss you will take.
Related: 401(k)s are a Great Way to Save for Retirement – Retirement Savings Allocation for 2010 – Many Retirees Face Prospect of Outliving Savings
Read more
Comments